Gauge Covers
---
Like a lot of people on this forum, my gauge covers are RUSTY. The rear covers are inexpensive, but getting rid of the rust on the front is a pain. What I did was paint mine with a rust converting primer to prevent further rust, then bought a set of gauge covers for a KZ900/1000.
The only issue is that they are too long toward the front. I plan to make a gasket to seal this area. It looks pretty awesome in person compared to what it used to look like:
---
Last edited by mcinturff; 01-02-2018 at

11:47 AM

.
looking good
---
Man can not live by bread alone... he needs Duct tape & WD40
I like the look of the gauges on my KZ more than my Vulcan. I'd just go ahead and swap them out for KZ gauges entirely and avoid the clearance issues. Front looks almost identical aside of an oil pressure light, and back is flat instead of coned, but otherwise you'll never be able to tell. Looks good though.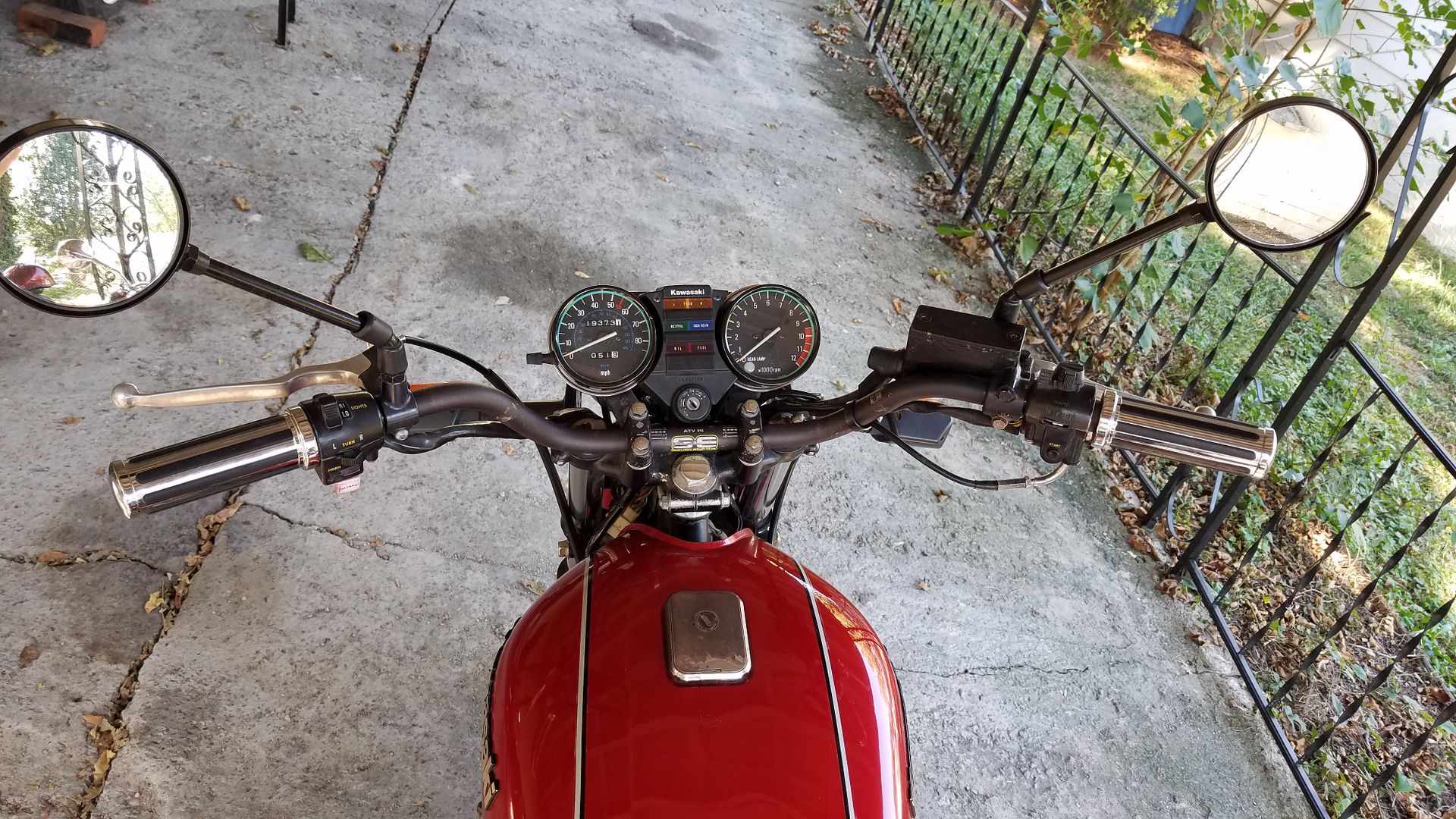 ---
1981 KZ750
1988 Vulcan VN750 (red)
2005 Vulcan VN750 (silver)
(2) 1994 Vulcan VN750 (red)
Engineering solutions for the VN750 Community.
---
Last edited by One1; 10-05-2016 at

08:43 PM

.
Looks great; awesome execution.

Do the forks look a bit low in the triple tree to anyone else?
---
1986 Kawasaki Vulcan 750
NGK Iridium Plugs #7803/DPR7EIX-9
Duralast Gold ETX15 AGM Battery
Coastered & Shaved
TOC MCCTs
Metzeler ME880 [110/90-19, 170/80-15]
Balance Dampers Replaced
Tuxedo Mod
Rebuilt Forks w/ Progressive Springs
V&H Cruzers
VN750.com Grill Cover
Meanstreak Seat
Emgo 23-92411 Handlebars
MOSFET FH012AA R/R

1990 Kawasaki Vulcan 750

1998 Honda VFR800 FI

2014 Honda VFR800F

1989 Pontiac Firebird Formula 350
air caps should be above tree

Sent from my LGL34C using Tapatalk
---
ONE RATS ASS GIVEN PER POST
Support your local
FREEBIRDS MC
1986/5 Vn700/750 Frankenfook cross eyed bitch "Mellisa Fayhe"
I am a BIKER and i'm proud.
FREEBIRDS MC CENTRAL NY
lowered with progessive 412 10" shocks
rejetted for K/N Pods part#rc 2340
sportster seat
'
I didn't lose my mind.i gave it away
BRING BACK WOLFIE."
Peace and Carrots
"RIP
"And I'm free...as a bird"John Lennon Free as a Bird
"
I only carry when I have my pants on
"Joe Robinson RIP aka Old Dog