Headbanger/Popes of Hell
Join Date: Aug 2006
Location: ohio
Posts: 6,611
free contcert @ rock n roll hall of fame
---
I took a ride last night down to the Rock n Roll hall of fame, for a free concert. Ted Nugent was putting on a free concert for the "Better Bolder Biker Bash". There was dedicated motorcycle parking adjacent to the Museum. I got to park next to the Cleveland Browns stadium along with the thousands of other bikes. it was so cool. Ted Nugent put on a great show (as always).
Join Date: Jul 2008
Posts: 50
That would have been awesome to see the NUGE...
Headbanger/Popes of Hell
Join Date: Aug 2006
Location: ohio
Posts: 6,611
It was awesome and for free too boot! that was my third time seeing the Nuge, he rocks every time!
and the Adventure Cycle
Join Date: Jun 2004
Location: Western PA
Posts: 6,138
Sounds like a great time.
Just wish it woulda been next week, when my girlfriend & I are going there.
---
AKA: Tim & 'The Adventure Cycle' VROC #24567, NEVROC, SteelCity VROC
"When life throws you curves,
Aim for the apex."


Author Unknown
I've never been a huge Nugent fan. But I bet that he puts on a great show.
The Rock & Roll Hall of Fame is an AWESOME place. The ever-changing exhibits are absolutely fascinating.
One suggestion: I would encourage visitors to consider wearing ear plugs. I'm used to loud music since I play without plugs in a high-volume classic rock band; even so, I found myself wishing I had worn them inside the museum. I could barely think!
The coolest thing I've seen there on several visits is the Rickenbacker 325 Jetglo guitar (Serial #DB122) that John Lennon played in 1964-1965. It was loaned by Yoko, along with other memorabilia, including the lime green uniform John wore on the
Sgt. Pepper's Lonely Hearts Club Band
album cover. Now that I look at it again, it looks like hi-viz!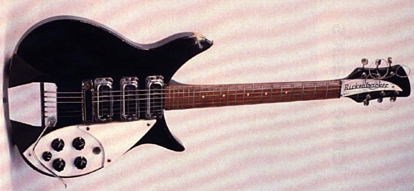 ---
EZC
---
Last edited by EasyRector; 08-17-2008 at

08:23 PM

.