here is mynew ride
---
I kept it in the vulcan family, moved up to an 07 900 and I am absolutely in love so far. rode her home yesterday after officially sealing the deal. mustang seat, sheild, kury grips pegs highway bars custom mirrors, cobra pipes and it sounds awesome and turned heads all the way home this sucker is loaded. sorry it took so long to get pics up!!!!!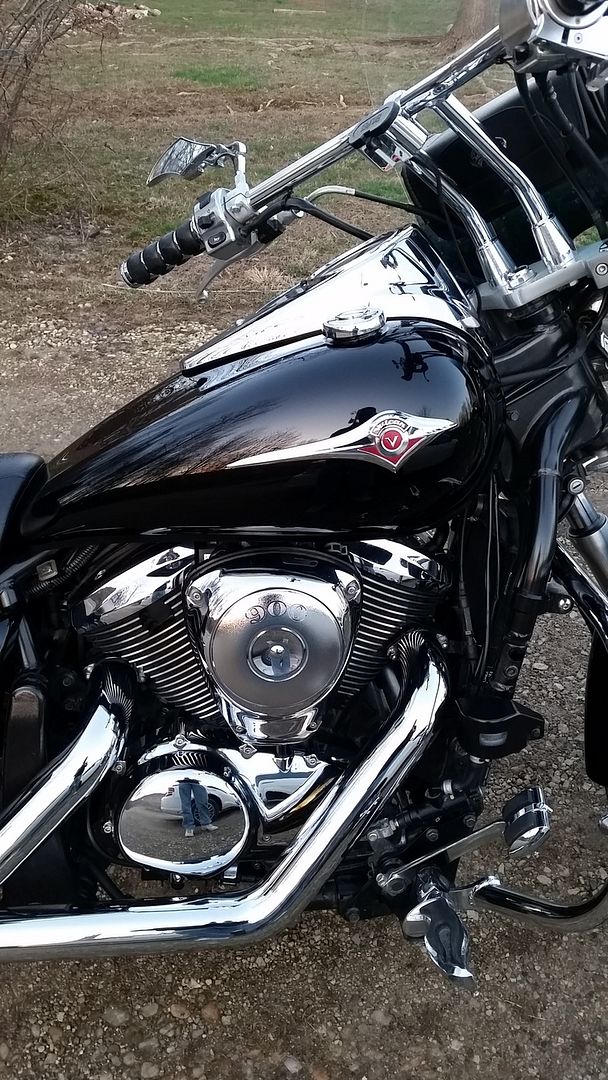 ---
Last edited by wib714; 03-15-2016 at

11:51 PM

.
Sweet. Love the wheels
---
ONE RATS ASS GIVEN PER POST
Support your local
FREEBIRDS MC
1986/5 Vn700/750 Frankenfook cross eyed bitch "Mellisa Fayhe"
I am a BIKER and i'm proud.
FREEBIRDS MC CENTRAL NY
lowered with progessive 412 10" shocks
rejetted for K/N Pods part#rc 2340
sportster seat
'
I didn't lose my mind.i gave it away
BRING BACK WOLFIE."
Peace and Carrots
"RIP
"And I'm free...as a bird"John Lennon Free as a Bird
"
I only carry when I have my pants on
"Joe Robinson RIP aka Old Dog
Nice big soft Mustang seat!
---
1986 Kawasaki Vulcan 750
NGK Iridium Plugs #7803/DPR7EIX-9
Duralast Gold ETX15 AGM Battery
Coastered & Shaved
TOC MCCTs
Metzeler ME880 [110/90-19, 170/80-15]
Balance Dampers Replaced
Tuxedo Mod
Rebuilt Forks w/ Progressive Springs
V&H Cruzers
VN750.com Grill Cover
Meanstreak Seat
Emgo 23-92411 Handlebars
MOSFET FH012AA R/R

1990 Kawasaki Vulcan 750

1998 Honda VFR800 FI

2014 Honda VFR800F

1989 Pontiac Firebird Formula 350
Senior Member
Join Date: Jul 2013
Location: Saddle Brook, NJ
Posts: 1,067
Awesome man. Looks beautiful. Best of luck with her
---
2007 Kawi ninja-sold
1990 Vulcan 750-sold
2001 Honda Sabre 1100-wrecked then sold
2013 Victory Highball
Ride on wolf
Senior Member
Join Date: Aug 2011
Location: Dallas, Texas Area
Posts: 923
Very Nice! Congrats
---
Old Bike: 2006 VN750 - Sold
Current Bike: 2007 Yamaha V-Star 1300 Tourer
Looks good, welcome to the club!
---
"Show me a man who makes no mistakes, and I'll show you a man who doesn't do things." Theodore Roosevelt."
2007 Victory Kingpin
Current projects - 1986 VN750 & 1988 EL250
Linkmeister Supreme
Join Date: Aug 2008
Location: Lethbridge, Alberta, Canada
Posts: 7,960
Nice!
I took a VN900 Custom and an LT900 for demo rides at the Kaw dealers a couple of years ago.
Both are nice rides. Have a little more room to stretch out than the 750.
---
Gordon
1991 VN 750 -"
Cosmic Lady
" or "
Bad Girl
"?
Purchased May 16, 2008
Approx.19,300km (12,000 miles)
H-D windshield
Relocated R/R
MF-AGM battery
Fiamm Freeway Blaster horns
F&S luggage rack and engine guard
Kury Offset Hiway pegs
July 13, 2016, Riding on the DARKSIDE now, Classic Radial 165/80-15
TOP TEN THINGS A NEW RIDER/OWNER SHOULD DO.
Click on link.
https://www.vn750.com/forum/11-vn750-general-discussion/9127-top-ten-items-you-would-suggest-new-owner-do-his-new-ride.html
2014 KLR 650!
Join Date: Jun 2013
Location: Tega Cay, SC
Posts: 3,359
Very nice looking bike my friend
---
2014 Kawasaki KLR 650
Back to the Kawa World