Why Rev So High?
---
Hello all. This is totally speculation, but it's been asked many times why our bike revs so high at highway speeds. I got thinking about that and did a little looking around. Back in 85' when the bike was intoduced the speed limit was 55mph. Now, just a few years after that it was raised up from the 55mph limit to 65 in most states. In 74 it was lowered because of the "gas problems". I could go on and on about that. But here's my though. The bike was designed to be a 55mph cruiser. Being that Kaw never modified the bike. Just a couple of years after it was introduced, tha average highway speed went up. The bikes gearing didn't. What do you think?
Quote:
1987 and 1988 — 65 mph limit
In the April 2, 1987 Surface Transportation and Uniform Relocation Assistance Act, Congress permitted states to raise speed limits to 65 mph (105 km/h) on rural Interstate highways,[12] and in 1988 Congress extended the same 65 mph limit to any rural roads built to Interstate standards even if they were not signed as Interstates (although states had to apply for this privilege).
---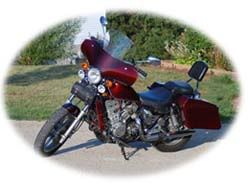 Orig. 8600 Miles 5/12/7 Currently 50,500Miles

Owners Manual
Repair Manual Download
Mosfet RR Test
Goof Proof Stator Test
VoIP Doc's Ear Shave & Re-jet Procedure
Hyperbuzzin's "How To Post Photo's.
Mosfet R&R Headlight Fix.
and the Adventure Cycle
Join Date: Jun 2004
Location: Western PA
Posts: 6,138
Sounds reasonable.
Also, the fact that the engine was first designed for the Ninja, which is high reving due to the nature of the knee scraper bikes.
---
AKA: Tim & 'The Adventure Cycle' VROC #24567, NEVROC, SteelCity VROC
"When life throws you curves,
Aim for the apex."


Author Unknown
An intresting theory, but only good if they only made the bike to sell in the United States. They didn't. The Vulcan sold in Europe, Africa, Asia , South America and Canada....all which have diffrent speed limits on their major roads.

This thinking would also mean that from it's inseption , the designers/engineers wanted to build a bike that "worked best" at a specific speed...and I kinda doubt they do that, except for perhaps scooters.

My FJR is turning about 3500 rpms at 75 mph, at 5000 rpms it would be around 110mph..no where near red line yet.....and many other bikes are comparable here.

Harleys run diffrent, sportbikes, goldwings, etc..I doubt any bike is desgined with national speed limits in mind.........


KM
Members who have donated towards server costs
Join Date: Jun 2006
Location: Corpus Christi, Texas
Posts: 1,647
Your arguement would be sound except for the fact that the bike was exported as is to other countries whose speed limits were higher with no modification at all except the 700 limit in 85.
I think that the engine likes it up there in the high rev area and was designed for it. I think Kaw saw that the speed limits were going to go up anyway and released the bike accordingly. Just my thoughts.
---
Jim W
93 VN 750 "Ursula"
Moved R/R 08Sep06
R/R rewire 17Feb07
New R/R, Installed 14Jun08
New Stator installed 10 Jun08
Maintenance Free Battery 12Jan08
21480 Miles
VROC #8542
Members who have donated towards server costs
Join Date: May 2006
Location: Tampa, Florida
Posts: 1,766
As a rule, DOHC engines come alive with higher rpm's, perhaps that why these were geared that way.

Jon
---
93VN750, under re-construction
vn750.com Member # 828

Rick's Stator and R/R
MF AGM Battery
Coastered
Degoated
Shaved & Jetted
Iridium's
MAC Tapered Staggered Pipes
Battery/Temp/Clock Gauge
Stainless Steel Brake Lines
Dunlop D-404's
23,XXX miles and holding pending gasket change (underway!!!)
Love My Baby
Join Date: Jun 2008
Location: Hollywood, Florida
Posts: 1,165
I'm with Jon above. Mine runs so much smoother and is noticeably more responsive after riding at 6000 RPMs in 5th gear for a while. It's as if she wants to be ridden in that range. It seems to clean her out, and there's none of that small backfiring when decelerating or going slow, after a high RPM ride.

Still, I really wish she had a 6th gear for highway cruising. Seems it would save on gas and perhaps gain a longer engine life.
---
Rubyrick

MY BABY...
'05 VN750
16,000 miles +
Kawi tank bib
Kawi rear rack
Small windshield
DEKA M/F battery
VN750.com Grill Cover
LED license plate frame
Clear Alternatives LED brake light
Cortech mini tank bag on rear rack
Pirelli MT66 Tires: 110 front / 150 rear
Splines lubed when tires installed at 10,650 miles
Splines lubed again at 14,400 with stubby valve stem install

Place your mouse on the X below and drag to the O

X Even though you can't see Him, GOD is there! O
carbon unit
I've said it before. My Vulcan seems to prefer to be running at around 5500 - 6000 rpm. I have to work at keeping it under 5200. 6000 rpm is still 2500 under the red line. I'm trying to keep it mostly around 5200 on the hi-way however. My concerned is fuel consumption.
---
2010 Triumph Speedmaster
1995 Vulcan750
1989 XT350
M880
1959 M38A1
---
Last edited by kay; 07-07-2008 at

10:30 PM

.
Senior Member
Join Date: Jul 2007
Location: Castle Rock, Wa
Posts: 1,750
There is some logic to speed/RPM/gearing discussion. My GL500, also a high rev v twin built in the 80's has a red line on the speedo at 55 and beyond. 60 mph turns 6200 rpms (with a 10k tach redline). As for the willingness for engines to 'want to run faster' at higher rpms is also true. Every combustion engine has a power curve where everything (valves, combustion, intake, exhaust, jetting) come together for maximum efficiency. Most of us old two stroker's called this 'coming on the pipe'.

DT
---
95 VN750 (eBay)31k+
GL1100 front fender
OEM engine guard
OEM high back rest
'V-Twin' HWY pegs
Black 750 Spectre handlebars
SunPro Volt Meter (Amazon)
Maier bug shield (JCW)
Bar Ends anti-vibe (JCW)
Emgo air filters
Tank bag-Eclipse
Tail bag-FroZone Cooler
Back Rest-Igloo 6 pak cooler
WalMart Saddle Bags
R/R Relocate
Dry Splines Lubed
AGM DieHard-Sears
Gutted Goat
Sporster XL Mufflers
LED's-stop,tail,turn,marker
Pickup coil mod to .45mm
Silverstar headlight
Rotella T6
---
Last edited by dirtrack650; 07-08-2008 at

01:15 AM

.
and the Adventure Cycle
Join Date: Jun 2004
Location: Western PA
Posts: 6,138
Quote:
Most of us old two stroker's called this 'coming on the pipe'.
Ah, yes 2 smokes.......
Give it gas.....start going fast...... then.........all of the sudden..... H O L D - O N.....there ya go >>>>>>> ZOOM ZOOM...............
---
AKA: Tim & 'The Adventure Cycle' VROC #24567, NEVROC, SteelCity VROC
"When life throws you curves,
Aim for the apex."


Author Unknown