Join Date: Jun 2008
Posts: 36
Best way to lock up your bike.
---
I know there is no fool proof way other than maybe Lo-Jack, (btw, how much does that cost?) But what other best options are there for keeping the bike locked up?
Members who have donated towards server costs
Join Date: Apr 2008
Location: Wayne, NJ
Posts: 405
I've used a few different devices in the past. I really don't use anything anymore, but the biggest problem was carrying around the device. I ended up settling on a disc lock. It is a small, easy to carry, device that fits onto the disc brake. The key is to remember that it is on, before riding away!! The one I had came with a coil that you attached to the handlebar as a reminder. It was bright yellow. I always figured that as long as you were using something, a would be thief would move to the next bike that didn't hve anything. Ultimately, if someone really wants to steal the bike, the best you can hope for is to slow them down a little. Just my $.02.
---
Chris
Wayne, NJ
1989 VN750-A5
VROC #27781
-Replaced/Fused Stator & Replaced/Relocated R/R (15K mi.)
-MF Battery
-De-Goated/Re-goated
-Coastered
-Splines Lubed
-Stebel Nautilus Horn
-AutoMeter 2" VOM
-Silverstar Headlight
-Refinished Gauge Rings and Mirrors(Flat Black)
-Refinished Swingarm/Lubed Pivots
-K&S Turn Signals Clear Cover/Amber Bulb
-Kenda Kruz 110/90-19 front 170/80-15 rear
-Clear Alternatives LED tail light
-Plexifairing III
-Willie & Max Saddlebags and SissyBar Bag
Senior Member
Join Date: Jan 2007
Posts: 140
my bud has a hidden deadman switch.

in addition to the ignition switch he has a switch that is under the seat that wont let the bike run without being switched on.

it wont keep someone from rolling your bike onto a trailer, but screwdrivering the ignition should fail.
A large hardened steel chain (3/8" minimum linq thickness) with a big ass Master Lock. Chain through the frame to a non movable object like a tree or telephone pole. Make sure to run the chain in such a way that it can not touch the ground, as this will discourge anyone trying to use the big bolt cutters (with on handle on the ground and using their full weight on the other)

Add to this a motion alarm , and that is about as good as you can get other than hiring a sniper to guard the bike 24-7.

(Do make sure you have theft insurance at replacemant cost)

KM
Louder IS better!
Join Date: Feb 2008
Posts: 289
I had Lojack installed on mine when i bought it, it cost me like $800
Drive less, ride more...
Join Date: Nov 2005
Location: SW Ga
Posts: 1,114
I've read that, while certainly not as bulletproof as the above suggestions, for overnite use a bike cover (especially with a locked cable thru it) will also discourage theft.

Yet another reason to keep your "baby" covered when left outside and not in use for any real length of time.

Also: since our bike is not a sport bike...or a Harley...or an Italian stallion (Ducati, Aprilia, Moto Guzzi)...I would think the odds of a VN750 being stolen (versus other potential targets) are on the lower end of the scale.....comments?
---
'05 VN750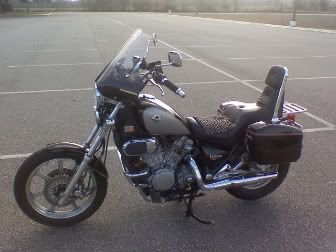 For other bike pix & mods, go to:
http://s1203.photobucket.com/albums/...k/VN750%20pix/
Members who have donated towards server costs
Join Date: Apr 2008
Location: S.E. Michigan
Posts: 2,850
I saw a guy jump on his a bike, (a Harley no less), and
try
to ride away
without
removing the disc brake lock...he didn't get a foot I don't think before he was spitting gravel, dirt, and maybe a tooth or two. I felt bad for him.....until he admitted it wasn't the first time....
Most things just help keep honest people honest. If somebody wants it, they're gonna get it. Personally I'm not to hip on alarms, I don't know about anybody else, but around here, nobody gives a second look when an auto alarm is going off.
Do what feels best, and leave the rest.
Old Twistie Sticks Rider
Join Date: Aug 2007
Location: Country Created by Geniuses, But Run by Idiots...!!!
Posts: 5,072
There is a weak system that comes with the bike, don't seem to be too much, and I don't use it, but probably would under certain conditions, hopefully my insurance will take care of the better part of the loss... I guess the worst place I leave my bike is in the china-mart parking lot, but not often...
But I hope they don't get caught stealing my bike, remember the 340PD .357 mag. & the 125 Gr. Jacketed hollow points, well I hate a theif, and they do have a little stopping power, not as much as a .44 mag. but enough...
Have a good one...Old Dog...
---
Southern Central Tennessee....
...
Now on the Dark Side...
...
Girl's Bike 09 Sporty xl 1200 Custom...33k + & clickin...
...
Sportster Owner/Rider since age 72...lol... Rider since Simplex...???
09-xl1200 "C" Vivid Black, Cast wheels w/19" Frt., SE-Stage 1+, X14iEDs...
MicroTach +, Higher wider H-bars, GPS Mt., Mustach bar Hwy. pegs...
Viking Shock cutout Saddlebags, Rear Mt. Signal Lt. Kit, Fork Brace...
RoadKing Air Shocks, Mustang Seat, Progressive Fork Springs...
Senior Member
Join Date: Jan 2008
Location: Knoxville, Tn
Posts: 476
I have a 5/8" galvanized chain and same lock. It would take forever for someone to cut it. If you lock it on the belly stand they would have one Heck of a time taking it. Try it and see.

The Wrecker driver who takes cars and such from our lot tried to take mine since I have no windshield for the sticker, when I noticed and confronted him he said he had tried for almost an hour to cut the chain and couldn't. He even tried the lock. So I still have it.
---
James
1985 vn700 (T'Plana)
Gremlin bell
HD-O shield
saddlebagged
custom made supports
tool bag
extended backrest
Protac backrest
Highway pegs
custom mirrors
custom grips
V&H cruisers
lever covers
DieHard AGM
Kuryakin battery gauge
and LED taillights
marbled
____________________
VROC #27169
Tn VROC #134
www.youtube.com/thetrueliljd
Senior Member
Join Date: Mar 2008
Location: Iron County Missouri
Posts: 135
When you come out those glass doors with guns a blazing, just don't shoot the bike.
The bad is if locked up outside they can still steal parts off of it. It really needs to be inside...out of sight. Even with everything else, a locked cover would help some. If they don't see your custom seat they may not want it as bad.
---
'85 VN700
2005 VN750 for parts