Member
Join Date: Jun 2008
Posts: 36
750 vs the 900's
---
Anyone have knowledge of the differences between the 750's and the 900's? Oddly, for example, my 99 speedo goes to 140 and the 900's i have seen only go to 120.

Other than the obvious CC difference is there a difference in mielage, power reliability or what?

thanks in advance.
Senior Member
Join Date: Aug 2007
Location: Central PA
Posts: 115
the 900 seem to be a solid bike with a much deeper sound, but it is a totally different feel. I personally feel the 900 is slower and much less nimbler then the 750. The 900 does have better leg room and better 2 up riding position.
---
'99 vn750
Jardine full exhaust
K&N filters
marbled
Jardine Tall backrest
Kuryaken Iso-Grips, T/S relocators
mini stalk cat-eye T/S
Drag Specialties teardrop mirrors
Highway Hawk coolant cover
and the Adventure Cycle
Join Date: Jun 2004
Location: Western PA
Posts: 6,138
The way I see it, the 900 is more a standard cruiser, so it isn't really made for the speed thing.
The 750 is more a somewhat sport cruiser, and part of sport riding is speed.
I haven't rode a 900, so I can't add to any real world differences.
---
AKA: Tim & 'The Adventure Cycle' VROC #24567, NEVROC, SteelCity VROC
"When life throws you curves,
Aim for the apex."


Author Unknown
Love My Baby
Join Date: Jun 2008
Location: Hollywood, Florida
Posts: 1,165
The 750 has a shaft drive and the 900's have a belt drive. That's no small difference in both take-off speed and maintenance.

rubyrick
Never satisfied
Join Date: Sep 2005
Location: Waterloo,Ia.
Posts: 553
Quote:
the 900 seem to be a solid bike with a much deeper sound, but it is a totally different feel. I personally feel the 900 is slower and much less nimbler then the 750. The 900 does have better leg room and better 2 up riding position.
I've had both (900 currently) and I would agree with that statement for the most part though the 900 is not much slower or less nimble then the 750 but it does make much better power on the hiway, especialy when your two up. I do still miss my 750 sometimes though.
---
Jeff (Woody) Woodward
[B]'99' Black and blue(deceased)
06 900 Classic
MS shield&lowers
ISO flame grips
Mustang seat
Cobra backrest/rack
Phat II risers
Leatherlyke bags
Roadhouse 2 into 1's (wish they were made for 750's)
Scootworks pulley
Drive less, ride more...
Join Date: Nov 2005
Location: SW Ga
Posts: 1,114
I spoke to the Kaw officials at one of the Daytona Beach bike demos.

I also rode a Vulcan 900LT at same said bike demo.

The staff there said the 900 replaced the 750.

I don't believe that for a minute.

No two bikes could be more different.

The 750 is indeed a "sport cruiser." It it lighter, quicker, and has better maneuverability than the new 900s. The 750 would be more at home in places like Deal's Gap, or north Georgia's Wolf Pen Gap Road.

It is also more "full-featured"--with shaft drive, full instrumentation, centerstand, tubeless tires, etc. It was designed from the ground up to be relatively quick, and (compared to most other bikes of the time) easier to maintain and live with.

The 900 has a much heavier feel, and has much less available lean angles than the 750. It has much more space for a passenger, and is more at home as an "open road" bike--on the superslabs, and the like. It has more cruising power at higher speeds. Only the "custom" version has tubeless tires. The other versions have tubed tires--a major disadvantage if one has a flat. It does NOT have the nimbleness and maneuvering abilities of the 750. It has a belt drive.

Belt drives apparently are somewhat like chains in that they periodically need adjustment. They can also break; a recent article I read in Motorcycle Cruiser magazine suggested owners of belt drive bikes take along a "split" emergency belt while touring that can be installed without disassembling half the bike. Obviously, this is not an issue with shaft drive bikes (when the splines are given their due lube treatments).


The 900 is yet another nod to the classic cruiser look that is so prevalent now...but in a (somewhat) smaller package than most Harley-lookalike cruisers.

I guess my real point in all the above is that the two bikes are to-tal-ly different in feel and character.

The 900 did not replace the 750. It merely succeeded the 750.

Hope the above helps.
---
'05 VN750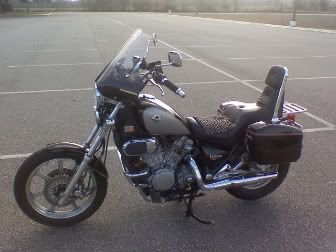 For other bike pix & mods, go to:
http://s1203.photobucket.com/albums/...k/VN750%20pix/
---
Last edited by theauhawk; 06-30-2008 at

11:05 PM

.
Senior Lurker
Join Date: Nov 2006
Location: Westchester, New York
Posts: 509
I recently test rode the 900LT and a few things jumped out at me. The 750 is lighter and more nimble, more fun on twisty roads. The passenger has a lot more room on the 900LT. The 900LT seat was lower to the ground. The 900LT has wider brake and clutch levers (I liked them so much that I've just ordered some for my VN750). The exhaust pipes on the 900 feel like they are pretty close the rider's right leg, too close for my comfort with the heat. The 900LT comes with driver floorboards, it makes a world of difference in comfort when you add them to VN750. The stock heel toe shifter locked my left foot into an uncomfortable riding position, after a 20 minute ride I could hardly wait to get my left foot on the ground (no such issue with the brake pedal with the right foot). The 900LT does not have the full instrumentation that the VN750 has or a center stand. The large windshield on the 900LT actually sucked me forwards, I didn't much care for the added pressure on my wrists after 20 minutes of riding, perhaps fairing lowers would have helped. The 900LT mirrors showed a lot more of the road behind you than the stock VN750 mirrors do (I've ordered new wider mirrors for my VN750 now too). The 900LT is fuel injected, no choke, no petcock. The 900LT is belt driven, which should mean that you may be able to find replacement pulleys with more or less teeth and be able to change your final drive ratio, this could mean better gas milage or quicker acceleration if you play around with it.

The 900LT is not a replacement for the VN750 in terms of feel or perfomance. It only replaced the 750 in the sense that Kawasaki had too many mid sized bikes in it's line up. My hope was that Kawasaki would have added fuel injection to the 2007 VN750, instead they chose to discontinue it. Overall I liked the 900LT, but not enough to want to own one for my needs.