Junior Member
Join Date: Jun 2006
Posts: 11
Vulcan 900 classic LT
---
I own a 06 vulcan 750, I am thinking about buying the 900 classic lt. I want something with more room for riding with my wife. I have not drove the 900 yet. I was wanting to get some input from the forum on what they think of the bike. Pros and cons of the bike,? any info would help.I love my 750 but riding with 2 gets a litte cramped. I live in Ohio and have some time before the weather breaks to make a decission. Thanks
I haven't ridden one either, but before I purchased by 94 VN750 a few weeks ago I had the wife go along to some bike shops and we sat on a few. Very nice bike and very comfortable to sit on, plenty of room on the back. It was just too much for me to spend at this time. In 2 more years when my truck is paid off I might give my Vulcan to my wife and buy one.
Senior Member
Join Date: Mar 2006
Location: glendale az
Posts: 135
If you buy,first thing you'll want to up grade the seat.It's like sitting on a plank.I bought the 2006 but keep my 86 750 as a project bike.I thought I would ride more but have been to busy to do any thing but ride to work,only 4000 miles last year.I've put a Butt Buffer on the seat and am thinking about getting a beaded seat cover.Added Cobra case guard, Kawa luggage rack and am looking to hook up a tach.I like the onboard clock,mileage computer.I would have prefered fiberglass bags to the leather,and shaft drive to belt.I plan to add extra running lights from Cobra. I do plan to keep both bikes with the 750 for around town ,with the 900 to tour the state on weekenders.
Senior Member
Join Date: Jul 2007
Location: Castle Rock, Wa
Posts: 1,750
I'd buy one
---
I like the looks, the added power and size for 2 up riding. If I buy bigger, I think I'll move up to the 1600 because I too want hard bags and shaft.
---
95 VN750 (eBay)31k+
GL1100 front fender
OEM engine guard
OEM high back rest
'V-Twin' HWY pegs
Black 750 Spectre handlebars
SunPro Volt Meter (Amazon)
Maier bug shield (JCW)
Bar Ends anti-vibe (JCW)
Emgo air filters
Tank bag-Eclipse
Tail bag-FroZone Cooler
Back Rest-Igloo 6 pak cooler
WalMart Saddle Bags
R/R Relocate
Dry Splines Lubed
AGM DieHard-Sears
Gutted Goat
Sporster XL Mufflers
LED's-stop,tail,turn,marker
Pickup coil mod to .45mm
Silverstar headlight
Rotella T6
If it were me, I'd get the 900 custom :
http://tinyurl.com/ywxzcc
And build a touring bike from there. New seat, sissybar, windscreen and nicer luggage.
Why?
I first think it's a better looking bike, but secondly it has cast wheels...the Classics don't...
KM
Drive less, ride more...
Join Date: Nov 2005
Location: SW Ga
Posts: 1,114
Be-ware!!!...
---
I rode a 900 LT at a Daytona Beach rally bike demo.
Nice power and weight for interstate and 2-up cruising.
However, this bike does not have near the same cornering clearance as our VN750. The floorboards on this one are pretty low, Dude.
In a tense situation, this could come home to haunt you--in a hurry.
Sooooo.....for serious 2-up riding, I would instead look at the 00-04 Honda VT1100 Ace, Aero, or Sabre.
As an added bonus, the above 1100s can be fitted with an aftermarket centerstand, making them much nicer to live/work with while not riding.....
---
'05 VN750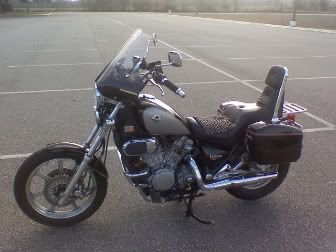 For other bike pix & mods, go to:
http://s1203.photobucket.com/albums/...k/VN750%20pix/
Join Date: Sep 2005
Posts: 553
I made the jump from the 750 to the 900 classic and have liked it so far. For two up the 900 does way better with tourqe and passenger room but as posted earlier the stock seat does suck. It's not as fast in a straight line as the 750 but has better high speed power. Not quite as nimble as the 750 either but rides nicer
Members who have donated towards server costs
Join Date: May 2006
Location: Tampa, Florida
Posts: 1,766
When my 750 was disabled (needs head and cylinder gaskets), I went looking for something to ride. I do a lot of highway riding to/from work so cruising rpm's was a major factor for me.
I had heard good things about Meanstreak's and test rode a few and really like everything about them. Lot's of power, great ride, great handling, and great looks. There is a great resale market and I picked up my 02' for 5,100 with 6,500 miles on it.
Bought it as you see below except I added the shield. Do not 2 up ride so the stock seat is fine, definitely have to change it for second more than once and a while rider.
Something else to add to your list.
Jon
---
93VN750, under re-construction
vn750.com Member # 828

Rick's Stator and R/R
MF AGM Battery
Coastered
Degoated
Shaved & Jetted
Iridium's
MAC Tapered Staggered Pipes
Battery/Temp/Clock Gauge
Stainless Steel Brake Lines
Dunlop D-404's
23,XXX miles and holding pending gasket change (underway!!!)