Search Goddess
Join Date: Jun 2004
Location: Conway, AR
Posts: 1,998
I've been published!
---
---
Dianna
Conway, AR
Patriot Guard Rider
2000 VN750 Sere (Serendipity)
1990 GL1500 (Ole Blue)
1986 VN750 EVie (project bike, heavy custom)
VROC # 11628 / 25000-H
ARVROC # 12 Coordinator and Crowd Control
OKVROC # 18 (H)
TNVROC # 45 (H)
Senior Member
Join Date: Mar 2007
Location: Near Cooperstown, New York
Posts: 722
Congrats Dianna!!!!
---
Brian Manchester
'89 "GRIMM"
CUSTOM
-Seat,quick detach backrest,2.5"slam brackets,Pipes,Fender struts,head light mount,9"rise dragbars,Grips,Mirrors, turnsignals,LED brake light/Lic.plate frame,Chopper headlight. Shaved,Jetted,coastered,polished forks,saddle&Tool bags,horns moved,180/70/15 rear tire!!! Yes a 180!!!!And other stuff.....
Springfield 1911-A1 Compact .45acp
03 F250 superduty 4x4 V-10 crew cab long box 33's,CAI,SS duals with magnaflow
04 durango AWD
Once Banned
Join Date: Jun 2006
Location: Bryant, Arkansas
Posts: 2,125
Pretty Darn Slick.
---
2000 A16
Drilled baffles
$65 leather saddle bags
Kuryaken grips
relocated R/R
de-badged
25,000+ original owner miles
and the Adventure Cycle
Join Date: Jun 2004
Location: Western PA
Posts: 6,138
Too cool, Dianna.
If I wasn't ready to head out the door to work I'd read it now. Maybe it'll be a slow day there and this will give me something to do.
Great Job!!
---
AKA: Tim & 'The Adventure Cycle' VROC #24567, NEVROC, SteelCity VROC
"When life throws you curves,
Aim for the apex."


Author Unknown
Join Date: Oct 2007
Posts: 98
Members who have donated towards server costs
Join Date: Jun 2006
Location: Corpus Christi, Texas
Posts: 1,647
Nice article!!
---
Jim W
93 VN 750 "Ursula"
Moved R/R 08Sep06
R/R rewire 17Feb07
New R/R, Installed 14Jun08
New Stator installed 10 Jun08
Maintenance Free Battery 12Jan08
21480 Miles
VROC #8542
Old Twistie Sticks Rider
Join Date: Aug 2007
Location: Country Created by Geniuses, But Run by Idiots...!!!
Posts: 5,072
GREAT !!!!
Have a good one...Old Dog...
Drive less, ride more...
Join Date: Nov 2005
Location: SW Ga
Posts: 1,114
Too cool for words!!!......
AR has some beautiful riding...wish I could have been there, too.
---
'05 VN750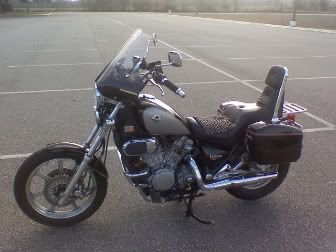 For other bike pix & mods, go to:
http://s1203.photobucket.com/albums/...k/VN750%20pix/