Join Date: Nov 2007
Posts: 49
safety lighting on bikes and legalization
---
hello everyone just was wandering what others have put on there bikes to be alot safer when riding at night? also if using any kind of tireflys or other led lights are they legal? had a friend of mine put some led lights on her bike and got pulled over in Houston and was told she could not use them? but from what I found from the Texas DPS they recomend using more lights so others can see you at night? so if any one has done anything to help see you at night please post a reply and pics if you have any. Thanks
Do not use blue and red lights that can be seen from the front of the bike. Other than that I do not see any problem.
---
02 honda sabre 1100
and the Adventure Cycle
Join Date: Jun 2004
Location: Western PA
Posts: 6,138
From what I've been told by a local LEO in PA, anything not offered by the manufacturer is
technically
illegal.
Most states (if not all?), as NiteRider said, make it illegal to have red and/or blue on the front of a vehicle,
or blue anywhere. (unless for show use only)
But as for extra yellow, amber or
rear facing
red, a lot has to do with the mindset of the officer.
If it's not too distracting to other drivers, they may let it go.
If, as they say, it's a bad donut day .
,
the LEO might get picky and, as in the case of your friend, pull out the citation book.
---
AKA: Tim & 'The Adventure Cycle' VROC #24567, NEVROC, SteelCity VROC
"When life throws you curves,
Aim for the apex."


Author Unknown
If wanting to simply be safer at night , there is no reason to go to multi-colored lighting in the first place..Just use white or amber lights in front and red in back. Totally legal everywhere I am told. The only problem you might have is some states only allow you to have 2 or less headlights...but the wording there means the extra lights you use in front have to be specificly sold as "headlights" and not driving lights, fog lights, or marker lights.

So legally, you can have a strip of white LED's running down your forks and across your windscreen, and have a hundred tiny red lights on the back.

Just make sure you don't over do it and end up making it harder for folks to pick out your brake lights.....

KM
HAWK
Join Date: Feb 2006
Location: Chicago land
Posts: 2,576
This is a good way to add a little mor light to the rear.
http://www.cruisercustomizing.com/de...aki_Vulcan_750
Also the LED plate frame works good to.
---
Chad Falstad "Hawk"
Vroc #17649
2011 HD Ultra Classic "angel"
2001 Nomad 1500 Sold March 2012
2001 VN 750 "Sold June with 2008 with 21,000""Serinity"
---
Last edited by Ccspinner; 12-15-2007 at

07:36 PM

.
Drive less, ride more...
Join Date: Nov 2005
Location: SW Ga
Posts: 1,114
Make 'em look
---
In an effort to stand out better in traffic, but keep things easy on the charging system, I went with some LED light bars as part of a LED kit I installed on my 750.
If you want something really street legal, use amber everywhere except the rear--use red (only) back there.
You can get an idea of what I'm talking about by checking out the attached pix in the following forum link:
https://www.vn750.com/forum/showthread.php?t=5791&page=2
In GA and in FL I've had no problems from law enforcement with this setup.
---
'05 VN750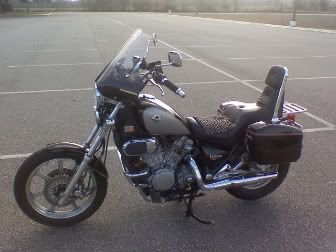 For other bike pix & mods, go to:
http://s1203.photobucket.com/albums/...k/VN750%20pix/
---
Last edited by theauhawk; 12-15-2007 at

08:26 PM

.
Senior Member
Join Date: Jul 2007
Location: Castle Rock, Wa
Posts: 1,750
I have old hard bags on my vn that I attached 6 inch LED truck/trailer lights facing rear. On the sides of the bags I use red marker lights. To round out the package, I wear a hi-vis green winter jacket with reflective stripes.

Must work, I'm still alive.
Quote:
hello everyone just was wandering what others have put on there bikes to be alot safer when riding at night? also if using any kind of tireflys or other led lights are they legal? had a friend of mine put some led lights on her bike and got pulled over in Houston and was told she could not use them? but from what I found from the Texas DPS they recomend using more lights so others can see you at night? so if any one has done anything to help see you at night please post a reply and pics if you have any. Thanks
Oddly enough, turn signals are not a requirement in the state of Texas.
---
02 honda sabre 1100
Members who have donated towards server costs
Join Date: Jun 2006
Location: Corpus Christi, Texas
Posts: 1,647
So that's why no one uses them here!!!!
---
Jim W
93 VN 750 "Ursula"
Moved R/R 08Sep06
R/R rewire 17Feb07
New R/R, Installed 14Jun08
New Stator installed 10 Jun08
Maintenance Free Battery 12Jan08
21480 Miles
VROC #8542
Quote:
So that's why no one uses them here!!!!
No requiered on MOTORCYCLES, required on automobiles. Sorry about that.
---
02 honda sabre 1100