Member
Join Date: May 2007
Posts: 71
Tour set-up
---
Greetings, all. I've owned a 2005 VN750 for about a year now. It's been a good bike and I've enjoyed it a bunch, but have gone back and forth about trading it up for something a bit bigger.

Bottom line is that I can't deny the essential goodness of this machine...it's pretty nearly perfect in size and comfort for me. At the International Motorcycle Show in San Mateo, CA yesterday, I had an opportunity to sit on and examine many motos to see if there was something I'd like to upgrade to, but I didn't really find much in the Honda, Suzuki or Yamaha lineup. The BMW types were pretty much walking around with their noses in the air, but their bikes aren't really much more technically. I mean...I already have a motorcycle with a DOHC, V-twin, liquid-cooled engine, 5-speed transmission and shaft drive already...I own it free and clear and I sure didn't pay anything close to what they're getting for a basic BMW F800 these days...The bottom line is that the only machine that really fits me and worked in terms of size, ,cost, mileage, range and comfort were the Kawasaki 900s, specifically the 900 Custom, which really floats my boat. It's a great machine and very comfortable....

But then, I rode my VN750 today, and it's just good all over. I'm keeping it.

Anyway (boy did I get off track there!!), I'd like to set up the VN750 for a little longer range work. Here are my thoughts on doing so:

Windshield/Fairing I have the little Vulcan sport shield on the bike and it's fine for little jaunts, but it doesn't really keep the wind off me on the highway, so I'm thinking about replacing it with a National Cycle Plexifairing III.

Floorboards The stock footpegs are not bad, but floorboards would allow me to shift foot position once in awhile, which I think is important. I think I can replace the pegs with Kuryakn boards using a Kuryakn adapter made for this purpose. An alternate idea might be the Jardine boards and forward controls, but that ends up costing about $600.

Cruise control I can go with a throttle lock or a throttle lever...haven't decided yet.

Bags I like the Kuryakn or First Gear nylon throwovers.

Luggage rack/tail bag The stock luggage rack is apparently still available from Kawasaki. It's fairly small, but I don't think there are many other options. Anyone know of any? I'd pair this up with a Kuryakn Tour Trunk.

Seat/driver backrests The stock seat is actually pretty good, but the Russell DayLong looks VERY comfortable. I also like the ProTac driver backrest.

Engine guard This is also a Kaw accessory part which is still available from Kaw. Looks like a good place to mount highway pegs.


Anyway, it's be great if you feel like commenting about any or all of the above regarding my making the VN750 into a mini-tourer...Got any other ideas or some knowledge about any of these mods? Let me know...
---
Bob
VROC #24344

2005 VN750
PF3
CorTech bags
---
Last edited by gumshoe4; 11-17-2007 at

08:53 PM

.
Sounds like all your changes/ideas go with what many have done.

As a side note, I hope to have another run of floorboards around Feb/March , so if some 100 buck floorboards are of intrest to you, keep an eye out around that time in the "equipment" page of the site.

Many like the PF3 so that's a go , and if you are tall...like 6 foot or more, those forward controls are the ticket I am told.

check some of the posts here about mounting Givi hardbags and top cases, as these rock.

And yeah, the 900 custom is the only cruiser bike I'd get if I was in the market for another bike.

KM
Drive less, ride more...
Join Date: Nov 2005
Location: SW Ga
Posts: 1,114
Beware!!!...
---
In terms of decisions you are now facing, welcome to our world....
The VN750 adapts fairly well to the role of a tourer, I think. It's biggest issue (from my experience, anyway) is its seat produces a good "butt burn" situation unless your stopping every hour or so for a break and/or a drink of water.
The seat upgrade options (as you've noticed) are many, and are mainly dependent on your tastes and budget.
Beemers are generally very good bikes, but you pay dearly for this upgrade. They are pricey to buy, pricey to work on and pricey to buy parts for (just like Harleys). The dealerships are fewer and far between if you have a problem under warranty. I have yet to ride one, and I have mixed feelings about the "boxer" engine config. For those of us who love shaft drive, BMW's new 800 (with the parallel-twin engine and the belt drive) is not a handsome bike.
Meanwhile, the VN750 is truly economical to own, operate, and insure.
With regard to the Vulcan 900--you give up many of the niceties of the VN750, and its stock floorboards give you
A LOT LESS
lean angle in turns/corners.
The 900 is aimed at a totally different kind of rider who has never been introduced to a VN750 type bike!!!.....
---
'05 VN750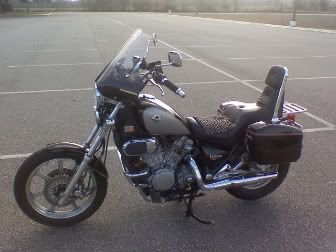 For other bike pix & mods, go to:
http://s1203.photobucket.com/albums/...k/VN750%20pix/
---
Last edited by theauhawk; 11-18-2007 at

09:44 AM

.
and the Adventure Cycle
Join Date: Jun 2004
Location: Western PA
Posts: 6,138
Here's my thoughts on your thoughts.....
First, the BMW's- The only ones of these I like (atleast visually, as I haven't rode one) is the dualsport F650GS, but at over $9,000.... that'll have to wait until I hit the lottery and it's probably not that well of a tour type bike.

Windshield/fairing- I have the Plex-3 and really like it. I usually lean it way back to decrease wind resistance, but if I need better protection I can easily move it. I tried a smaller shield and I'd prefer the Plex-3 or nothing.

Floorboards- Although they may make riding more comfortable, I don't have any troubles with the stock pegs. I move my feet forwards and back on them, and have, on occasions, even rested my legs over top of the airboxes to stretch my legs. There have also been more than a few times I drop the passenger pegs and use those.

Cruise Control- I like the idea of that in my Jeep, but would rather not have it on my Vulcan. I do have a Throttle Rocker though, and that seems to work fine for me. Unlike how most use it though, I have mine mounted on the inside part of the grip, to use the heel of my hand under my thumb instead of under my little finger. I seem to get a better feel of it there.

Bags- I had a set of Willie & Max large slants, then went with a set of MotoPac GTS-60's. I really liked the style and functionality of the MotoPak's, but have had both zippers on the yoke fail on me (I believe due to having them loaded up pretty good). I replace the zippers myself as well as applied clamps to hold them to the bag supports and that seems to have solved that problem.

Luggage rack/Tail bag- I removed the stock trunk and added a backpack style camera bag in it's place. Holds a lot more and helps keep things from bouncing around. I've also used a standard external framed backpack mounted to the rack for longer trips.

Seat/Drivers backrest- Unlike a lot of folks here, I don't have too many issues with the stock seat. I started motorcycling on dirtbikes, so I think that may have conditioned my butt for a sometimes uncomfortably long ride. If I feel the need for a backrest, a small dufflebag (stuffed with an extra jacket or something) strapped to the seat works fine for me.

Engine guard- Personally, not something I like the look of on the Vulcan.
---
AKA: Tim & 'The Adventure Cycle' VROC #24567, NEVROC, SteelCity VROC
"When life throws you curves,
Aim for the apex."


Author Unknown
85 VN 700
Join Date: Feb 2007
Location: Albany, OR
Posts: 1,033
I love the PF3 - I wish it were a bit taller (I'm a big guy) but most think it's just right if not a bit too tall...

Bags - I love my ammo can bags - far bigger than anything available and I can attest that they're tough! The bike went for a slide on one side and had a low/no speed drop on the other - because of the ammo cans, damage was minimal and the cans don't look that much worse. They certainly look unique, which means they ain't for everyone.

Seat - I've heard good things about the daylong and may have went that direction had I not got a smoking deal on a mustang seat (thanks Grambo!). The mustang is unfortunately no longer made, so you'll have to find one used, but I can higly recommend it - a good seat makes all the difference.

I have some (poorly) home made KM style floorboards. They make it much more comfortable for me on the bike. If looks matter to ya, keep an eye out for KM's next production run - if looks don't matter, get some scrap aluminum at a nearby metal recycling place (should be less than $10 for the material) and try your hand at making some... if they end up looking like crap, order some of KM's when he makes em.
---
Curtis - Albany Oregon.
Currently receiving therapy from "Doc" - My 1985 VN700.
Daily rider in NorthWET Oregon.
Ammo Can Saddlebags
Shaved and Rejetted. Coastered. Degoated w/ Hardley pipes.
Bought Feb 2007 with 12K miles.
Hit the 24k mile July 2008
http://photobucket.com/curtis97322
Member
Join Date: May 2007
Posts: 71
Hi, guys...thanks for the many good thoughts.

Curtis, I'm really interested in your ammo can sidecans. I'll do a search for more info, but I wonder if you can provide more info on which cans to select and how they were prepped and mounted?

I think I'll wait on the floorboards until KM makes up the next batch...that sounds like a good solution.

I'll probably go for a Throttle Rocker also...I was thinking to mount it on the outside and hadn't thought to put it where I could activate it with the thumb. That's really a good idea and I'm going to try it!

I'll still go for the luggage rack. Also, it's nice to know that my instinct regarding the PF3 was good. Sounds like you all have had good success with it....

Thanks for the responses!!

Bob
---
Bob
VROC #24344

2005 VN750
PF3
CorTech bags
85 VN 700
Join Date: Feb 2007
Location: Albany, OR
Posts: 1,033
https://www.vn750.com/forum/showthread.php?t=3810
for the ammo cans. I ended up setting up a hinge on the back end of the cans with a bolt through the levers that hold the lid on (I'm not finding the right word for em...)... and I also ended up putting trailer lights on the cans. I'll update pics eventually.
As I said, they're a bit ugly but they're solid. I'll probably end up making new ones eventually (these are a bit beat up from the drops and being constantly overweighted) but these have worked great.
If ya have any further questions about how I mounted em feel free to ask. I can take better pics, etc. if ya need em. Major rule is figure out how big ya want the cans to be (I did so by figuring out what size I'd need to fit a full backpack/ big laptop case and went from there), cut out a piece of cardboard the same size (if not a bit bigger) once you've found appropriate sized cans (the ones I got are probably close to the biggest you'll fit) and move it around till ya find the right mounting spot. Once ya think you've found the right mounting spot, have a friend, wife, etc help ya with mockup with the cans themselves - I had the angle iron drilled in and bolted to both the bike and the cans, then used a pair of vice grips and my wife to figure out where on the bike the cans should go - good thing too since I'd wanted to put em where would have been about 1 1/2 inches too far forward for my wife to be comfortable riding on the bike with me...
Mockups are good - but remember, cans are cheap so if ya screw up - buy new ones!
---
Curtis - Albany Oregon.
Currently receiving therapy from "Doc" - My 1985 VN700.
Daily rider in NorthWET Oregon.
Ammo Can Saddlebags
Shaved and Rejetted. Coastered. Degoated w/ Hardley pipes.
Bought Feb 2007 with 12K miles.
Hit the 24k mile July 2008
http://photobucket.com/curtis97322