Join Date: Aug 2007
Posts: 6
Turn signal relocation
---
I have a new set of saddlebags that appears to interfere with my turn signals if anybody has any ideas on how to solve this problem I would really appreciate it.
Well, Kawasaki makes a set of saddlebag supports that come with a turnsignal relocation kit.
Or you can juse drill some holes in the taillight mount and bolt them in there...

Or make some brackets to mount to your licence plate mount...

KM
Old Truck Junkie
Join Date: Jul 2007
Location: Roby Texas
Posts: 4,132
this is the way I solved the problem.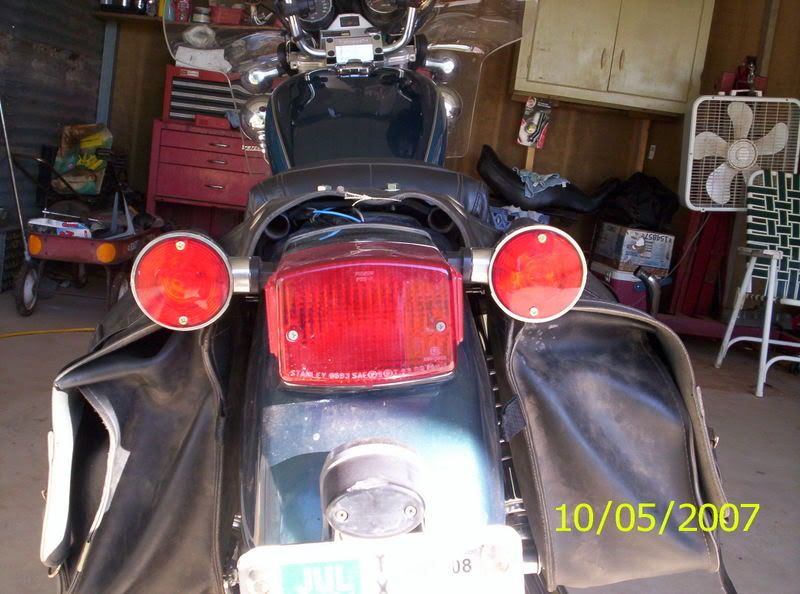 ---
02 honda sabre 1100
Join Date: Aug 2007
Posts: 115
here was my solution
Senior Member
Join Date: Mar 2007
Location: Near Cooperstown, New York
Posts: 722
Shortened the stalks on mine to clear the bags too.Pics in gallery.
---
Brian Manchester
'89 "GRIMM"
CUSTOM
-Seat,quick detach backrest,2.5"slam brackets,Pipes,Fender struts,head light mount,9"rise dragbars,Grips,Mirrors, turnsignals,LED brake light/Lic.plate frame,Chopper headlight. Shaved,Jetted,coastered,polished forks,saddle&Tool bags,horns moved,180/70/15 rear tire!!! Yes a 180!!!!And other stuff.....
Springfield 1911-A1 Compact .45acp
03 F250 superduty 4x4 V-10 crew cab long box 33's,CAI,SS duals with magnaflow
04 durango AWD
What are the things that look like giaint crackers on top of the turnsignals?

KM