Members who have donated towards server costs
Progress! Orleans combusts!
---
Anybody else tired of trying to problem this stupid bike with me? Geez, Louise, it just can't be this hard.
Okay, here's where I'm at:
Pulled the carbs yesterday, put in new fuel lines, checked all connections, semi-sync'd, etc.
Reinstalled airbox, wiring harness, etc., etc. ,etc. today, and decided that I'd go ahead and mount the tank and see if I could get fuel flow from the petcock. Last week, following someone's post, I pulled the spring from behind the diaphragm in the petcock, as well as the o-ring at the piston. So it's now a gravity-fed fuel system.
Charged the battery,turned the key, hit the starter, and got a nice loud backfire from the right side exhaust (front cyl). DEcided I'd better let O. catch fire in the driveway, so went out and hooked her up to the car battery. I continued to get occasional explosions (all but one form the right side), and once after a backfire - just once - the engine caught and turned over a little (and I had witnesses!).
However, I flooded the cyls periodically during this process, and finally gave up.
I'm guessing the backfiring was from trying to run it too rich? I pulled the plugs and they looked pretty dry, but all smelled of gasoline.
Anybody got anything else I could try to get this thing working? I am now completely out of options.
---
C
If the battery was just charged. why would you hook it up to a car battery?
I would think the higher amps would not be kind to the bikes skinny wires and toy like electronics.
You did not say if you used any choke, if you know you are getting a spark at each cylnder, or if both were running when the bike briefly ran.

Sorry, but have not been following your problems here, but I would make sure I was getting a good spark and If you got it to run for a short time it sounds like you still have carburation issues.

KM
Members who have donated towards server costs
'Cause I was worried about draining the battery, so thought I'd borrow so juice from the car. Maybe not the best idea, but I wanted to rule out the possibility that the no-start was because the battery had drained in the first couple of efforts.

May well be the carbs, but I have no idea what now. They were clean, the gaskets were good, I did do a pre-install sync, boots are on tight, cables are on ok... I'm honestly not sure what else to check on them. Or anything, really.

(got spark at all four plugs, too, sorry)
---
Last edited by Crobins365; 10-28-2007 at

08:56 PM

. Reason: response to spark question
Members who have donated towards server costs
Join Date: May 2006
Location: Tampa, Florida
Posts: 1,766
Now I am concerned that your ignition timing may be off.

Can you double check it?

Jon
---
93VN750, under re-construction
vn750.com Member # 828

Rick's Stator and R/R
MF AGM Battery
Coastered
Degoated
Shaved & Jetted
Iridium's
MAC Tapered Staggered Pipes
Battery/Temp/Clock Gauge
Stainless Steel Brake Lines
Dunlop D-404's
23,XXX miles and holding pending gasket change (underway!!!)
Join Date: Jul 2007
Posts: 93
mine did the same thing when I first tried starting it but that was before i pulled the carbs for cleaning (stuck floats). so since you have already cleaned them i dunno. only the smell of fuel on the plugs? not wet at all?
Drive less, ride more...
Join Date: Nov 2005
Location: SW Ga
Posts: 1,114
I spoke with a Kaw mechanic in Pensacola, FL.
You may connect the bike's battery to a car or truck battery--as long as the car or truck has a 12-volt system and
is not running
.
Apparently, you're either running rich, not getting enough spark--or both.
Diagnose it backwards from there.
If one or more of the plugs smelled like gasoline, then that would suggest (to me, anyway) that most likely you are not getting enough spark.
Do keep us posted on your progress!!!.....
---
'05 VN750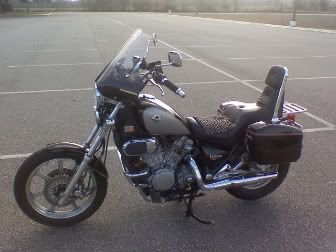 For other bike pix & mods, go to:
http://s1203.photobucket.com/albums/...k/VN750%20pix/
---
Last edited by theauhawk; 10-29-2007 at

12:01 AM

.
Members who have donated towards server costs
Join Date: Jan 2006
Location: Cheyenne Wyoming
Posts: 508
Concur with the AUHawks mech, as long as you do not have a short you'll only pull the amps needed and won't have to worry about burning wires. You just have to rem. not to hold the start button to long.
---
Rckmtn
Dennis Huff
Cheyenne, Wy.
05 VN 750
KURYAKYN grips, helmet locks, and highway pegs
Spitfire windshield
Saddleman saddlebags/sissybar bag
Highwayman gelseat with Protac backrest
self canx turnsignals
Diamondstar headlight modulator
Jardine 2 into 2
MCC turn signal relocator and floorboards
Luggage rack
Extended passenger backrest
KURYAKYN LED voltmeter
Custom tank bra with analog clock
Snider paint protector on tank side
130 DB horns
Members who have donated towards server costs
Yep, knew that about the car, so it was definitely off. Just wanted to leech off it for a little while.

Jon, I checked the timing on the front cyl - it's fine (chain lines up/cams out at TDC per Clymer's). So I figured I could at least get the front cyl to fire, even if the rear were off a little. But no such luck.

Maybe I'll double-check the plugs that I got. Ya'll know how fond I am of my local NAPA employees - it's always possible that they gave me incompatible plugs and I made the mistake of not double-checking. (And, no, they didn't look wet to me - I'd have thought after all that mess they'd be dripping so I pulled them to clean 'em. No need.)

The fact that I got it to backfire a few times does suggest that some fuel is getting into the cyl, right? Which would be a step in the right direction compared to where I was last week?
and the Adventure Cycle
Join Date: Jun 2004
Location: Western PA
Posts: 6,138
Sounds like things are getting closer to firing up for Orleans!
I would expect that you would have, but I'll ask anyhow.... did you check the gap on the plugs?
---
AKA: Tim & 'The Adventure Cycle' VROC #24567, NEVROC, SteelCity VROC
"When life throws you curves,
Aim for the apex."


Author Unknown