Compared To A Magna
---
Dad just bought a used 750 magna. He used to borrow my vulcan form time to time, so he knows the vulcan pretty well.
So I get comparisons from my pals, everytime Dad rides along in the honda.
People just think the magna is better in everyway, and so they talk bad about my ride.
Let me tell you guys, Magnas are NOT BETTER BIKES!.
Sure they are fast and good looking, but after driving it I found the vulcan to be better handling, better braking, torquier, have a better riding position, and if You get a jet kit installed like I did, It even will be faster accelerating to 70 MPH.

Any thoughts?
Drive less, ride more...
Join Date: Nov 2005
Location: SW Ga
Posts: 1,114
More info, pleeeezzz...
---
Several different configurations of a 750 Magna have been produced since the early 1980s, so you'd need to offer more info on the bike b4 I (we?) could offer decent feedback.
For the Magna....what year model are you talking about? Is it one of the newer ones with chain drive? Or...is it one of the rare Magna Sabres? Or...is it one of the older Magnas that had cam bearing problems???
---
'05 VN750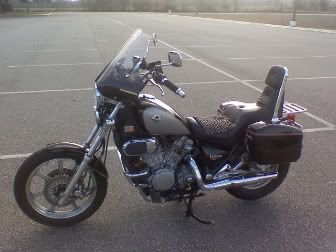 For other bike pix & mods, go to:
http://s1203.photobucket.com/albums/...k/VN750%20pix/
---
Last edited by theauhawk; 10-11-2007 at

09:03 PM

.
It's a stock, year 2000, vf750 magna with chain drive, and 7000 miles on it.
Perhaps I shouldn´t be so hard on this bike. Its a very good bike overall, and a good value for the money. Plus very Few cruisers have similar performance.
Anyway, I think it is wrong to rate a motorcycle based only on its performance, which is very usual among young riders.