Join Date: May 2006
Posts: 3
Advice Needed
---
I need to sell my 2006 V750, purchased new May 20, 2006. 3400 miles, used a back road communter to work, engine never redlined, near perfect condition. Has Kawa luggage rack and wind screen, four year transferable Kawa extended warranty, and two helmets. Any advice on how much to ask and on best way to sell is greatly appreciated. Bike is located in Cedar Hill Tx.

Thanks
Drive less, ride more...
Join Date: Nov 2005
Location: SW Ga
Posts: 1,114
Ebay, Ebay, Ebay....
---
Take some really good pictures of the bike...from all around the bike.
Good pictures, from different viewing angles, will help sell the bike a lot, especially if she's in great shape.
Then sell the bike on Ebay.
If you don't have an Ebay account, go to the Ebay website, set one up, and learn how to sell on Ebay.
You'll be glad you did!!!.....
---
'05 VN750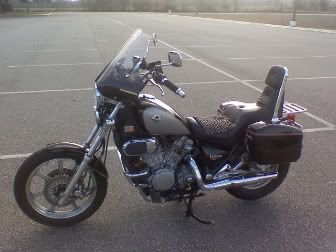 For other bike pix & mods, go to:
http://s1203.photobucket.com/albums/...k/VN750%20pix/
Old new guy
Join Date: Jul 2007
Location: Vancleave, MS
Posts: 31
Go to cycletrader.com and search for an 06 Vulcan. You'll see what others are asking for the same bike. Some of the dealers are pretty proud of their bikes and ask almost new bike prices. Most folks seem to average around $5500. Cycletrader is a good place to list it also. Definitely agree with the pictures. Large size, up close, from all angles, IN FOCUS. And quite frankly, I would never buy or even wear a used helmet.
---
Mississippi Swamp Rat
2006 VN750, "
Little Big Bike
", adopted Aug 07
POW ride bell F&S backrest Westco AGM PF3 bobbed 2" F&S engine guard Kuryakyn ISO-Pegs Mustang seat Vista Cruise Highway Hawk bag support W&M braided slant bags & tool pouch Biker's Friend F&S rear rack Rider Light Diamond Star headlight modulator BackOFF brake light flasher
Join Date: Jun 2007
Posts: 185
Found mine on craigslist. I wasnt loking for a vn750. I was looking for a good deal, close by. The vn750 was the one I took.