Not starting! Newbie needs help!
---
Hey guys, I bought an '03 Vulcan a week ago that was sitting for a year. It was driven about 3 miles on the old fluids before I changed the oil (just a test drive, basically). After I changed the oil, the bike started fine and ran smoother, so I took it up and down the block a couple of times just for the hell of it.

Later in the day, I go to start it up and the starter just cranks and I get loud backfires. I figured that it was a hot starting issue (although I do have a MF battery), so I let it set overnight to cool off. I went to start it up 20 mins ago and the starter just cranks and I hear clicking coming from under the left-side engine cover (when sitting on the bike).

Any words of wisdom?
---
Last edited by j0hn0tt0; 08-05-2007 at

12:44 PM

.
HAWK
Join Date: Feb 2006
Location: Chicago land
Posts: 2,576
Have you tried checking the batt, it is probabley original and low on water.
I would recomend replaceing it with a maint free one.
You could try fllint the stock one and charginr it to be sure that is your problem.
---
Chad Falstad "Hawk"
Vroc #17649
2011 HD Ultra Classic "angel"
2001 Nomad 1500 Sold March 2012
2001 VN 750 "Sold June with 2008 with 21,000""Serinity"
I have a MF batt in there already and I tested the voltage last night and it was ~11.9 volts.

I should also mention that I relo'd my R/R the other day. I dunno if that has any significance, but you guys would know more than I would.
Drive less, ride more...
Join Date: Nov 2005
Location: SW Ga
Posts: 1,114
Congrats much on the bike purchase!!!!.....
The '03 is easily one of the best-looking VN750s ever made--the mix of red (instead of black) really flatters the bike a lot--good call!.....
You might also try the Sea Foam trick, as described elsewhere in this forum.
---
'05 VN750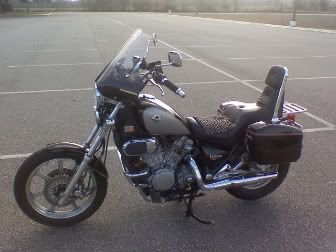 For other bike pix & mods, go to:
http://s1203.photobucket.com/albums/...k/VN750%20pix/
I put a healthy dose of seafoam in the tank before the test ride. =\
Join Date: Jul 2007
Posts: 33
Well starting has to do with 1 of 2 things basically. Spark and Gas have to have both. Pull each of the plug wires and turn it over to make sure you see the arch of electricity. Then I would move to the petcock (located on the left hand side if you are sitting on the bike right underneath the fuel tank. Turn it to the off position. Pull the fuel line off. Put a rag under it. Turn the petcock to the on position. If you get fuel at that point you can put the fuel line back on and move to the carbs. On the bottom of each bowl there is a tiny screw this is how you drain the bowls. Loosen each screw to make sure there is fuel in the bowls. Doing the Seafoam you may have knocked some **** loose and it is starving the engine of gas. Last but not least drain the gas tank and replace with FRESH new gas. Not something laying around the garage, goto the gas station and get fresh gas so you know for sure it is good. If you are going to do more than the recommended 1 oz of seafoam to 1 gallon of gas I always do it in a separate container. While the bike can run on a seafoam mixture it is hard as hell to start it with a heavy mixture.
Thanks alot for the info, pbuehlz. Looks like I'm getting dirty again today!

You don't think the R/R or Stator could be the issue, do you? The stator going is my biggest fear.
Search Goddess
Join Date: Jun 2004
Location: Conway, AR
Posts: 1,998
A stator on an 03? How many miles does it have on it?

One thing you may check is since you relocated the R/R and I am assuming you put the maintenance free battery in.. Check your ground wire and the battery cable. The battery ground needs a good clean contact with the frame. and a loose battery cable won't make good contact. Also check for any wires that may have gotten pinched under the seat from taking the seat off and putting it back on.
---
Dianna
Conway, AR
Patriot Guard Rider
2000 VN750 Sere (Serendipity)
1990 GL1500 (Ole Blue)
1986 VN750 EVie (project bike, heavy custom)
VROC # 11628 / 25000-H
ARVROC # 12 Coordinator and Crowd Control
OKVROC # 18 (H)
TNVROC # 45 (H)
Has about 5500 miles on it. I'm charging the battery at the moment, since it only had 11.75 volts when I tested it a little while ago and seemed to be struggling when I tried to start the bike.
I'll check around for any pinched wires or loose connections, too.
Hopefully I"ll have it running by tonight.
Search Goddess
Join Date: Jun 2004
Location: Conway, AR
Posts: 1,998
Chances are the stator is good. If the battery continues to lose charge though you might want to take it in to a parts place that does battery testing. Make sure they do a load test. You could have a bad cell.
There have been a few batteries that have gone south before their time, even the maintenance free ones.
---
Dianna
Conway, AR
Patriot Guard Rider
2000 VN750 Sere (Serendipity)
1990 GL1500 (Ole Blue)
1986 VN750 EVie (project bike, heavy custom)
VROC # 11628 / 25000-H
ARVROC # 12 Coordinator and Crowd Control
OKVROC # 18 (H)
TNVROC # 45 (H)