Join Date: Jun 2007
Posts: 185
Rainy weather lately...
---
So am I the only one clocking on rain riding experience?

Seems to be raining here everyday for about an hour or so in the evenings. We've had 50%+ chance for rain everyday, but if it isnt raining when I go out the door, I ride to work regardless what the weather prediction is.
Drive less, ride more...
Join Date: Nov 2005
Location: SW Ga
Posts: 1,114
In a word: no!!!

Here recently, I did a trip on my bike to the northern GA area.

I stayed in rainfall most of the way home--below Macon, GA.

Usually, I don't leave my place without my Frogg Toggs.

A good windshield, a good full-face helmet, good boots, a set of FTs, and the right gloves, and the VN750 is a great rain-or-shine machine.
---
'05 VN750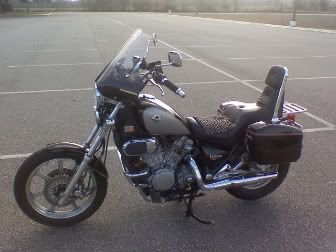 For other bike pix & mods, go to:
http://s1203.photobucket.com/albums/...k/VN750%20pix/
Join Date: Apr 2007
Posts: 139
Rainman got me today on the way home from work. I almost made it too, a mile away from home and an unbelievable downpour that lasted until 2 minutes AFTER I made it home lol.
and the Adventure Cycle
Join Date: Jun 2004
Location: Western PA
Posts: 6,138
I luckily haven't had many rain rides lately.
Thought for sure I would for the cruise up to the Erie Ride,
but the skies cleared and the sun was shining all weekend long.
But even if it woulda rained, I was still going.
Foxhound & Sunpa got it pretty good though.
---
AKA: Tim & 'The Adventure Cycle' VROC #24567, NEVROC, SteelCity VROC
"When life throws you curves,
Aim for the apex."


Author Unknown
---
Last edited by hyperbuzzin; 07-31-2007 at

02:02 PM

.
Senior Member
Join Date: Mar 2007
Location: Houston, TX
Posts: 236
We've been getting quite a bit of rain in SE TX too. If I wait until there's no chance of rain to ride, I'd never ride. I don't even listen to the weather forecast any more, if it's not raining when I leave the house, I'm on two wheels. If I get wet on the way home it's not a big deal, I have dry clothes there. The first wet ride was quite the pucker moment, but it has gotten better.
---
I smile 'cause I don't know what the h*ll is going on.
Join Date: May 2006
Posts: 108
I don't enjoy ridding in the rain at all. So don't ride into work if it's over about 30% chance of rain. So I will just have to ride on the weekends and try to outrun the clouds
Join Date: Sep 2007
Posts: 141
Being that I'm in western Washington state I clock quite a few rainy rides also. But I live only 3.2 miles from work so my rides are short and when I get home I pull in directly under the carport.
It gets dark early here during a large portion of the year and between the dark and the rain I make sure that I have on a good highly reflective vest when riding home from work in the mornings.
While the vest doesn't speak much for my fashion-sense, being seen speaks volumes for my survival-sense.
For such a short ride I don't mind not having a windshield but that's soon to be a purchase for longer movements.
Between now and then I have a good supply of Rain-X for the helmet visor.
Operationally, the bike doesn't seem to care if it rains or not.
Geek
Join Date: Mar 2006
Location: New Jersey
Posts: 872
I don't ride in the rain. That said in the past two months I have taken the cage to work four times. I had to wash it the other day just to get the dust off of it. It's getting really dry around here, we need some rain.....
---
Ron from Jersey
2005 VN750
HellFire windshield
Kaw extended backrest
Cobra exhaust
Re-located stator wires
Side bags
15,000 Miles July/2012
It's PAID OFF ! May 2009
85 VN 700
Join Date: Feb 2007
Location: Albany, OR
Posts: 1,033
Yup... us northweters either ride in the rain - or ride for 2 months of the year.

Had a little "oops" the other day (first real rain of the season) - hit a tar patch at the entrance to the neighborhood and went sideways - hurt my pride more than me or the bike - but was a reminder to watch my butt when it's raining.
---
Curtis - Albany Oregon.
Currently receiving therapy from "Doc" - My 1985 VN700.
Daily rider in NorthWET Oregon.
Ammo Can Saddlebags
Shaved and Rejetted. Coastered. Degoated w/ Hardley pipes.
Bought Feb 2007 with 12K miles.
Hit the 24k mile July 2008
http://photobucket.com/curtis97322