Old Truck Junkie
Join Date: Jul 2007
Location: Roby Texas
Posts: 4,133
Splines lubed? what is that about?
---
I see that on the signature many riders write lubed splines. What splines? May be something that I need to do.
---
02 honda sabre 1100
Senior Member
Join Date: Jun 2007
Location: Ashtabula, Ohio
Posts: 321
splines are the teeth on your transmission, driveshaft, and final drive on that connects to the rear wheel.

Do a search for splines, also look in the versus.
---
'09 Nomad
e sold
'85 VN700 A1 (needs work)
'11 Voyager
Drive less, ride more...
Join Date: Nov 2005
Location: SW Ga
Posts: 1,114
All shaft drive equipped motorcycles have splines that must be lubricated every so often.
This is true from the Honda Goldwing on down.
Some of the VN750s unfortunately came from the factory with very little (or no) proper lubricant on their splines.
Some have discovered this oversight in time--and some have not.
You can read more about this in general by clicking the following link, then scroll down to the part that's labelled "spline lubricants"...and read the rest of the page below that.
http://www.calsci.com/motorcycleinfo/Shaft.html#Splines
You'll see what is the correct lubricant to use. Do not use general purpose, heavy duty grease for the splines!
For our bike, you can visit (or do a search for) Fergy's signature and click on "spline lube procedure" to see the specifics for how to check and/or lube your bike's splines.
The sooner you do this, the better off you (and your bike) will be....
---
'05 VN750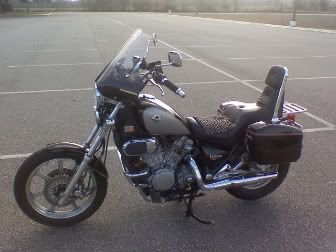 For other bike pix & mods, go to:
http://s1203.photobucket.com/albums/...k/VN750%20pix/
Old Truck Junkie
Join Date: Jul 2007
Location: Roby Texas
Posts: 4,133
Thanx I will look into it.
---
02 honda sabre 1100
and the Adventure Cycle
Join Date: Jun 2004
Location: Western PA
Posts: 6,138
And if your splines do go bad on ya (they give very little to no warning when they go),
you can expect BIG bills to get things working again.
Although, several people have got great deals on used final drives from eBay
---
AKA: Tim & 'The Adventure Cycle' VROC #24567, NEVROC, SteelCity VROC
"When life throws you curves,
Aim for the apex."


Author Unknown
Benjammin'
Join Date: Feb 2006
Location: Ohio, Dayton-Cincy area
Posts: 421
Another quick comment;
The procedure may look intimidating at first, but even folks without any experience at all (like me) with spline lubing were able to do it themselves following the step-by-step procedures. Make sure you get the proper type material and torque properly when putting back together and it will be a snap!

Good luck!
---
Ben-
SW Ohio

'02 VN750
Pipes drilled
Spline lubed
R/R relocated
AGM batteried
Iridium equipped
LED tail lighted
8000-ish miled
Soon to be MCCTed

Lovin Life.