Join Date: Jul 2006
Posts: 147
Learning from my mistakes
---
Hey gang,

Got a procedural question for you. I was out riding last night, and although I've had the bike for a year, I've only been able to put any miles on it over the past few weeks. I am still a very new rider, and thought I would ask some of you old hats what I did wrong.

I was in town, and needed to make a left to get gas. Unfortunately, there was a pickem-up truck in my blind spot and I couldn't slow to let him past me in time to make the turn. So I did the next best thing. Went to the next intersection, got in the left turn lane and made a U-turn to double back to the gas station.

The turn lane was level, but the cross street was uphill to the left. The turn light turned green, and I began my turn, obviously from a dead stop. As I turned, I was slow enough that countersteering didn't feel like an option, but I didn't get it tight enough in the turn, and was headed for the shoulder. I tried to tighten my turn, which inadvertantly caused me to roll on throttle. The back wheel broke loose, and I felt the back of the bike start to slip out from under me. (I was probably only doing 5-10 mph at this point). I backed off the throttle and put my foot down (which was definitely something that the instructors in MSC said was a no-no), and got myself straightened out...And didn't drop the bike.

My question is what did I do wrong, and what should I have done instead? It was scary from the perspective of what would have happened had there been oncoming traffic.

Thanks,
--Storm
HAWK
Join Date: Feb 2006
Location: Chicago land
Posts: 2,576
Good think is you knew when the bike was going over and stopped it.
You may have not use your counter weight on the turn. It is all getting used to the bike, rember roll on the throttel and feather the clutch.
---
Chad Falstad "Hawk"
Vroc #17649
2011 HD Ultra Classic "angel"
2001 Nomad 1500 Sold March 2012
2001 VN 750 "Sold June with 2008 with 21,000""Serinity"
Members who have donated towards server costs
Join Date: Jun 2004
Location: Naperville, IL
Posts: 382
At really low speeds, I don't think counter steering works.... a motorcycle will handle like a bicycle (balance becomes important).
---
Deuce (Loran Naperville IL)
1995 VN750 (Black w/ 2004 tins - no teal)
2003 VN750
Both have: - F&S Bags & brackets
- Corbin seat w backrest
- Progressive suspension.
- Kury iso goldwing grips
2 1983 V65 Magnas
2 1985 V65 Mangas (1 which is in many parts)
Lebanon, NJ
Join Date: Mar 2007
Location: Lebanon, NJ
Posts: 437
Well I'm a newbie here as well but encountered a similar problem once. As my MSC instructor told me many times. "Turn your freakin head!" Were you looking where you wanted to go?

As I was making a very tight slow left U-turn, I too was headed for the side of the road when I remembered the instructors admonition to "Turn your freakin head!" I did and rolled through ok.
---
2FAS4U
Join Date: Mar 2006
Location: Kentucky
Posts: 469
Turning your head is correct. Spot the turn, then look ahead to were you want to go, not down at the road.
As far as putting a foot down, I have had to on a few occasions encountering gravel in a turn. It may just be instinct, but it works for me.
I ALWAYS wear boots and long pants when riding.
Join Date: Jun 2007
Posts: 185
I am also a new rider and I think you for sharing this story so I can learn from it too.
The first time I brought my 750 out of the drive way I felt simular to what you describe here bcause I was turning from driveway to street, banking hard left. New bike, new rider, no trainning = formula for potential problems. I think I may have acedentaly given it a bit of throttle pushing into the turn too. I lost my balance and just by reflex I let go of the clutch to concentrate on regaining balance. When I did that the bike lurched forward. It went down on the left side and I tumbled forward over the handlebars into the ditch.
Somone above said "feather the clutch". I've noticed that since that day I've been developing the habbit of squeezing the clutch when somehting goes wrong rather than letting it go. Perhaps you may have let the clutch go too quikly just reacting to the problem that developed?
Glad you are ok and thanks for posting this. I am having such a good time riding but there are some nerve wrenching aspects to learning. Wich is why everyone here always advises MSF. (I didnt do MSF)
Take it slow, ride safe, and have fun with it.
---
Last edited by vn750joe; 07-22-2007 at

09:57 AM

.
Drive less, ride more...
Join Date: Nov 2005
Location: SW Ga
Posts: 1,114
The bike will go whereever you look.......
---
These are the only reasons I can think of why your back wheel would break loose at low speeds like that:

a) You hit a slick spot, due to an oil patch or a diesel spill;

b) You gave it waaaaaaaay too much gas and lean angle, and were also (again) on a slick spot;

c) It had just been raining, but not long enough to rinse the goo off the road, and you used too much lean angle and/or gas--and/or your tires don't have enough tread.

In any case, to avoid future bouts of "heading for the shoulder", you really should get into the habit of looking where you want the bike to go. Look thru the turn, and not down at the pavement just ahead of you.

New riders get into serious trouble with this problem, as a hazard comes from out of nowhere (say a car from a side street), then the rider fixates on the sudden hazard (instead of where he/she should be going to avoid the hazard), and this generally results in a crash.

You said you had already done a bike class, but it sounds to me like you could stand some more practice in a vacant parking lot making low-speed turns--both to the left and to the right. You might also have a more experienced rider critique your techniques as you do this.
---
'05 VN750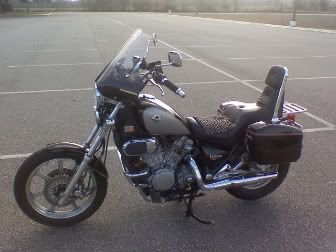 For other bike pix & mods, go to:
http://s1203.photobucket.com/albums/...k/VN750%20pix/
"ya can't live forever"
Join Date: Mar 2006
Location: Jupiter, Florida
Posts: 321
You headed for the shoulder because you looked there !!!!! Throttle, clutch and rear brake and practice!!!
Members who have donated towards server costs
Join Date: Jul 2006
Location: Kennett Square, PA
Posts: 3,505
Funny, I was just thinking through the low-speed turns this afternoon, and thinking, "you can't countersteer at low speeds." You aren't going fast enough to get the gyroscopic effect, and so you have to steer directly the way you want to go. And looking where you want to go is another biggie. The other thing I've learned - in parking lots, at low speeds - is that there's no need ever to be in a hurry. Take your time, negotiate a turn at whatever speed feels most comfortable to you, and work from there. Sometimes it's easy to feel rushed by other drivers, but stay within your head and your skill range and you'll be fine.
---
C
Join Date: Apr 2007
Posts: 139
I don't know about anyone else and I don't know if it will help anyone but this is what I did to get a feel for my first bike. I had bought a 83 Hond Nighthawk 750 from a friend. I only had it for a month before selling it and getting a brand crotch rocket (big mistake, but this was 10 years ago and I was young and foolish) but anyways it was a little tall for me and I was a brand new rider.

To get a feel for the bike and turning and everything I took it to a empty parkinglot (was a high school I think and of course long after school hours) and I practiced making slow tight turns. At first I used my foot for balance but after a short bit of practice I was able to do them without putting my foot down. I did both left and right turns and started making them tighter and tighter. This really helped me once I really started taking the bike out on the road. It not only helped with the weight and balance factor but also helped learn how to properly use the clutch and throttle. I stalled a few times and sent the bike lurching a bit a few timses by letting go of the clutch when I would start to lose my balance but it kept me safe and confident by the time I went out and started regular rides.

I also can't stress enough taking the time to take a motorcycle safety course. It saved my life back in 1997. I was rolling down the highway at about 65 which was speed limit when I changed lanes to get ready for my exit. As I changed lanes, all the cars in front of me slammed on their brakes. I hit mine and my back end started sliding out from under me. The safety class had us practice things like controlled skids and how to correct them. Fortunatly I knew what to do and instread of it sliding out from under me and me into the back of a car I was able to regain control and move to left. I nearly sideswiped the car in front of me and took out his sideview miror with my arm but I kept from wrecking and from getting majorly hurt. I am sure I would have panicked and made the skid worse had I not had the class. Just my 2 cents.