Join Date: Jun 2007
Posts: 185
Dont forget to ride to work tomorrow.
---
http://www.ridetowork.org/
Tomorrow is the anual ride to work day. 07-18-07 Wdenesday
Ride your motorcycle or scooter on this day to demonstrate:
The number of motorcyclists to the general public and to politicians.
That motorcyclists are from all occupations and all walks of life.
That motorcyclists can reduce traffic and parking congestion in large cities.
That motorcycles are for transportation as well as recreation.
That motorcycling is a social good.
Senior Member
Join Date: May 2007
Location: Massachusetts
Posts: 387
Unfortunately it is suppose to thunderstorm in my area with a 60% chance of rain.
---
2001 VN750
Vista Cruise Control
V-Force shield
Kawasaki Saddlebag supports
Fixed trunk hinge
TOC MCCT
Clear Alternatives LED tail light
Knifemaker style floorboards
Knifemaker style dash
Avon Venom X 110/90 Front
Avon Venom X 170/80 Rear
Big Crank AGM battery
25,100 miles as of 04/20/2010
Drive less, ride more...
Join Date: Nov 2005
Location: SW Ga
Posts: 1,114
---
Hey, I vote that we make
EVERY
day a "ride to work" day.....
Just take along some rain gear, just in case.
Frogg Toggs rule!
---
'05 VN750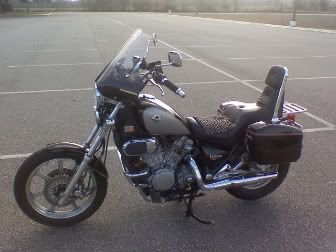 For other bike pix & mods, go to:
http://s1203.photobucket.com/albums/...k/VN750%20pix/
Join Date: Apr 2007
Posts: 26
Everyday IS ride to work day for me.
and the Adventure Cycle
Join Date: Jun 2004
Location: Western PA
Posts: 6,138
I made sure to do it last year.
Right now it's saying a 60% chance of thunderstorms here
, and it's currently raining pretty good
.
I'll have to check before work, but I'm gonna try.
This is from last year (or maybe 2 years ago???). Good thing I work nights. The boss probably wouldn't have liked this.....
---
AKA: Tim & 'The Adventure Cycle' VROC #24567, NEVROC, SteelCity VROC
"When life throws you curves,
Aim for the apex."


Author Unknown
Join Date: Sep 2005
Posts: 553
Big light show going on just north of town, the direction a have to go in a 1/2 hour, if it's past by 5:00am I'll ride but when there is lightning I usually take the truck.
Members who have donated towards server costs
Join Date: May 2006
Location: Tampa, Florida
Posts: 1,766
I ride everyday that chance of rain is 20% or less all 12 months. This is not one of them. We get 75% of our annual rainfall from July - September, so not a lot of bike commuting is possible.

Jon
---
93VN750, under re-construction
vn750.com Member # 828

Rick's Stator and R/R
MF AGM Battery
Coastered
Degoated
Shaved & Jetted
Iridium's
MAC Tapered Staggered Pipes
Battery/Temp/Clock Gauge
Stainless Steel Brake Lines
Dunlop D-404's
23,XXX miles and holding pending gasket change (underway!!!)
Join Date: Feb 2006
Posts: 227
I'm at work, yes, I rode.
stuck on four wheels
---
I have to stay at work through 8:00 tonight, and heavy thunderstorms are predicted ~ I'll have to be a cager today!
Here is the Ride to Work web site:
http://www.ridetowork.org
.
On the positive side, I'm riding from the Ohio River to the Upper Peninsula of Michigan this coming weekend ~ hope to post photos!
---
EZC
---
Last edited by EasyRector; 07-18-2007 at

10:32 AM

.
Join Date: May 2007
Posts: 125
It's thundering here and has been all day....I ride in the rain all the time, but when lightning or thunder are around I don't.....So unfortunitly I couldn't today....