Whoa
---
Thats the sound. Imagine joey from that tv show "Blossom" Saying Whoa, Whoa, Whoa, Whoa, Whoa, Whoa, Whoa, Whoa, Whoa, Whoa, Whoa, Whoa, Whoa. Higher pitch of course. Around 55mph is when I really start to notice it. And If I back off the throttle, the sound quits. I'm totally ignorant to the sounds of failing parts on my bike. So I'm looking for some help here. I don't think of the sound as a "coffee grinder" noise, and the clutch feels fine. That is reffering to the experience of driving several different manual vehicles. I'm sure the slippage would feel some what the same. Also I think it comes from the rear. So since I made you say Whoa repeatedly outloud to your self.... Any Ideads? Thanks
Search Goddess
Join Date: Jun 2004
Location: Conway, AR
Posts: 1,998
Yeah.. one idea.. How's your rear tire? Any cupping? Pressure up where it should be?

If the pressure is low, (and you do check the pressure at least weekly right? You don't want that tire turning from a Joey to a Cinero
(Goes from whoa, whoa, whoa, whoa to.. wap,wap,wap,wap *G*)
---
Dianna
Conway, AR
Patriot Guard Rider
2000 VN750 Sere (Serendipity)
1990 GL1500 (Ole Blue)
1986 VN750 EVie (project bike, heavy custom)
VROC # 11628 / 25000-H
ARVROC # 12 Coordinator and Crowd Control
OKVROC # 18 (H)
TNVROC # 45 (H)
Members who have donated towards server costs
Join Date: Jun 2006
Location: Corpus Christi, Texas
Posts: 1,647
Could it be an exhaust leak from where one of the mufflers attaches to the goats belly outpipe? A small leak might cause the noise especially since he says it goes away when he backs off the throttle. I would think a tire noise would be noticeable at all speeds. I know when I've picked up a screw or nail in my car tires, I can hear it at all speeds.
Just wondering.
---
Jim W
93 VN 750 "Ursula"
Moved R/R 08Sep06
R/R rewire 17Feb07
New R/R, Installed 14Jun08
New Stator installed 10 Jun08
Maintenance Free Battery 12Jan08
21480 Miles
VROC #8542
Join Date: May 2007
Posts: 20
also,..check the lubrication on your splines...if they are dry..it could whine when pressure is exerted and the whine may quit when you let off the gas.
Thanks, I didn't think the tire pressure should be checked weekly. But I will from now on, Thanks. I don't think the sound is that of any exhaust, But I'll check that too. The splines is a good thought. I haven't tor into those at all yet. Do you have a quick refrence for the greese? It would save time of trying to look it up if it was postrd here. I have a bad habbit of finding useful info then forgeting which tread it was in. I figure while I'm checking, Might as well lube right! Thanks.
Drive less, ride more...
Join Date: Nov 2005
Location: SW Ga
Posts: 1,114
You'll want to lube your splines with a grease that has at least 60% molybdenum disulfide (us bikers call this stuff "moly"). Just regular general purpose grease simply will not do.
This fancy-sounding chemical allows grease to perform well at extreme pressures and temps--for a long time.
Incidentally,
all
shaft drive bikes require this periodic lubrication treatment--and not just your 750.
You can read about what greases to get for your splines, and why, by visiting the following link:
http://motorcycleinfo.calsci.com/Shaft.html#Splines
...and then scroll down the page to "spline lubricants".
Incidentally, the above link will show you a page with still other links, all of which make for very good reading on bike care and maintenance.
Fergy has a wonderful writeup in his signature on how to lube the splines yourself. If you've acquired your bike recently, it's really a good idea to inspect the splines for proper grease amounts--the alternative is very $$$$$$$$$$$$$$$!!!
Also: it's not a bad idea to check your tire pressure before each ride. Especially before the first ride of the day.
Thanks I'll get right on it!
Members who have donated towards server costs
Join Date: Mar 2006
Location: Kyle, Texas
Posts: 4,054
Spline lube procedure below.

You can't inspect your bike too much! Tires are way too often overlooked and can cause DEATH! Pretty important to know what kind of shape your tires are in! Just give your bike a nice once over every time you are getting ready to get on her. Look for loose nuts and bolts, anything that seems out of place.

I was getting ready to head out on a weekend road trip and while giving my bike the once over, noticed my rear upper engine mount (11 inch bolt!) had come out and was gone. I had felt something hit my right leg the night before coming home from work, and figured it had been a large bug or rock kicked up from the road. Never in my wildest dreams would I have thought it was the 11 inch bolt that makes the upper rear engine mount! My bike is a 2002, and I wouldn't have imagined something like that could have rattled loose without me knowing about it.
---
Fergy
Kyle, TX VN750.com member #707 VROC#19556
2002 VN1500 Classic
Spline Lube Procedure, with photos,
R/R Relocation
and
Coil Mod
Rusty Tank Cleaning!
Electrical Fault Finding Flowchart
SEAFOAM JUNKIE!
Just to add closure, The spline closest to the engine was bone dry but in very good shape. The rear spine was greased. I'm guessing who ever did the last tire change lubed the rear but didn't bother with the front. White lithiumed the universal, the final drive gear, changed the oil there and still I have the Whoa, Whoa, Whoa, Whoa, Whoa, sound I'm thinking it might have always been there but as soon as you notice something, that's all you can hear. On a good note I don't think it is quite as noticable. So something good came out of it.
---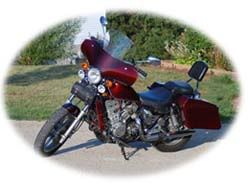 Orig. 8600 Miles 5/12/7 Currently 50,500Miles

Owners Manual
Repair Manual Download
Mosfet RR Test
Goof Proof Stator Test
VoIP Doc's Ear Shave & Re-jet Procedure
Hyperbuzzin's "How To Post Photo's.
Mosfet R&R Headlight Fix.