Almost There....
---
Well, the 94 750's revival from the dead is almost complete. I began working on the bike around September/October of last year. I stripped the frame, replaced the front forks, repainted piece by piece, and performed repairs along the way.
Waiting on the last few shipments of parts and finishing the reassembly is all that's left. I just ordered a set of V&H Cruzers this afternoon, which should be the last part I need, and am currently working on designing the paint scheme. Being a pilot and huge WWII history buff, I've worked out a design based off of the old F4U Corsairs of the Black Sheep Squadron. I don't have pics of the design just yet, but should have a pic of my sketch in a day or two. I've included some pics from back in December of the progress at that point. Sorry about the blurry pics, not much light in the garage,...hopefully I'll have some current ones available soon. I've also included a pic of the Corsair to give you guys an idea of what I am working on...
I'm not trying to brag or showoff, but just wanted to let everyone know that I would not have made it this far without the help of this forum. Everytime I got stuck and couldn't make sense of the Clymer's, I found my answers here. This is the first restoration project I've done, so it has been an exciting and at times, trying endeavor...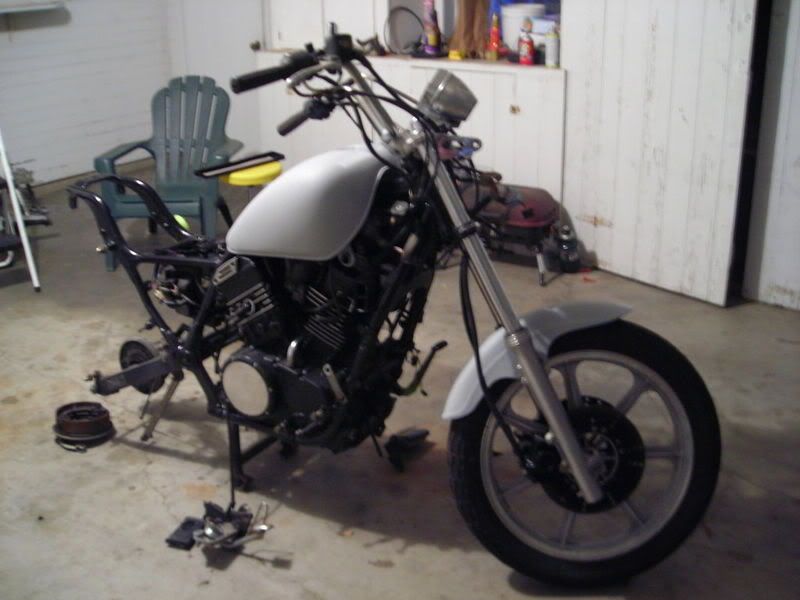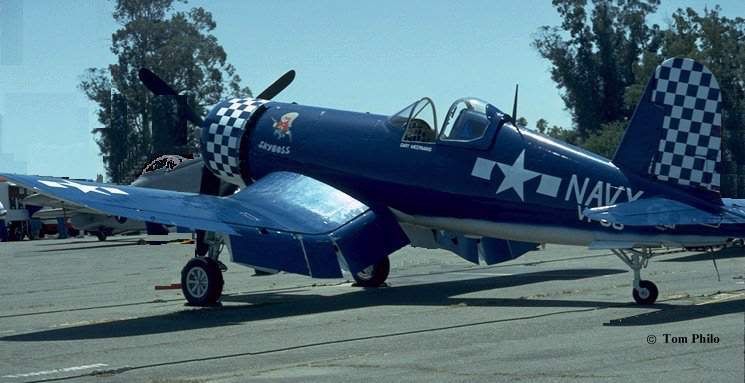 Members who have donated towards server costs
Join Date: Jul 2006
Location: Kennett Square, PA
Posts: 3,505
Wow - I thought I had Orleans stripped down! That sounds like it'll be a cool paint job - keep the pics coming!
---
C
and the Adventure Cycle
Join Date: Jun 2004
Location: Western PA
Posts: 6,138
Go ahead and brag !! And show off !!
That's part of the excitment of doing such a complete resto job !!
Do you already have an idea of what kind of nose art will be included (if you're going that route)?
And what about VN750 for a tail number?!
The tough part will be attaching a prop, but machine guns will make traffic less of a problem !!! LOL
Here's to a great job so far
---
AKA: Tim & 'The Adventure Cycle' VROC #24567, NEVROC, SteelCity VROC
"When life throws you curves,
Aim for the apex."


Author Unknown
Members who have donated towards server costs
Join Date: May 2006
Location: Tampa, Florida
Posts: 1,766
That's great !! If you won't toot your own horn who will?

A job well done, can't wait to see final pics!!

Jon
---
93VN750, under re-construction
vn750.com Member # 828

Rick's Stator and R/R
MF AGM Battery
Coastered
Degoated
Shaved & Jetted
Iridium's
MAC Tapered Staggered Pipes
Battery/Temp/Clock Gauge
Stainless Steel Brake Lines
Dunlop D-404's
23,XXX miles and holding pending gasket change (underway!!!)
VN750 will definetly be the tail number...I'm thinking about removing the vulcan logo from the two chrome side covers and painting them dark blue as well, and putting the number there in that old military stenciled look. I drew a decent sketch last night on the primed tank (i need to strip it again anyway) with a pencil and a marker. The tank will be primarily dark blue, with a flat/satin black strip over the top (about 5/6 inches wide), with a checkerboard strip centered in the black strip (about 3 inches wide). On the side will probably be a version of the star that you see on the side of the aircraft. She will proabably feature the skull and crossbones logo of the Black Sheep Squadron and the name Black Sheep (because she was abandoned for a Harley for crying out loud!!!
). My original plan was to go with an olive drab paint scheme and the markings of the old military jeeps, but my wife didn't want me to powder coat the wheels black, and silver just doesn't look right with that type of green...so this one was born, and I think I like it better...
The project got frustrating for a while during the winter, partially due to the weather and partially because of money and project burnout...but it's all starting to come together and my wife is even excited to see it really starting to take shape now.
Drive less, ride more...
Join Date: Nov 2005
Location: SW Ga
Posts: 1,114
This project represents true thinking "outside the box"....so yeah, can't wait to see the final results......
Will you be painting the lower side of the tank the grey color that you see underneath the wings and the fuselage on the Corsair?