Member
Join Date: Apr 2010
Location: Springfield Missouri
Posts: 47
The List.......Help
---
I need some help, here is a list of what I have done and what my problems are with my non winterized 2003 vn750.
1. Drained gas tank
2. Cleaned petcock
3. Drained carbs
4. Seafoam in carbs for 24 hours
5. Drained carbs after seafoam
6. Seafoam in gas. Maybe too much 1/2 can (8oz) in 1/2 tank?
7. Checked for vacuum leaks (none that I can tell)
8. Replaced plugs with ngk iridium.
9. Nothing Clogging Exhaust
10. Air filters clean
Now for the explanation. I got extremely lazy and didn't winterize my bike last summer. So I decided to get her going for the summer. I did everything listed above, and im still not running. I can get it started but it runs really rough, almost like its running on 1 cylinder. Lots of smoke, and will not idle. I am really confused because I don't have a vent line running to my right ear. My 2 middle carb lines connect at a tee and run to the back of the gas tank. Before I purchased new line for that vent tube I had fuel pouring out of that while the bike was running. I believe that maybe I have a stuck float? I tried the tapping suggestion with no progress. My next step is to pull the carbs, for the first time. The idle screws have never been messed with as far as I can tell. Will I need to worry about the carb synchronization after I put them back in? With the stuck float I also have a fuel smell in my oil....so that will be something else I will do before I get back to riding. The only thing I have not done is check the compression, can do that as well but don't think that is my problem. I feel like I could get the carbs out and back together, but nervous about getting them properly adjusted.
Any help or suggestions would be great. I feel like all I have done the past 2 weeks is read these forums. Its a great site.
If you live in the Springfield Missouri area.....I have beer and im willing to share.
Oh and sorry for the long post, just did lots of work and got nowhere.
---
2003 VN750
Deka MF Battery
Cleaned and Rebuilt Carbs Multiple Times
NGK Iridium Plugs
New Plug Wires
New Petcock w/screens
Fuel Tank Rust Removal - The Works Method
ACCT to MCCT Conversion
Brake Fluid Flush - Nice and Firm now
The List
Spline Lube
Fork Seals/Dust Caps
New Front Tire
HID Headlight Kit
romeobravo172
Join Date: Nov 2011
Location: Leesburg,Fl
Posts: 842
With gas smell in oil you def have a fuel related prob dumping to much to cylinders, that has to be changed. That is prob why is smoking and sputtering, my guess is a stuck float! To much seafoam will make it smoke and sputter also.
---
04-3,200 miles bought July 2011 with 928 miles. Loaded with acessories to many to list here, see my albums for more details! I also make a custom tank bib specific for the 750 if anyone is interested, ck my albums for some pics.
Members who have donated towards server costs
Join Date: Nov 2007
Location: Chandler, Arizona
Posts: 2,848
Your problems seem to be mostly carb related. First of all, Seafoam will not hurt your engine. It may smoke, but it will not do any damage. I have used an entire 16oz can in a full tank of gas a few times. It sounds like your jets are plugged up AND your float needle valves are not sealing. I would give it a little more time, and more Seafoam, see if it finally cleans up. The carb leak may be due to stuck floats, caused by all the gooey stuff in the carb caused by not draining them before letting it set for so long. Seafoam SHOULD eventually dissolve all this. Pulling the carbs is a real PITA. If it doesn't clear up fairly soon, you will probably have to do it though. Keep an eye on the oil, you do not want much gas in the oil, it will thin it out till it's too thin to lubricate the engine.


As for the carb vents, that was done poorly by the factory. Rather than using a T fitting, I would get two hoses, connect one to each carb, and run the open end down below the bike somewhere. You can zip tie them to the frame if you keep the zip tie loose, so it doesn't pinch the hoses.

You can also get more Seafoam into the carbs by pouring it into the vent hoses instead of the fuel line. By doing it that way you can actually fill the float bowls to overflowing with the stuff. You want to make sure the carbs are completely empty before pouring in the Seafoam, then try and start the engine with the carbs full of Seafoam. It won't likely start, though it may fire a few times and make smoke. That is to use engine vacuum to actually suck the Seafoam into the jets. If you can get the engine running fairly well, the constant flow of gas through the carbs (with some Seafoam in it) may wash away the rest of the mess in there.

On most bikes I would automatically say pull and clean the carbs. But it is so hard on the Vulcan that it is worth trying everything else first. Many people get the carbs off, then become so frustrated trying to get them back on they wind up doing the earshave thing, which is definitely not good for the engine. I've had mine off twice, and managed to get them back on without breaking anything, or even getting frustrated. It is just a time consuming job.
---
I am a motorcyclist, NOT a biker.


1997 Vulcan 750, purchased about a week ago
2006 Sportster 1200 Low
2013 Royal Enfield Bullet 500, converted to carb
2001 Yamaha XT225, heavily modified
2004 Honda Rebel 250
1979 Vespa P200E
2002 Vulcan 750 parts bike
1994 Yamaha XT225 parts bike
Drive less, ride more...
Join Date: Nov 2005
Location: SW Ga
Posts: 1,114
With all due respect to those already afflicted, this thread is yet another sobering reminder of the woes that await those who do not take the time and effort to do a bit of "preventive maintenance" by properly prepping their bike(s) for winter (or other long-term) storage....
Improper bike prep for extended periods of non-use is....I think....a major source of trouble that is behind the majority of "help" threads on this forum. It of course also creates major headaches later for subsequent bike owners of these neglected bikes.
A few suggestions, prior to putting the bike away:
1) Add the appropriate amount of Seafoam (or other fuel stabilizer/conditioner) to the fuel tank, and run the bike until this mixture and stabilizer
gets up into the carbs
. Or--drain the tank and carbs completely--see other forum threads (below) here for how to do this. If you store the bike with fuel and stabilizer in the tank, make sure the tank is
FULL
--to prevent rust/corrosion from starting/forming inside the tank. In fact, putting the bike away with a full tank is a good idea if it is to sit for any real length of time (like even just for a few days), in all but the dryest climates.
To get around the problem/hassle of draining the tank, and also....fuel evaporating from the carbs over time, I just start and idle the bike for about a minute or so once a week, and work the throttle a few times to let the jets see some fresh fuel. This also keeps the inside of the engine from going "dry" of oil in places.
2) Connect the bike's battery up to a "smart" battery charger/tender. Make sure the charger/tender you use has the CORRECT CHARGING CAPACITY FOR YOUR BIKE'S BATTERY (i.e., 1.5 amps, or less). Keep the battery connected to the charger/tender, unless you start the bike up, or otherwise use the battery. This avoids that dreaded "click" (with nothing else) you hear when you first try to start up your bike in the spring. This info holds true either for wet-cell or AGM type batteries.
3) If you haven't already done so, be sure to swap out your bike's old-fashioned, wet-cell battery with a more modern, no-mess, maintenance-free, sealed AGM battery (many forum threads are here to offer suggestions on which AGM battery may be the best at the time). This type battery solves
A LOT
of charging and starting issues with this bike, and elinimates the hassle of removing the bike's seat to check fluid levels--as well as the possibility of getting battery acid on your bike's frame. Besides, these AGM batteries hold a charge much longer and better, and (thus) provide much better "cranking power" at start-up time.
These storage ideas and techniques (and other suggestions appropriate to that same time) are discussed in more detail in the following relevant earlier threads:
https://www.vn750.com/forum/showthread.php?t=1192
and
https://www.vn750.com/forum/showthread.php?t=1104
and
https://www.vn750.com/forum/showthread.php?t=20568
and
https://www.vn750.com/forum/showthread.php?t=20563
and
https://www.vn750.com/forum/showthread.php?t=20352
Hope all this helps save other VN750 owners some
major hassle
later...
---
'05 VN750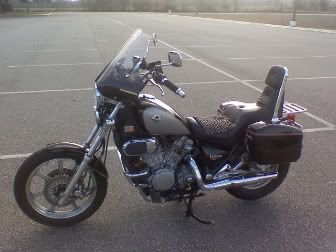 For other bike pix & mods, go to:
http://s1203.photobucket.com/albums/...k/VN750%20pix/
Member
Join Date: Apr 2010
Location: Springfield Missouri
Posts: 47
Well thanks for all your input......I had some dumb luck today......

I filled the carbs with seafoam from the bowl vent lines. Let it sit for 48 hours or more.

Drained and started cranking......Nothing......I decided to revisit my petcock so while I was cranking I pulled the vacuum hose off the left carb (the one hooked to the petcock) and boom she fired right up.......what? So after tinkering with it all afternoon I guess I either need to rebuild the petcock, Or I need a new one.

It will idle if I plug the vacuum hole on the left carb.....dies wot. If I leave it open it runs pretty normal....????? really confused. So basically I have no vacuum to the petcock or I have the petcock assembled wrong.....lol.

theauhawk.....thanks for slapping me around.....I now have much more respect for this beast after being lazy this past winter. Cant just park it and expect it to run after sitting for long periods.
---
2003 VN750
Deka MF Battery
Cleaned and Rebuilt Carbs Multiple Times
NGK Iridium Plugs
New Plug Wires
New Petcock w/screens
Fuel Tank Rust Removal - The Works Method
ACCT to MCCT Conversion
Brake Fluid Flush - Nice and Firm now
The List
Spline Lube
Fork Seals/Dust Caps
New Front Tire
HID Headlight Kit