Senior Member
Join Date: Aug 2011
Location: Dallas, Texas Area
Posts: 922
What tools to carry
---
Hi All,

Just wondering what tools are recommended to carry on the bike. My bike didn't come with the stock vn750 tool kit.

I thought about just duplicating what came in the stock kit. Or I found a nice one by CruzTools with a nice case - of course it's pricey.

Just curious what others on here carry with them when out riding.
---
Old Bike: 2006 VN750 - Sold
Current Bike: 2007 Yamaha V-Star 1300 Tourer
Cell phone and a credit card......



I do actually have tools that I keep on my bike. A socket set, set of the needed Allen wrenches, a roll of electrical tape and a couple of screwdrivers. I think I do have a spark plug socket, and ......a tire plug kit. Been awhile since I looked, but I think that's it.


KM
Drive less, ride more...
Join Date: Nov 2005
Location: SW Ga
Posts: 1,114
If your bike's stator starts to fail (which you can see happening with the trusty voltmeter you've installed on your bike, right?....
), you can buy yourself some time to get to the nearest shop/dealer (or back home) by removing the fuse that handles the headlight.
This is the very top right fuse in the fuse panel (which is behind the bike's left side cover). You'll need a pair of needle-nosed pliers (or equivalent) to make this removal quick and easy. Having a set of these pliers on board is not a bad idea.
This bike is reliable enough (assuming it was properly treated by any previous owners--ha!) so that what's most likely to put you on foot is either a battery issue or a flat tire.
It's a "no-brainer" that periodically inspecting the battery terminals to make sure their connections are clean and tight will save you
a lot
of problems later while on the road. Coating these terminals (and all other major electrical connections) after they've been cleaned with some dielectric grease will go a long way to keeping them clean over time.
If you install "Ride On" tire sealant in your tires, then your odds of having to stop to repair most flats goes way down. "Ride On" does its best job in tubeless tires, like ours. If you still have a flat with "Ride On" installed, it slows down the deflation process--another advantage of this sealant. So then your odds of a blowout are substantially reduced.
If you have not read any threads here on the "phantom gas syndrome", then you need to do a forum search for this, and read up on it. That's what's next most likely to give you real trouble while on the go. But I have found that it only occurs when (a) the fuel tank is below half full, and (b) the weather is really hot (July, August). Otherwise, the phantom gas syndrome should mostly leave you alone.
Thus, my main point here is that one of the other main things you should "carry" along is some really good tire sealant in your tires.
I've never understood why others feel a need to carry spare spark plugs. But I can recommend that you carry a spare headlight bulb (and the tools necessary to open the headlamp bucket to replace it)--especially if you haven't installed driving/aux lights on your bike.
If your bike is an older bike, carrying along a simple circuit tester to help find/troubleshoot wiring issues while on a longer ride might be a good idea, too. With this same train of thought, a few spare fuses (of different capacities like those already in the bike's fuse panel) in the tool kit might help out with an electrical issue, too.
I always carry a kickstand base plate with the bike, so if I am forced to park the bike on a soft surface (sand, or even hot asphalt) I can do so without the bike falling on its side after I walk away.
A spare bike key, carefully hidden, can save the day if you lose/misplace your bike's main key somehow.
Hope all this helps....
---
'05 VN750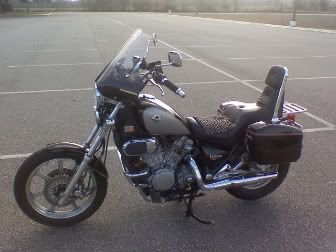 For other bike pix & mods, go to:
http://s1203.photobucket.com/albums/...k/VN750%20pix/
Just make sure you have a socket that fits the bolts to get the seat off and give you access to your battery. I use the ignition key to turn the screw off the side cover so you could get to the fuse box, and I keep an extra pack of assorted fuses handy, also a flashlight.
---
"Show me a man who makes no mistakes, and I'll show you a man who doesn't do things." Theodore Roosevelt."
2007 Victory Kingpin
Current projects - 1986 VN750 & 1988 EL250
Linkmeister Supreme
Join Date: Aug 2008
Location: Lethbridge, Alberta, Canada
Posts: 7,960
I carry a few tools in all my vehicles, but knowledge of the machine, car or bike is your most valuable tool.
Making sure your bike in good condition before riding is more valuable than carrying a lot of tools.
But another rider wrote that he carrys all the tools he uses to service his bike.
If he has to get an Allen wrench from his shop toolbox while working on his scoot, he puts it in the bikes toolkit and replaces the one in the shop.
I suggest you get comfortable working on your bike at home when it is warm, light, and you are not soaking wet or stressed or in a hurry to get someplace. You will then know what you are prepared to try and fix out on the road, and what tools to carry for self rescue.
Or do as KM suggested and carry a cell phone and credit card.
I have seen the toolkit list that Ron Major, an Ironbutt Rider carried, and it was truely comprehensive and impressive.
His toolkit was bigger than many here have in the garage or shop.
Link to Ironbutt site an 28 rules for long distance riding.
Find Ron`s tool list in #28.
http://www.ironbutt.com/tech/aowprintout.cfm
Another Ironbutt rider carried a spare piston for his Nomad.
I guess he changed one at a picnic table one time, a thousand miles from home.
Now he doesn`t take any chances!
Here is a link to CD and Bear`s check off list for camping on two bikes, a VN750 and an 800 Suzuki, I think.
http://www.cdthayer.com/cruiserlist.htm
Scroll down to find their respective toolkits.
Now I don`t think most us us have any need to carry all these tools on a daily basis.
I`m just giving you an idea of what some riders consider a neccesary toolkit.
---
Gordon
1991 VN 750 -"
Cosmic Lady
" or "
Bad Girl
"?
Purchased May 16, 2008
Approx.19,300km (12,000 miles)
H-D windshield
Relocated R/R
MF-AGM battery
Fiamm Freeway Blaster horns
F&S luggage rack and engine guard
Kury Offset Hiway pegs
July 13, 2016, Riding on the DARKSIDE now, Classic Radial 165/80-15
TOP TEN THINGS A NEW RIDER/OWNER SHOULD DO.
Click on link.
https://www.vn750.com/forum/11-vn750-general-discussion/9127-top-ten-items-you-would-suggest-new-owner-do-his-new-ride.html
---
Last edited by OlHossCanada; 10-05-2011 at

12:38 AM

.
Senior Member
Join Date: Aug 2011
Location: Oklahoma Panhandle
Posts: 131
For local (within an hour of home or so), I just carry the stock tool kit, a couple replacement fuses, and my old Gerber multi-tool. I'm pretty well on top of PM, so I don't anticipate trouble on short rides, and a quick cell call has a trailer/more tools on the way.
On longer rides, or when riding in a bigger group, I carry quite a few more pieces. I'll throw in a good socket set and a variety of extensions, an extra spark plug socket (usually a couple different sizes), a regular and needle nose pliers, allen wrenches, a vise-grip, a couple sizes of adjustable wrench, a multi-bit screwdriver, a cheap multimeter (you don't want to bang around your good one), and a tire plug kit.
I also carry extra spark plugs and a quart of oil. Depending on the route, I might strap on a 1-gallon gas can, too. My wife does first-aid, so we pack her kit on long rides, too (maybe overkill, but if you mechanic like me, a few band-aids could come in handy
).
Ride safe,
Hippie
You can simplify this a whole lot by just carrying a "redneck" tool kit.

Contents:

1 pair of vice grips
And
1 roll of duct tape

Will fix anything I am told.........
Old Twistie Sticks Rider
Join Date: Aug 2007
Location: Country Created by Geniuses, But Run by Idiots...!!!
Posts: 5,072
Quote:
You can simplify this a whole lot by just carrying a "redneck" tool kit.

Contents:

1 pair of vice grips
And
1 roll of duct tape

Will fix anything I am told.........
Not really, you actually need the 3 piece set to catch everything, add a hank of tie wire for the 3 piece set...lol...
...
Have a good one...Old Dog...
---
Southern Central Tennessee....
...
Now on the Dark Side...
...
Girl's Bike 09 Sporty xl 1200 Custom...33k + & clickin...
...
Sportster Owner/Rider since age 72...lol... Rider since Simplex...???
09-xl1200 "C" Vivid Black, Cast wheels w/19" Frt., SE-Stage 1+, X14iEDs...
MicroTach +, Higher wider H-bars, GPS Mt., Mustach bar Hwy. pegs...
Viking Shock cutout Saddlebags, Rear Mt. Signal Lt. Kit, Fork Brace...
RoadKing Air Shocks, Mustang Seat, Progressive Fork Springs...
Quote:
Not really, you actually need the 3 piece set to catch everything, add a hank of tie wire for the 3 piece set...lol...
...
Have a good one...Old Dog...
I would have added that, but I thought most of the folks here couldn't afford the "Deluxe Set".......
Registered User
Join Date: Aug 2011
Location: GreenwoodFrickinLakeNY
Posts: 10,354
Stole my reply, lol...
---
Ya stole my reply, lol...
Quote:
You can simplify this a whole lot by just carrying a "redneck" tool kit.

Contents:

1 pair of vice grips
And
1 roll of duct tape

But yup, baling wire, a MUST ! Ive held U-joints together with it for 50 mi. 2 pr vice grips btw...one reg one needlenose...
Lil more on the redneck end....and yes, I have very few teeth, and have run a still in the past.
1) pint of shine (for carb purposes)
2) large hammer (for when yer ticked off)
3) a chainsaw plug wrench (works on all but 1 plug) has a flat screwdriver too.
4) Space Blanket, so you can spend the night with yer scoot in the boonies since ya cant afford a cellphone or have plastic.
5) a new lighter....having fire is always a good thing....even dries fuel soaked plugs.
6) can of chiili, or ravioli, and quart of water (24oz Keystone Ice if you have saddlebags)
And Shark... I believe you dont need to remove the seat to jump or charge...exposing the starter relay has the positive lead right there, 5 inches from battery. So, a quarter is all ya'd need to open the cover.
But I keep a large, flat screwdriver onboard to "break a bead" if I need to...havent done it on a new fangled tubeless yet, but cant be much different...
On long trips used to have a can of fluorescent paint too, so I could spray "Hep me!" on sumpin if needed, lol.
---
Last edited by Wolfie; 10-07-2011 at

08:56 PM

. Reason: adds