Junior Member
Join Date: Aug 2011
Posts: 1
750 maintenance intensive?
---
I've been riding for several years. My current bikes are DR650 and GL1200. I used to ride the DR HARD, and did a lot of maintenance as a result. Part of the game. Then came full time job and family. No I don't have a ton of free time, so I'd rather ride than wrench. I want to trade out of my '84 GL (naked model) because it's hitting the age where parts are starting to wear out, and I don't feel like spending a ton of time fixing it.

The 750 sounds like an awesome bike and I'm very interested. However, it sounds like it's got a couple of common gripes that I'm not crazy about. The splines, which aren't that big of a deal, and shouldn't need done too often, and the charging system. If you're familiar w/ 4 cylinder Gold Wings, you probably know about their charging system. I ended up doing an alternator conversion after fighting mine.

I've done it, and CAN do it, I just don't want to. Would I be better off going with one of the more current designs? I've actually got an appointment to see one with a private seller tonight, but I'm not making a buy tonight, it would have to wait.

What says the fine members here?
Chucklehead
Join Date: Dec 2007
Location: Poynette WI
Posts: 1,050
Mine hasn't been too bad save repairing things the PO had done (or not done) and mods. Has rarely left me stranded and in my care hasn't had the best keeper, I don't get to put it inside the garage anymore even in winter. Occasional oil changes and watch for loose things and ride. Get the bike, check the splines, install a voltmeter, and enjoy!
---
87 vn750at least that is what the frame #'s say
"Squirrel Bike" aka Jersey
Rat bike with a good PR agent

shaved and coastered
2 into 1 exhaust
rear 170 and front 110
Relocated R/R
custom dash with voltmeter
Spitfire windscreen
Plutonium plugs
Recovered seat without "butt hammers"
More to come
Praise to the Parts Goddess Crobins for needed things

When someone tells me "Great minds think alike" all I can think is "You Pervert"
Senior Member
Join Date: Dec 2010
Location: Denton, Tx
Posts: 115
I agree with the other posts on here. I bought mine wrecked, spent the winter in nc buying parts on ebay and painting it, and it has never left me stranded or with any serious issues. The only issue ive had with it was a frozen throttle cable recently lol, read my post directly under this one lol. Ive had no issues finding any parts for it, and its a blast to ride. So it sounds like 3 votes yes to pick one up
---
Devin Mohler
Corporal, United States Marine Corps

1989 Honda Interceptor 500
1986 Vulcan 750, paid in full (250 bucks)

R/R Relocated (Thanks flitecontrol)
Splines Lubed
Battery Tender permanetly installed
Custom Seat

Planned mods and things:
Ear shave (using stock ears as storage)
Coastering
Wrapping exhaust
Custom Exhaust
If only it had 6th gear..
Join Date: Jul 2011
Location: North of Boston
Posts: 1,100
I have a 2000, and have never had any trouble other than what I created by letting it sit to long. Just bring a voltmeter with you and do the stator r/r tests. If the seller's worth his salt he shouldn't have a problem with that.
Jack of all trades
Join Date: Jul 2009
Location: Westland, Michigan
Posts: 2,863
honestly, would you think the members here would steer you away from an awesome bike?
Drive less, ride more...
Join Date: Nov 2005
Location: SW Ga
Posts: 1,114
The answer to your question lies mostly in how many previous owners the bike has had--and how well (or poorly) they collectively treated it.
I was the 2nd owner with mine--the first basically broke it in for me, then sold it due to back problems. Thus, it had little undue wear and tear, and not a lot of undue "sit" time (this is where the bike sits for weeks or months with untreated fuel, and this untreated fuel of course gums up the tank and carbs--killing the bike's drivability).
Following the advice given on this Forum, I've had no real problems with the bike--except the cam chain tensioners went out at just over 9k miles. An easy fix--thanks again to the advice here on the Forum. Cam chain tensioners are a chronic problem with this bike, as the springs in them are inherently weak.
Your toughest job here will be determining the overall condition of the bike, based on how well it's been treated or abused to date. A number of threads exist elsewhere on this Forum explaining all this in detail. Use the "search" function to locate them.
Overall, the bike is designed to be
very low
maintenance, and more practical and easier to live with than most. Examples: shaft drive, tubeless tires, hydraulic lifters, electronic ignition, full instrumentation (e.g., a tach and fuel gauge), spin-on oil filters, & a centerstand for easy maintenance and loading/unloading. It runs fine or regular unleaded fuel, and is very smooth from idle all the way to the tach redline.
A newer design cruiser these days with all these features is not available to my knowledge--at any price.
Note however that this bike has (for whatever reasons) been treated as a red-headed stepchild by the bike aftermarket world. Finding accessories designed specifically for this bike is not easy (there aren't many out there). So you'll have to make do with mostly generics, except for a few parts here and there. Don't let this problem surprise or deter you. It just requires a bit of creativity on your part.
Good luck with your hunt...
---
'05 VN750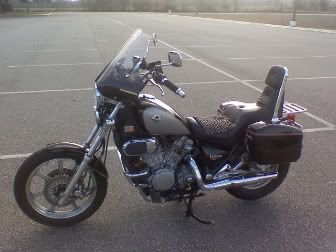 For other bike pix & mods, go to:
http://s1203.photobucket.com/albums/...k/VN750%20pix/
Senior Member
Join Date: Jul 2007
Location: Castle Rock, Wa
Posts: 1,750
I've owned a lot of bikes, modded a lot of bikes, I love my vn as a great little skoot that does very well with different riding styles. It fits my short legs too.
---
95 VN750 (eBay)31k+
GL1100 front fender
OEM engine guard
OEM high back rest
'V-Twin' HWY pegs
Black 750 Spectre handlebars
SunPro Volt Meter (Amazon)
Maier bug shield (JCW)
Bar Ends anti-vibe (JCW)
Emgo air filters
Tank bag-Eclipse
Tail bag-FroZone Cooler
Back Rest-Igloo 6 pak cooler
WalMart Saddle Bags
R/R Relocate
Dry Splines Lubed
AGM DieHard-Sears
Gutted Goat
Sporster XL Mufflers
LED's-stop,tail,turn,marker
Pickup coil mod to .45mm
Silverstar headlight
Rotella T6
I think the issue rings true with any used bike. Those that were well maintained and cared for will give you less grief than those that were not.

But generally, a new bike will require less maintenance than a used one. The one glaring issue with the Vulcan is the poor design that makes it a major job to replace the stator... Other than that the bike is pretty much low maintenance.
Members who have donated towards server costs
Join Date: Dec 2008
Location: Monroe, LA
Posts: 4,700
I've put almost 20,000 miles on mine. Only problem was a Chinese battery that left me stranded.
---
I'm keepin' all the left over parts. I'm gonna use 'em to build another bike!
_____________________________________________
"Black Beauty"
1989 VN750 acquired December, 2008, 6,711 miles
Currently 23,298 miles
Old Blue
2001 Honda CMX250 Rebel acquired July, 2008
1987 VN750 project bike, acquired August, 2009, 33,000 miles and balancer sticking out of the case, currently awaiting attention and parts
Members who have donated towards server costs
Join Date: Apr 2010
Location: Belvidere, IL
Posts: 267
If you overcome the issues with charging, then you can consider the bike low maintenance. As said above, the previous owner's care will determine how much wear and tear you may have to deal with.
Once in good condition, these bikes don't ask for much other than clean oil and tires.
The cam chain tensioners are ok and can be modified to manual if desired. The drive shaft wants the splines lubed from time to time. I commute on mine and like most bikes it loves frequent use.
Bronson
---
2005 VN 750
MF Battery
Plexistar windshield
.040 pilot jets.
Splines lubed 1955 mi.
Marbled
Iridium plugs
Reset pickup coil gaps.
Metzeler ME=880s
Shindengen MOSFET RR
V & H Cruzers
Degoated
Speed bleeders
MCCTs.