Junior Member
Join Date: Aug 2011
Location: Silverdale, Washington
Posts: 26
97 versus 05
---
Currently have a 97 750 with 23,000 miles and some obvious mechanical issues. I have been looking at an 05 VN750 at a local dealer with around 8,000 miles. Aside from the obvious difference in mileage, are there any reasons not to upgrade? I know that these bikes did not change much if any through their production run, are there any issues particular around that year? Aside from what seems to be the norm for the 750 to begin with? I am new to riding and wrenching on bikes, and I could go for another bike, but there is so much I like about mine I almost feel obligated to want another one, lol.
Drive less, ride more...
Join Date: Nov 2005
Location: SW Ga
Posts: 1,114
I have an '05, that I've had for 5 years now (as of August). It has over 22k on the odo now. I would not hesitate to ride it to California, and back.
Except for replacing the cam chain tensioners with the TOC brand replacements, the rest of the bike is holding up fine. I'm the second owner; the guy who bought it new put a little over 1,500 miles on it, then sold it on ebay to me, due to back problems (he was obviously getting out of motorcycling all together).
Without knowing what your bike's specific mechanical problems are, and how much they will be costing you, I can't give you more specific advice. I'd also need to know what the dealer is asking for the '05 (and what is the minimun he/she would really take...
...).
Have you test-rode the newer '05 yet? If not, can you? If you have, did it start and idle smooth? Did it shift and run like a VN750 in good tune--or did she apparently "need some more work"?
Otherwise, we don't know for sure if the '05 you're looking at has a totally clean bill of health, either. So...to answer your questions....I need still more info from you!
Past that, your '97 and my '05 have the same motor, tranny, and everything else....to 99% the same. The only real difference is mainly the paint job.
Is your current VN750 bike a "California" bike? If it is, that might be justification enough to get rid of it, assuming your other mech issues are bad enough, too.
---
'05 VN750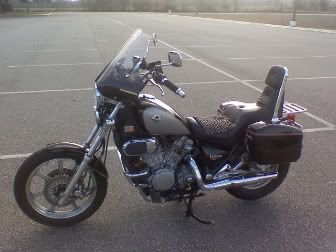 For other bike pix & mods, go to:
http://s1203.photobucket.com/albums/...k/VN750%20pix/
Junior Member
Join Date: Aug 2011
Location: Silverdale, Washington
Posts: 26
Havent test rode it yet, they are askin 3200 for it. I am not sure yet how involved the problems are with my 97 yet, just getting started. I was mainly curious if anything mechanically had changed but it doesnt seem so. I got my 97 for a great deal ( or so I thought ) so I am not disappointed, just want more time to ride. Thanks for the info.
Senior Member
Join Date: Jun 2010
Location: Close to Peoria Illinois
Posts: 509
To Trade or Not To Trade
---
I don't know what the issues are with your 97. You have a good idea of where you are with it. For the difference in the bikes, maybe a little money in what you have would make it the bike you want. I have a 94 that I really like. New battery and air filters this year, things that you would expect. I think the key is maintenance. Every year there things that will need to be taken care of. If you get someones else's bike, you get their problems with it.
Enjoy the Ride
Mcneuby