Member
Join Date: May 2011
Posts: 46
Taking a long trip for the first time?
---
I've been wanting to take a long road trip on my bike (over 300 miles one way), but am a little wary since I've had problems in the past.


So for those of you that have done this before:


1) Is it unwise to do it alone?

2) How long had you ridden before you took a long trip?

3) If I'm not mechanically savvy should I avoid long trips (in case something goes wrong)?

4) Do long rides put alot more stress on bikes?

5) What should I check/tune up before going?




Thanks!
Members who have donated towards server costs
Join Date: Apr 2010
Location: Belvidere, IL
Posts: 267
I've been on a recent trip of about 450 miles ea. way. Each bike is different in terms of reliability. Before going I would assume the bike will die in the least favorable and most distant point on your trip and see if I could come up with a workable plan to get the bike home.
Can you arrange for a trailer or transport for your bike if not running? Can you stay overnight where your breakdown occurs? Bring enough cash to handle an emergency and hope you don't use it.
Eliminate as many potential causes for failure as possible before setting out.
As for traveling alone; I often do, but if someone is willing to ride along it's much more enjoyable to me.
You raise some good questions. I'm sure others here have much to contribute. Hope you have a great time and no problems on your ride.
Bronson
---
2005 VN 750
MF Battery
Plexistar windshield
.040 pilot jets.
Splines lubed 1955 mi.
Marbled
Iridium plugs
Reset pickup coil gaps.
Metzeler ME=880s
Shindengen MOSFET RR
V & H Cruzers
Degoated
Speed bleeders
MCCTs.
Banned
Join Date: Jun 2010
Location: Simpsonville, SC
Posts: 1,620
Quote:
1) Is it unwise to do it alone?
2) How long had you ridden before you took a long trip?
3) If I'm not mechanically savvy should I avoid long trips (in case something goes wrong)?
4) Do long rides put alot more stress on bikes?
5) What should I check/tune up before going?
1) no; but going with other bikes is better. For one thing, you can divide the gear between you. (only one of you needs to bring tire patches, for example)
2) years
3) no; but all the more reason to make sure you have your bases covered before you leave.
4) I don't believe so...
5) tires, brakes, lights, charging system, and so on......
Drive less, ride more...
Join Date: Nov 2005
Location: SW Ga
Posts: 1,114
It's real hard to give you good suggestions on your questions, since we don't know the overall condition of your bike, how long you've been riding, what your experience level is, or how much professional level riding instruction you've had (or not).
I can say with full certainty that long trips do not really stress the bike any more than a ride across town--provided the bike and the tires are in fact in good condition.
Is it unwise to go on a trip alone? That depends on many factors--the condition of the bike, how well you can find your way around (with or without maps or a gps), your riding skill level, etc.
You can sign up for bike towing services thru AMA, or the ROK group (
R
iders
o
f
K
awasaki)--last I heard. If your bike breaks down on you, and you have reliable cellular service at the location of the breakdown, you can call for a truck to pick you up. Don't expect said truck to show up in 5 to 10 minutes, though!
How much mileage/experience one should have b4 going on a longer ride of course varies from individual to individual, and (again) the decision to do this relies on a number of factors. Will you have a real chance to make such a trip later if you don't go now? And so forth.
For me, I had at least 4-5 thousand miles of riding under my belt, b4 I went to north GA, took the "experienced" level MSF course in Marietta, GA, and then rode the north GA mountains above Atlanta. I had a safe trip the entire time (even coping with Atlanta metro area traffic--no kidding), and was glad I did it. But the main objective of the trip was really the advanced MSF course just mentioned--the north GA ride was the trip's "gravy". Note also that I would not have considered such a trip (especially one that included parts of metro Atlanta) if I had not built up some riding time previously in less challenging places, and also...I had already taken the beginner MSF course a while b4 all that (and passed it).
What should you check on your bike b4 such a trip? Well, (again) that depends on the condition of your bike. As a bare minimum, if your bike is what you've indicated earlier, I would check the condition of the tires, the brakes, the cables for the brakes/throttle/shifter (not frayed and well lubed), VERY IMPORTANT: the lube and condition of the driveshaft splines, the battery (via a load test--at Autozone, Pep Boys, etc), the battery terminals (clean and tight), and the output/condition of the bike's electrical system (there are other threads here on this forum that explain how to do this). Make sure all major electrical connections are clean and snug--lube them with dielectric grease. Take along a tire repair kit (for tubeless tires) and a portable compressor pump to put air back in a flat tire. If your bike does not have a windshield, get one b4 a long trip--or you'll wish you had. Be sure to take good rain gear. Riding without rain gear in wet conditions sucks. But with good raingear, it's actually fun (really). Get at least some throw-over saddlebags for your bike, that are water resistant, or come with rain covers. Myself and others here ride with luggage that also serves as a backrest--a real comfort bonus on longer rides!
B4 going on a longer trip, it's also a wise idea to get a Clymer repair manual for your bike, and read thru at least parts of it, to familiarize yourself with the bike, and its inner workings--and how to repair different parts of it if things do go wrong. If you have questions about something you read there, ask them here--that's what bike forums are for! There are good people here with good wrenching experience, who will be glad to help you with your questions.
Also, if you have any doubts about your riding skills and experience level being up to the task, hold off on such a trip until you feel confident you can do so.
Instead, take an MSF course (if you haven't already). Nothing else out there will do more to boost your confidence level, if you are a new(er) rider. For the MSF course nearest you, visit:
http://nm.msf-usa.org/msf/ridercours...rCourse%20Info
BTW: Welcome (belated) to the forum!....
This is a great place to learn more about your bike, and riding in general....
---
'05 VN750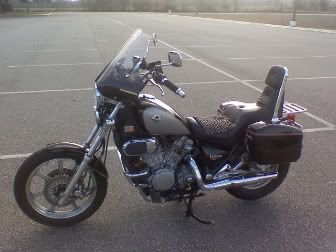 For other bike pix & mods, go to:
http://s1203.photobucket.com/albums/...k/VN750%20pix/
---
Last edited by theauhawk; 06-14-2011 at

10:49 PM

.
Member
Join Date: Dec 2010
Location: Rossville, Georgia
Posts: 79
Originally Posted by thebeginning View Post
1) Is it unwise to do it alone?
2) How long had you ridden before you took a long trip?
3) If I'm not mechanically savvy should I avoid long trips (in case something goes wrong)?
4) Do long rides put alot more stress on bikes?
5) What should I check/tune up before going?
Plan well, or as the boy scouts say, "be prepared". I kinda "worked up" to a long ride by taking some trips of about 250 miles total in a day after I'd been riding for about a year and had about 10,000 miles or more on my bike. My first trip of 350+ one way I did with another biker and I'm glad I did that, but everybody is different and you know yourself better than anyone here could. You got some great advice already so I'll just re-affirm a few points for emphasis. Give your bike a thorough going over and if you don't feel competent doing that then take it to someone you trust and pay them to do it. Even if you were a great bike mechanic, things can break down that you just can't fix on the road, so think about your alternatives to getting yourself and your bike back home if something unforeseen happens. Lastly, I think bikes do better when they get ridden more, as long as you have your lubes and fluids right.
Hope you have a great trip!