Glenn C.
Join Date: Apr 2010
Location: Alexandria, Minnesota
Posts: 1,627
VN750 History
---
So my ABATE of MN Chapter (Freedom First Riders) is putting on our 4th Annual Bike Show and Fund Raiser (for more info, visit
www.freedomfirstridersabatemn.org
), anyway, I have never put my bike in a bike show, and as a member I am being suggested to do so by other members. Mainly because my bike is nice and has lots of custom stuff.
So I have entered my bike and trailer into the show, and i want to make a poster board of pics and info about the bike, and the history of the VN750 (vn700s).
Where would be the most reliable source of history i can find to write up a summary and cool facts??
Thanks guys.
Glenn C.
Old Truck Junkie
Join Date: Jul 2007
Location: Roby Texas
Posts: 4,133
Use this as part of your facts. Not sure where to find it to have some thing to back it up with. I am sure some one here can help with that.
Time/Speed in 1/4 mile
1500 Mean Streak 13.76/95.6
VN750 13.98/93.1
800A 14.34/93.6
800 Classic 14.34/89.9
1500 Drifter 14.56/88.9
1500 Nomad FI 15.49/88.1
800 Drifter 14.56/88.9
1500 Classic FI 14.14/88.7
1500 Classic (carb) 15.03/85.3

If this is not correct please feel free to correct it.
---
02 honda sabre 1100
Linkmeister Supreme
Join Date: Aug 2008
Location: Lethbridge, Alberta, Canada
Posts: 7,960
Link to a history of VN750 manufacturing changes through the years, and paint colors. Most info in post 3.
https://www.vn750.com/forum/showthrea...ght=color+year
Not sure how interesting you can make any of this for a display board.
---
Gordon
1991 VN 750 -"
Cosmic Lady
" or "
Bad Girl
"?
Purchased May 16, 2008
Approx.19,300km (12,000 miles)
H-D windshield
Relocated R/R
MF-AGM battery
Fiamm Freeway Blaster horns
F&S luggage rack and engine guard
Kury Offset Hiway pegs
July 13, 2016, Riding on the DARKSIDE now, Classic Radial 165/80-15
TOP TEN THINGS A NEW RIDER/OWNER SHOULD DO.
Click on link.
https://www.vn750.com/forum/11-vn750-general-discussion/9127-top-ten-items-you-would-suggest-new-owner-do-his-new-ride.html
Drive less, ride more...
Join Date: Nov 2005
Location: SW Ga
Posts: 1,114
The following article from the archives of
Motorcycle Cruiser
magazine might prove helpful. Focus in on the section that describes the VN750, for relevant info. Note that there are some obvious typos in the listed specs (and earlier versions of the VN750 did have self-canceling turn signals, thank you), but for the most part, the info there reads pretty accurate (except for their description of the Vulcan's styling and looks--which is of course strictly a matter of personal taste):
http://www.motorcyclecruiser.com/fea...rit/index.html
For those who take the time and trouble to read it, this above write-up should make you appreciate your Vulcan 750 a lot more...as this points out just how unique and special our bike was (and still is...
).
You might also point out that the VN750 was Kawi's obvious response to (and "one up" to) Honda's Shadow 750 cruiser of the same time period.
---
'05 VN750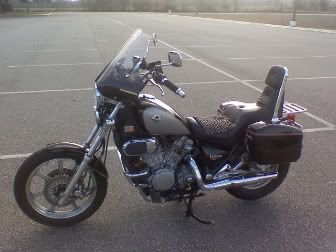 For other bike pix & mods, go to:
http://s1203.photobucket.com/albums/...k/VN750%20pix/
There is alot of info on the bike ...it just happens to be inside the heads of many of our members.....not alot written down.

Some of it unsubstanciated rumors, but still fun to use anyway. Like that the 750 motor was first developed for use in Kawasakis "jet-ski", but the idea was scrapped. As they still had done a bit of work on the motor desgin, they changed it to be used in a street bike.

Also, many are not aware that the Vulcan 750 was assembled here in the United States, In Lincoln NE. Parts were shipped here from Japan along with the motor and frame. The plant also assembled some of the companys dirtbikes.

I am not sure how soon this started. I was always under the impression that : the first model...the VN700...was imported. In hopes of getting by the American imposed tarriff on bikes with motors over 700cc's, they opened the plant in Lincoln to start assembling the 750 and a few larger bikes...but the tarriff was lifted by the time the plant opened. They still ended up assembling the 750 there, but the larger bikes were done in Japan and the plant did the dirt bikes instead.

IF anyone has better info on this I would like to hear it, because as mentioned, there is not alot written down about VN lore.

KM