What is my Vulcan worth????
---
so im looking to possibly sell my vulcan to get another bike (not sure what model yet but definitely a 2009 or newer)
so heres the info
1994 VN750
K&N air filters (replaces the stock foam filter)
Cobra Exhaust
Luggage Rack (bought from "Rogue" on here)
10k miles
new battery
new Regulator Resistor (also relocated and original still in stock location and still works, got the new one thinking it was bad and turned out to be the connector was just loose lol)
new oil change
new plugs
new center plate with new floats and needles
crash bar
will have new tires (soon as my income tax comes in ) lol
will be rebuilding the petcock (leaks gas into carbs over time)
bad...
has small dent in headlight trim
small cracks in left front turn signal lense (doesnt "need" a lense but could use.)
small scratches in ball part of clutch lever (doesnt "neeD" but for looks it could use a new one)
small scratches on rear chrome part of left rear turn signal housing
scratch on speedometer casing (cheap fix also)
pics to come of bike with rack on it
here are pics of it without rack and crash bar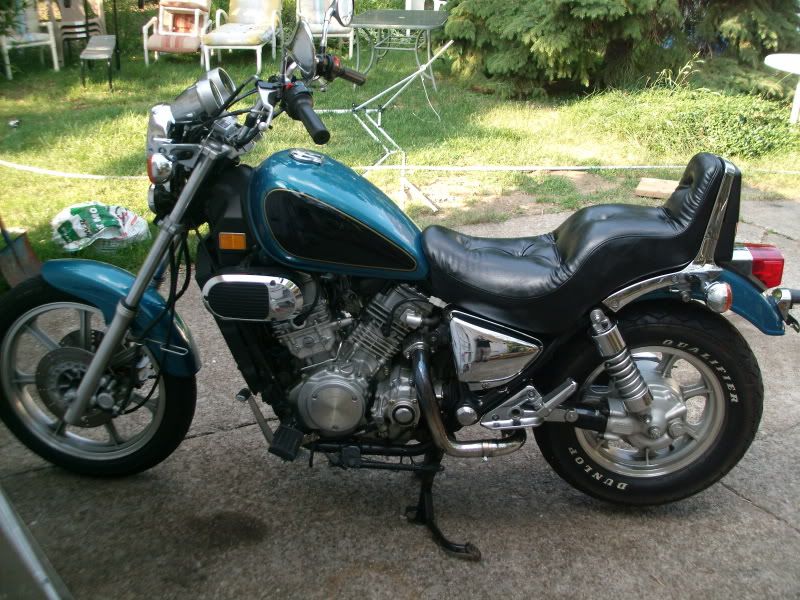 \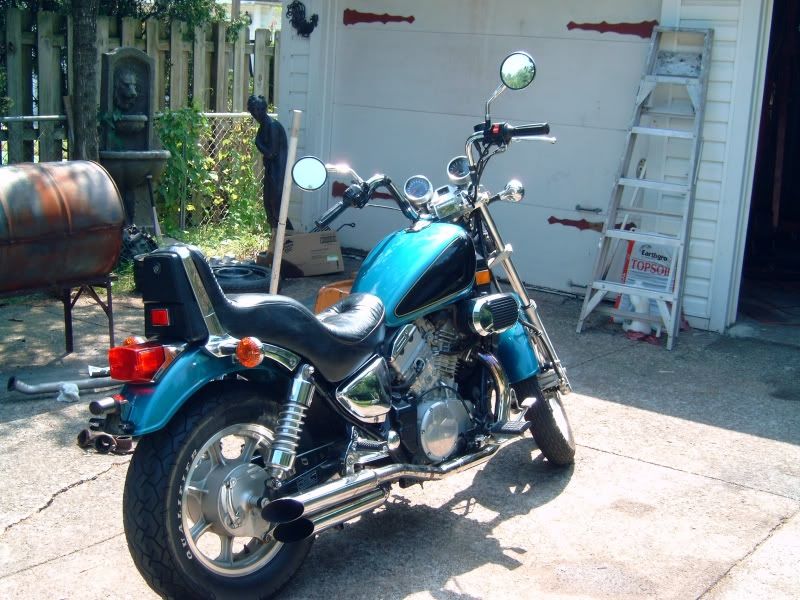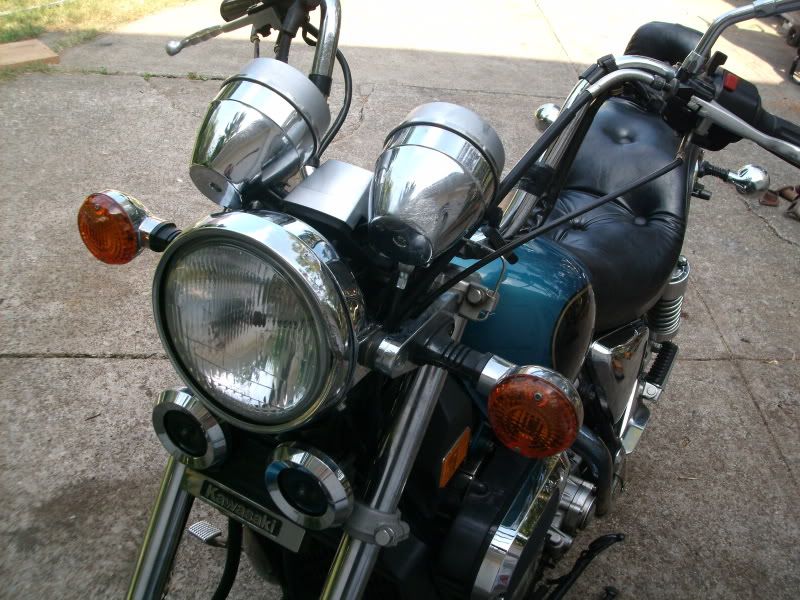 pics of crash bar on bike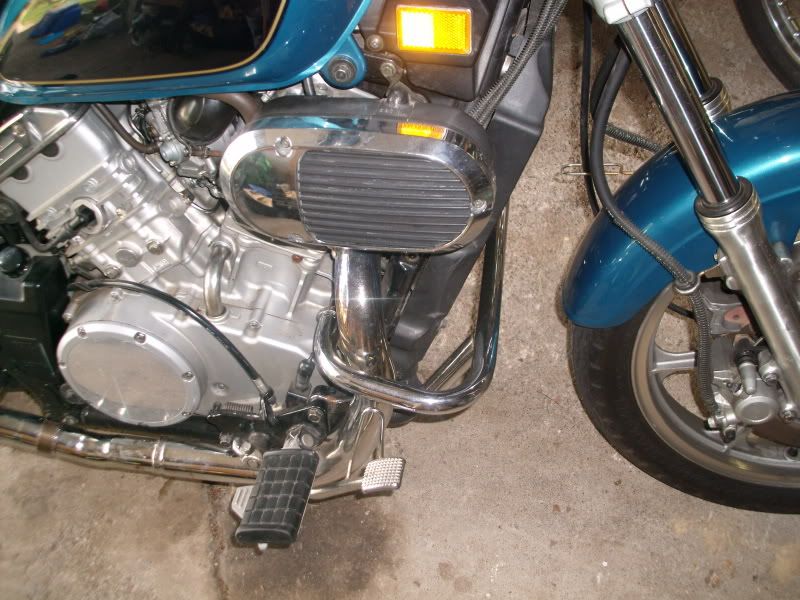 pic of speedometer last summer
i believe this to be an AWESOME bike and very well maintained and in great condition minus the few small scratches which are easily repaired/replaced, so with that in mind please tell me what you think its worth in general and not what you would "only pay" for it.
thanks alot.
also taking offers on the bike but please ONLY PM offers thanks
Will H.
---
Banned
Join Date: Mar 2009
Location: Cedar Grove, NC
Posts: 431
I would start at $1800-2000 and get flexible, maybe a little less flexible if you wait three months.
MANIC MECHANIC
Join Date: Feb 2006
Location: Dale City, VA
Posts: 942
Problem is it's like any toy, they are all money pits. What you like and consider custom others might consider a molestation. But based on the year and as clean as it looks, and if it starts easy and runs smooth i would hang around the $2000.00 range.
---
34k so far
VN750.com member #613
Keep the shiny side up
coastered
de-goat and baffles removed
jetted 42-150 2 shims
Earshaved with unifilters
inside of tank coated
spline lube
long Beach Blue Pearl Paint 4/07
Shindengen FH012AA r/r
TPE stator
Exide sc30lfa Battery 28ah 445cca
Saddlemen saddlebags
2001 HD fatboy solo seat
Custom taillight & rear turn signals
Fergy's coil relay mod
Fiamm El-Grande high/low tone horns
Senior Member
Join Date: Jul 2008
Location: Titusville, New Jersey
Posts: 6,420
Good looking 94 with 10k on the clock? I'm with the other guys, hang around 2k but be flexible. I also agree with km60155 - wait for warmer weather and hold firm at 2k...
Headbanger/Popes of Hell
Join Date: Aug 2006
Location: ohio
Posts: 6,580
how much $, for the engine guard?
I was going to suggest you ask $2200 or best offer. I would not spend any more money on it...let the new owner buy the tires.

Sell the engine guard to Ruger. And sell the luggage rack to whoever wants it. And... Keep the price the same. Accessories are not worth much on the bike to a buyer...but are on the open market.


KM
Quote:
how much $, for the engine guard?
would rather you see in person then toss me an offer, tho im not 100% sure i will sell yet tho. I live in parma 44130, so it shouldnt be too bad of a drive for ya. gimme a call whenever (always up till midnight so up till then is cool)
Will
440-341-7755
---
Senior Member
Join Date: May 2010
Location: St. Albans, Maine
Posts: 796
Like I always say...."You'll never get out of it for what you've got in it". I agree...start at $2200. 8 yrs ago I gave $1500 for my 93' with 15,000 on the clock, all stock, very clean, and only a tiny ding in the tank.
---
01' VN750
Jardine cross over exaust
Kyriakin grips and foot pegs
Modified seat and backrest
Windshield
Luggage rack
Crash bar with Kyriakin pegs and extensions
Kumho 758 165/80-15 CT rear Dunlop 404 110/90-19 front
Coastered and air/fuel screws at 2.5 turns
Spline lube

93' VN750 getting TLC
Decals and mirrors
Coastered and air/fuel screws at 2.5 turns
ACCTs to MCCTs
Degoated with Harley mufflers
Duro 110-90-19 front 150-90-15 rear
Pick-up coils at .020
Spline lube
---
Last edited by baldy; 01-28-2011 at

08:47 PM

.
Senior Member
Join Date: Oct 2010
Location: Spencer, WV
Posts: 233
If the luggage rack is in nice shape, not rusty, and has all the hardware, I'll give you $100 for it.
Mike
---
05 VN750
Iridium Plugs
Spline Lubed front/rear
ignition pickups gapped
AGM Battery
Relocated MOSFET R/R
Coaster Mod
Pilot Screws at 2-1/4 turns
Slipstreamer S-08 Windshield
F&S Saddlebags/Mounts
Luggage Rack
12V Outlet
Mustang Seat
sissy bar
Oversized Pirelli Front Tire
6k miles
PW50, XR50, TTR90, XR100, DT175 (2-smoker), CRF230F, XR250R (dual sported), XR400R 4 KIDS, LOL!
1966 mustang street/strip
4-speed, nitrous
[email protected]
135.6
well my bike is worth 2200$ ATLEAST cause thats why i just sold it for! i let the rack and guard go with it. it was hard to let it go tho, i can assure all of you of that! only reason i sold was cause im getting a bigger bike soon.
---