Senior Member
Join Date: Dec 2010
Location: Denton, Tx
Posts: 115
Almost back to riding again!!
---
So i have been posting problems and updates on here since i joined about two months ago. I just wanted everyone to know that since i bought my 86 vulcan 2 months ago i have pulled the carbs and thoroughly cleaned them, lubed the rear splines and coupling, realigned the front wheel and forks with the handlebars, installed a new to me ignition switch, and spent to many hours to count out in the garage turning wrenches and spilling oil, fuel, sweat and blood. Today I decided to open up the garage door and start her up, and to make sure the clutch and transmission at least move the bike. I started her up, she fired on the third try. Rolled her to the end of the driveway, dropped her in first, slowly released the clutch, and away we went, only about 20 or 30 feet but it was amazing to be riding a bike that was laid down, left sitting outside, and bought by me for 250 bucks. So i did that about 3 or 4 times. Unfortunalty i cant run it any longer than that becuase i need a drain plug and fan switch that goes into the radiator, so it doesnt hold coolant as of yet. I also cant ride it on the road because the PO has the title, when he bought it he signed the back of the title but never got a new one preinted in his name. So i got a bill of sale from him, paid for the bike, took the bike home and he said he would get a new title for it and we would take care of it. Since then I have not heard from him, so i cant get it registered or put tags on it. I am definitly ready to ride it, and if I was back home I would even think about ridingit around the block, but because i live on a Marine Corps base, that is highly frowned apon and would end up with me in the brig or with a heavy ticket. I am going to go to base legal to see what my options are with the title, since i do have a bill of sale and I know that there is a title, i have seen it. If anyone has any advise for my situation, please feel free to post on here. I live in north carolina, but will be moving to ohio in april. All i want to do is get a tag for it so i can ride again. Sorry this got to be so long but it felt so good to ride her, even if it was only a total of 100 feet or less, and this whole title mess has got me really aggravated. Any input would be nice. Thanks everyone for all the help and continued support.
---
Devin Mohler
Corporal, United States Marine Corps

1989 Honda Interceptor 500
1986 Vulcan 750, paid in full (250 bucks)

R/R Relocated (Thanks flitecontrol)
Splines Lubed
Battery Tender permanetly installed
Custom Seat

Planned mods and things:
Ear shave (using stock ears as storage)
Coastering
Wrapping exhaust
Custom Exhaust
Members who have donated towards server costs
Join Date: Dec 2008
Location: Monroe, LA
Posts: 4,706
Can't help you on the title issue, but suggest you contact the legal office asap. Might be to your advantage to get this taken care of before your move.
---
I'm keepin' all the left over parts. I'm gonna use 'em to build another bike!
_____________________________________________
"Black Beauty"
1989 VN750 acquired December, 2008, 6,711 miles
Currently 23,298 miles
Old Blue
2001 Honda CMX250 Rebel acquired July, 2008
1987 VN750 project bike, acquired August, 2009, 33,000 miles and balancer sticking out of the case, currently awaiting attention and parts
Drive less, ride more...
Join Date: Nov 2005
Location: SW Ga
Posts: 1,114
Thank you again for your service to our country....and welcome again to the Forum!

For your tag issue, I can't believe you don't have some sort of legal help available to you there on base. I would investigate your access to legal counsel....
---
'05 VN750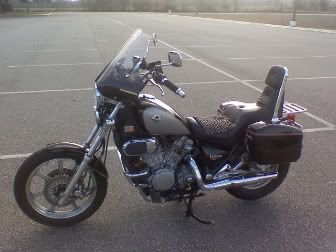 For other bike pix & mods, go to:
http://s1203.photobucket.com/albums/...k/VN750%20pix/
Regarding the title issue, did the PO have it titled in NC? If so, I would work to clear up the title before moving to OH. Usually, you have some options if you go in and talk to someone at your local DMV. Let them know your situation, and they can tell you what you need to do. I don't think it will be as big of a deal as you think it is. If you move to a different state before clearing up the title, it could be even more difficult.
---
2017 Indian Roadmaster (current ride)
2003 VN1600A (
Traded August 2017 to #1 son for a Bushmaster AR
)
2001 VN750 bought 4/19/08 w/2309 miles(
Sold April 2010 with just over 12,000 miles
)
VROC #33035
__________________________________________________ ________________
Just when I thought I was winning the rat race, somebody moved the finish line!