IBEW 915 Electrician
Join Date: Jul 2008
Location: Z-Hills, FL
Posts: 115
Startron fuel additive.
---
---
'01 Vulcan 750
Irridium Plugs
MF Battery
Senior Member
Join Date: May 2010
Location: St. Albans, Maine
Posts: 796
---
01' VN750
Jardine cross over exaust
Kyriakin grips and foot pegs
Modified seat and backrest
Windshield
Luggage rack
Crash bar with Kyriakin pegs and extensions
Kumho 758 165/80-15 CT rear Dunlop 404 110/90-19 front
Coastered and air/fuel screws at 2.5 turns
Spline lube

93' VN750 getting TLC
Decals and mirrors
Coastered and air/fuel screws at 2.5 turns
ACCTs to MCCTs
Degoated with Harley mufflers
Duro 110-90-19 front 150-90-15 rear
Pick-up coils at .020
Spline lube
Drive less, ride more...
Join Date: Nov 2005
Location: SW Ga
Posts: 1,114
For what it's worth: a reputable dealer in western FL recommended Startron to me (and no, he doesn't sell it himself) after we discussed the topic of storing bikes for extended periods of time with 10% alcohol fuel in the fuel tank.
The product basically works something like this: the alcohol in the fuel will attract moisture (if given enough time). This moisture of course plays games with your bike in more than one bad way.
The Startron additive intercepts this fuel/moisture process. He says he's used it enough to be confident it works.
If you plan on parking your bike and not riding it for lengthy periods of time (like for winter storage) then I would use it as directed. Also:
make sure
you have run enough of it to get up in your bike's carbs (if so equipped).
Otherwise, if you're riding your bike often enough to burn through a tank of fuel every other month or so....you're probably just as well off with something else instead (like the "SeaFoam" additive).
For those interested, the easiest way to get Startron is to look in the boating section at your local Walmart. It's usually there.
http://mystarbrite.com/startron//con...0/136/lang,en/
---
'05 VN750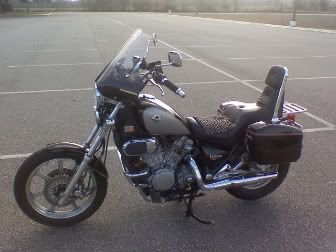 For other bike pix & mods, go to:
http://s1203.photobucket.com/albums/...k/VN750%20pix/
Senior Member
Join Date: May 2010
Location: St. Albans, Maine
Posts: 796
So it is yet a new additive on the market that does the same thing as Seafoam and K100. I say if you trust it use it. Anything is better then nothing. Here in the far north the K100 works best on faze separation where in temps below 50 degrees the ethanol separates from the fuel. I did extensive tests with straight fuel, Stabil (blue) marine, Seafoam, and K100-mg and the K100 had the best results. So for me K100 is the additive of choice. My results are in an older thread. Each region has it's own type of elements so what works for me may not be needed or work for someone else down south. It's all good and having a variety is a good thing.
---
01' VN750
Jardine cross over exaust
Kyriakin grips and foot pegs
Modified seat and backrest
Windshield
Luggage rack
Crash bar with Kyriakin pegs and extensions
Kumho 758 165/80-15 CT rear Dunlop 404 110/90-19 front
Coastered and air/fuel screws at 2.5 turns
Spline lube

93' VN750 getting TLC
Decals and mirrors
Coastered and air/fuel screws at 2.5 turns
ACCTs to MCCTs
Degoated with Harley mufflers
Duro 110-90-19 front 150-90-15 rear
Pick-up coils at .020
Spline lube