First Bike, First Vulcan, First Wreck.
---
About a month ago, I picked up a 1996 Vulcan 750 for a great deal ($1200). I just liked the way they looked, and from reading this forum, I liked how quirky they are. I took the MSF course, and focused on safety. I rode the bike for two weeks, then it was down for a week while I got a replacement oil screen cap that broke while changing the oil.

The day after getting it working again, riding home from work, a deer took me off the bike at 40 mph. The driver behind me told the police that there was no way I could have seen it. Apparently I was conscious the whole time, but I don't remember any of it. I "woke up," or at least started remembering things, in the ambulance on the way to Vanderbilt Hospital.

I had full gear, and it did its job. My injuries were a concussion, four broken ribs, a broken clavicle, and two puncture wounds in my thigh (might have been two of the six points on the buck). The helmet didn't crack, but the right side of it is ruined from meeting the pavement.

Since the bike is older, my guess is that it's totaled. Damn shame, because I really liked it, and I looked forward to making it mine.

With all that said, anybody have advice on this? I know I need to claim not just the bike, but also all my gear (which was cut off of me at the scene). Being a new rider though, if there is anything else I should know that might help, I would love to hear it.

Here's hoping I can find a deal on another Vulcan...
---
1996 VN750
15K miles when purchased on Oct 12, 2010
Pretty Much Stock...
Senior Member
Join Date: Jul 2008
Location: Titusville, New Jersey
Posts: 6,432
Not sure about logistics as I haven't gone through it but I'm glad to hear you're mostly ok. Good call on full gear man, it looks like it could have been worse. Best wishes for a speedy recovery, take care.
Old Twistie Sticks Rider
Join Date: Aug 2007
Location: Country Created by Geniuses, But Run by Idiots...!!!
Posts: 5,072
Sorry to hear about your misfortune, can't be of much help other than say that like me last year, you are lucky, good you were wearing your gear...
Sounds like you had Ins., thats good, on mine they (GEICO) totaled it, saying that if it cost over half the bike value they would total it... Good luck on your settlement and recovery...
I am south of Nashville down in Winchester...
Have a good one...Old Dog...
---
Southern Central Tennessee....
...
Now on the Dark Side...
...
Girl's Bike 09 Sporty xl 1200 Custom...33k + & clickin...
...
Sportster Owner/Rider since age 72...lol... Rider since Simplex...???
09-xl1200 "C" Vivid Black, Cast wheels w/19" Frt., SE-Stage 1+, X14iEDs...
MicroTach +, Higher wider H-bars, GPS Mt., Mustach bar Hwy. pegs...
Viking Shock cutout Saddlebags, Rear Mt. Signal Lt. Kit, Fork Brace...
RoadKing Air Shocks, Mustang Seat, Progressive Fork Springs...
Members who have donated towards server costs
Join Date: Aug 2010
Location: Birmingham Alabama
Posts: 107
Glad your OKAY. Being a Vandy man, I can say you went to the best Hospital around.
I'm an Insurance Broker and if you need some help with any of the adjustors, PM me and we'll get in touch.
Your policy should have some coverage for equipment (depending upon your carrier) . I would alert your HO's carrier also.
I would contact the makers of the "gear" you were wearing, tell them your story, give them the facts. They may ?? send you all new stuff just to have the ( excuse the term) first hand knowledge of how it faired.

Man I salute you for the set of Brass ones you have ....wanting to get back on the horse takes a pair.

All the best
---
2006 w/ 3124mi.
new to me Aug. 2010
X2-15L Battery
Iridiums
Mustang One Piece Studded
Fluids replaced
H4 Bright White Headlight

ALAS sold to a great guy in Birmingham
Members who have donated towards server costs
Join Date: Dec 2008
Location: Monroe, LA
Posts: 4,706
---
I'm keepin' all the left over parts. I'm gonna use 'em to build another bike!
_____________________________________________
"Black Beauty"
1989 VN750 acquired December, 2008, 6,711 miles
Currently 23,298 miles
Old Blue
2001 Honda CMX250 Rebel acquired July, 2008
1987 VN750 project bike, acquired August, 2009, 33,000 miles and balancer sticking out of the case, currently awaiting attention and parts
Linkmeister Supreme
Join Date: Aug 2008
Location: Lethbridge, Alberta, Canada
Posts: 7,960
[email protected]
deer!! If we could just get them online to read some safety forums, and stay on the side `til traffic clears!
Glad to hear the safety gear worked and lessened your injuries.
Did you have any hard armor in the jacket?
You said you were wearing full gear but still got two leg punctures, perhaps from the deers antlers.
Were you in fact wearing riding pants or just the jacket?
What time of day did the accident happen?
What were the light and driving conditions like? daylight, dusk, dawn, dark, clear, rain etc.???
---
Gordon
1991 VN 750 -"
Cosmic Lady
" or "
Bad Girl
"?
Purchased May 16, 2008
Approx.19,300km (12,000 miles)
H-D windshield
Relocated R/R
MF-AGM battery
Fiamm Freeway Blaster horns
F&S luggage rack and engine guard
Kury Offset Hiway pegs
July 13, 2016, Riding on the DARKSIDE now, Classic Radial 165/80-15
TOP TEN THINGS A NEW RIDER/OWNER SHOULD DO.
Click on link.
https://www.vn750.com/forum/11-vn750-general-discussion/9127-top-ten-items-you-would-suggest-new-owner-do-his-new-ride.html
Thanks for all the well wishes!
OlHossCanada
, I was wearing CE armor in both my jacket and pants - even had hip armor, which is probably the reason I'm still walking. The puncture was mid-thigh slightly to the rear - opposite all the other damage, where there was no armor - only mesh. Looking at the pants, you wouldn't guess at major damage since the two holes aren't that big...
Wreck happened at ~5:15 last Friday night. It was just after dusk, so not quite dark as night, but pretty much there. It was a semi-suburban area, and the dear came out of a tree line that comes right up to the road. The weather was great and the road was dry. There are no rubber skid marks on the road where it happened, so I had no time to even hit the rear brake, which I always have my foot ready to do while riding.
flitecontrol
Thanks for the tips. The one in charlotte looked nice, and it was well priced... I need to let the insurance do its job before I buy another one, and I suppose I have some healing to do. Right now, I couldn't reach the throttle if you paid me.
76dore
Did you mean my homeowner's policy? I wouldn't have thought to involve them at all. I will call them though. I was planning on contacting the makers of all my gear and thanking them anyway. I'm pretty grateful that I'm in as good a shape as I am. It would kick ass for the gear manufacturers to replace it, and I'll let you know how that goes for sure.
---
1996 VN750
15K miles when purchased on Oct 12, 2010
Pretty Much Stock...
---
Last edited by audieleon; 11-17-2010 at

02:43 PM

.
Just got the word. The bike is totaled.
---
1996 VN750
15K miles when purchased on Oct 12, 2010
Pretty Much Stock...
Drive less, ride more...
Join Date: Nov 2005
Location: SW Ga
Posts: 1,114
x2 on part of the above--holy smoke, Dude....glad to learn you came out as good as you did...
...!
Also: for you to have experienced part of the "dark side" of motorcycling and are willing to get back in the saddle says a lot of good about you...
Advice? When you're ready physically again--buy another VN750! Good, clean, low-mileage examples are still fairly easy to find.
I recommend you buy during the winter months, when demand for bikes is down, and prices tend to drop then, also.
By mid-February, this changes, as everyone gets spring fever and "the itch" to ride again. Prices then generally start going back up.
What brand/model helmet were you wearing? How old is/was it?
Check out/read the following by David Hough, who is a renowned expert on motorcycle riding. You would do quite well to read his books on the subject:
http://www.soundrider.com/archive/sa...deerohdeer.htm
---
'05 VN750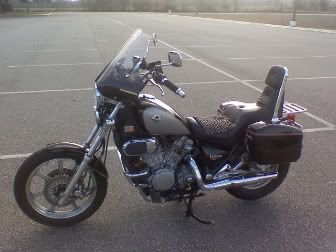 For other bike pix & mods, go to:
http://s1203.photobucket.com/albums/...k/VN750%20pix/
I should point out to all that are unsure of what exactly their policy covers...to call your agent/insurance company and ask.
I pay a abit more for full coverage...do to getting "replacement cost" as oppossed to standard accessed value. What this means is instead of just looking at a blue book price, they look at the sale price of simular models in my area, and would give me the average selling price to buy another bike...(if I should total mine) Not to mention replacement cost of my gear.
Many end up being shocked to learn that their policy does not cover their helmet or gear, and that they only will pay Blue book as opposed to market value.
So , if not sure, just ask.
Anyway.......... proof that gear does work and helmets will save you. Glad you got through it as well as you did....and.. I do hope the deer was totaled too......
KM