1992 Sitting for 14 Years
---
Guy has a 7500 mile 1992 Vulcan that's been sitting for 14 years. He says his uncle gave it to him when he moved far away, but he never rode it. He says it's in great shape, but needs a battery and a tune-up...

I'm thinking new tires, clean the carbs, new plugs, oil... check the brakes, as they might be bad from sitting, etc...

Any 'gotchas' to look out for? I know to ask if it's got a good title. I'll try to start it with a jump start, and see if the headlight dims at idle to check for a working stator...

I'm kind of wallowing between this and the 4800 mile 05 for $3k... or just waiting to see what else comes along. LOL

Thanks!
Straight roads are evil
Join Date: Jun 2006
Location: California
Posts: 580
How much is he asking? As you said, it'll need tires, battery, tuneup, carb clean, oil change, tank cleaning, electrical check, etc. All of that will be at least $1000, maybe more. If his asking price is less than $1000 I'd consider it, if not pass for the '05.

It makes me sad hearing about old, low-mileage bikes. Better to ride it until it falls apart. Mine? Put 2k on the odometer in the last 3 weeks. Ride, ride, then ride some more.
---
The journey is the destination.

2006 VN750 (SOLD)
63160 miles
Mustang seat
R/R Relocate
MCCT
MF Battery
Red spark plug wires
Stainless Steel brake lines
Stiffer fork springs
Windshield
Givi bags, Wingrack mount
Voltmeter
GPS Mount
Pashnit sticker!
Drive less, ride more...
Join Date: Nov 2005
Location: SW Ga
Posts: 1,114
You don't say where the bike is....(city, state)?
Also: you don't say what cosmetic condition the bike is in (was it stored in an enclosed environment--or if was stored outside, instead)?
A relative says it could be rideable in a few days by replacing the tires & battery, a few hydraulic lines (and the fluids), and running Chem Tool carb cleaner thru the carbs (instead of detailed carb cleaning and/or overhaul). This assumes no loose rust in the fuel tank.
Do any of the rest of you agree with this assessment? Or is he being a bit too optimistic?....
---
'05 VN750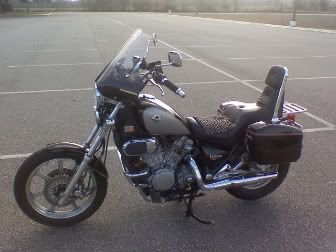 For other bike pix & mods, go to:
http://s1203.photobucket.com/albums/...k/VN750%20pix/
I talked with him on the phone this evening.
He said the tank is rusty and the battery is dead.
Nobody has tried to start it.
He said the tank has a few scratches that look like they came from a belt buckle, and the seat has a couple of dabs of paint on it.
He hadn't checked to see if the brakes worked, but was going to see if they 'felt' good.
He also said he's no mechanic, and works with rocks all day. LOL
The license plate reads 1996, and it's been kept in a garage.
I'm assuming it's an unheated garage since the tank is rusty.
He wants $800 as it sits.
He is supposed to send pics tomorrow.
Here's a pic after he pressure washed it.
That's all I've got right now.
Member
Join Date: Jun 2010
Location: McAllen, Deep South Texas
Posts: 61
05 for 3k if it's been cared for...actually make em an (cash) offer, wether they know it or not, it's a buyers market. Seen vn750s sit on CL for months. Seen lots of bikes sit on CL for months. Midpoint of Kelley Blue Book is $2705. If it is in great shape, I'd probably start at $2,500, willing to go to $2,800. My 2 cents, and not even worth that!

James
RR
---
Last edited by RadioRider; 10-25-2010 at

05:15 AM

. Reason: add kbb info
I'm not going to jump on this, so I'll share the craigslist ad. He started at $2000 in his first ad, posted ads going progressively down to $1000, in this last one he says he'll even trade it for a pellet stove... and on the phone he said he'll take $800.
He said he doesn't know anything about bikes and isn't a bike person.
He also said that he probably won't bother posting it again until spring.
Here it is, in case anybody is interested.
Item is located in Columbus, Ohio
http://columbus.craigslist.org/mcy/1994221139.html
Good Luck!
Member
Join Date: Jun 2010
Location: McAllen, Deep South Texas
Posts: 61
Good move. I re-read one of your posts...Here is a pic after he pressure washed it. OY! Can you feel the love?

James
RR
Members who have donated towards server costs
Join Date: Sep 2009
Location: SAN ANTONIO, Texas
Posts: 1,126
He should part it out. He can sell me the final drive. I will take it for 100$.
---
2011 Suzuki VSTROM DL650 with ABS Purchased Jan 28 now with 39,000miles WRECKED JAN 12 ,2013
"To strive, to seek, to find, not to yield."
05 Vulcan 750 26,050miles *Traded in*
Ventura guards
MadStadt mount
Givi windshield/Heated grips
Backoff
Riderbeads
Givi 52 topcase
Pat Walsh Crash bars skid plate
OEM centerstand
Headlight modulator
Battery tender
Aquarium thermometer with forward probe mount
Admore LED Lighting/Givi E36N panniers
Senior Member
Join Date: May 2010
Location: St. Albans, Maine
Posts: 796
Damn! Too bad he is in OH. I have a pellet stove that I don't use that I would trade. I can imagine what the shipping charge would be pretty expensive too.
---
01' VN750
Jardine cross over exaust
Kyriakin grips and foot pegs
Modified seat and backrest
Windshield
Luggage rack
Crash bar with Kyriakin pegs and extensions
Kumho 758 165/80-15 CT rear Dunlop 404 110/90-19 front
Coastered and air/fuel screws at 2.5 turns
Spline lube

93' VN750 getting TLC
Decals and mirrors
Coastered and air/fuel screws at 2.5 turns
ACCTs to MCCTs
Degoated with Harley mufflers
Duro 110-90-19 front 150-90-15 rear
Pick-up coils at .020
Spline lube
Senior Member
Join Date: Sep 2005
Location: Brownsburg, Indiana
Posts: 148
I would buy the 05. It'll probably be cheaper in the long run.