Glenn C.
Join Date: Apr 2010
Location: Alexandria, Minnesota
Posts: 1,627
Vulcan VN750 vs Suzuki Marauder 805??
---
So here's the deal, I work at a plat where we design and build custom packaging machinery and robots for the packing/casing industry. I am a service tech for the machines, have been doing it for 2.5 years now. Several of the guys at the plant ride motorcycles, i'd say of the 78 employees, about 15 of them ride.
Anyway, we just hired a new assembler tech who is a cocky sob, he's been here for not even two weeks and thinks he knows it all. He came rolling in the other day on his Suzuki Marauder 805 and parked it next to my Vulcan 750.
During the day he was bragging and saying how his bike would smoke my little 750, and how his is bored and supermodded to a 805 or something and my little 750 wouldn't keep up.

I tired explaining to him, that just cuz its a bigger cc engine doesn't mean its really much faster. I also ride/race quad atvs, and the Yamaha Raptor 660r and the new 700r is a much bigger heavier quad then the yamaha yfz450. The yfz450 is designed for the motocross track and the raptor is designed for the trails. In the quarter mile or hole shot, the smaller and quicker 450 will beat the bigger 660/700, but in the long stretch the raptor has a higher top speed, i think the raptor stock speed is like 72, while the 450 is like 68.

So he went on how he went to tech college for marine/small engines and he knows all about engines and stuff, and how he knows his 805 will smoke my 750.
I told him that if he did some research he would find out quickly that the vn750 is well known for being fast and leaving bigger bikes in the wind. He just laughed at me.
Anyway i am sick of this guy and need to put him in his place! lol

What are your opinions on this? A suzuki marauder 805 vs a kawasaki vulcan 750??

Another guy at work, who has been riding bike for over 35 years, Dennis, he has one of them big nice Triumph Rocket III bikes, and he even said that my bike the vn750 is well known for being quick and will probably beat most 900s and maybe more.

Peace
Members who have donated towards server costs
Join Date: Feb 2007
Location: owensboro ky
Posts: 355
check your area drag strips and see if they offer a open track day to the public. then ask him to join you at the track and see who has the faster bike.
---
Jeff Brooks
Owensboro KY
'94 Vulcan 750
http://youtube.com/user/cm4cm5
Drive less, ride more...
Join Date: Nov 2005
Location: SW Ga
Posts: 1,114
Answer: it depends.
If both bikes were/are completely stock, and in proper tune and condition, then the Vulcan 750 will smoke the Marauder. Only the Suzuki 805cc Intruder (now sold as the Boulevard) is faster in the 800cc class--again, bone stock.
But if he's added some mods to his bike...depending on what he's done to it, and what you may (or may not) have done to yours, then you may indeed get "waxed" if the two of you ran the 1/4 mile.
Dare I ask: what difference does this really make, anyway? All that really matters...is if both of you really like the bike you own....
---
'05 VN750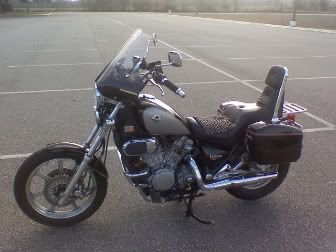 For other bike pix & mods, go to:
http://s1203.photobucket.com/albums/...k/VN750%20pix/
Members who have donated towards server costs
Join Date: Dec 2008
Location: Monroe, LA
Posts: 4,706
These folks say the VN750 wins, by a little, in the 1/4 mile. VN750 - 13.98 seconds, 93.1 mph, Maraurder - 14.46 seconds, 88.1 mph. February, 2009 issue.
http://www.motorcyclecruiser.com/roa...son/index.html
How you wish to reveal this to him is up to you.
---
I'm keepin' all the left over parts. I'm gonna use 'em to build another bike!
_____________________________________________
"Black Beauty"
1989 VN750 acquired December, 2008, 6,711 miles
Currently 23,298 miles
Old Blue
2001 Honda CMX250 Rebel acquired July, 2008
1987 VN750 project bike, acquired August, 2009, 33,000 miles and balancer sticking out of the case, currently awaiting attention and parts
Senior Member
Join Date: Sep 2005
Location: Brownsburg, Indiana
Posts: 148
Ignore him. Small guys like big talk.
He was born that way
'03 VN750 "Rosie"
Join Date: Jun 2010
Location: Albuquerque, NM
Posts: 227
Can't say about top speed. I've had my VN750 for a couple of months and I've never taken it over 80, and I realized riding home today that I have yet to open the throttle all the way!

Up until last summer I was riding a 28 hp Hyosung GV250. On the weekend I decided I was going to buy a bigger bike there were 2 ads in the paper that caught my eye; a Vulcan 750 and a Marauder. I was more excited about the Marauder. Several guys (and a gal) in another discussion board are riding C50s or Volusias, the Marauder has the same engine and I thought it was basically the same bike with a few less features. I rode the Vulcan first, only up to 30 mph or so on the neighborhood streets because the owner asked me to keep it close by and it didn't have a license plate. Even though it was taller and the handlebars felt much higher, it had plenty of oomph and I pulled a u-turn fairly easily. It felt pretty comfortable. The Marauder felt clumsy and awkward and after taking two easy corners on it I decided I had had enough. I thought I was gonna drop it; not because of power but because of squirrely balance and steering. Thinking back, I think that Marauder had a chain drive and nothing but a basic speedometer up front. I went back and made an offer on the Vulcan and I am glad.
---
'03 VN750 "Rosie"
Purchased in June 15, 2010
Windshield
Lubed Splines
Lubed and Adjusted Clutch Cable, Throttle Cables.
Relocated Voltage Regulator
Brakes Bled
Luggage Rack
Lazy Rider Bag
Leather Saddle Bags
Legitimate Title!! (finally!) Aug 30, 2010
New AGM Interstate Battery Sept 15, 2012
2008 Hyosung GV250 (sold!)
MANIC MECHANIC
Join Date: Feb 2006
Location: Dale City, VA
Posts: 942
Top speed sucks but off the line acceleration is good. Sounds like your new guy is compensating. A lot of sport bike riders around here are like that.
---
34k so far
VN750.com member #613
Keep the shiny side up
coastered
de-goat and baffles removed
jetted 42-150 2 shims
Earshaved with unifilters
inside of tank coated
spline lube
long Beach Blue Pearl Paint 4/07
Shindengen FH012AA r/r
TPE stator
Exide sc30lfa Battery 28ah 445cca
Saddlemen saddlebags
2001 HD fatboy solo seat
Custom taillight & rear turn signals
Fergy's coil relay mod
Fiamm El-Grande high/low tone horns
Senior Member
Join Date: Aug 2010
Posts: 2,687
Tell him to show up at the drag strip, I bet he'll make up excuses. In the rare case he does show up, smoke him
I know a guy that claimed he made his own turbo, when I asked him how, he said he built it from a PC case cooling fan. Yea, he is THAT stupid... so basically, some people will talk out of their @$$es, but it doesn't mean they can back it up
Senior Member
Join Date: May 2010
Location: St. Albans, Maine
Posts: 796
I know from 1st hand experience the 750 will take the Marauder. My buddy out in NY had one when I got my 93' 750 and while I was out there visiting we lined them up. He was so humble when he finally caught up to me. lol

He had mods on his and a rejet. Mine was bone stock. Then he took the 750 for a ride as I was on his bike and he was even more impressed.
---
01' VN750
Jardine cross over exaust
Kyriakin grips and foot pegs
Modified seat and backrest
Windshield
Luggage rack
Crash bar with Kyriakin pegs and extensions
Kumho 758 165/80-15 CT rear Dunlop 404 110/90-19 front
Coastered and air/fuel screws at 2.5 turns
Spline lube

93' VN750 getting TLC
Decals and mirrors
Coastered and air/fuel screws at 2.5 turns
ACCTs to MCCTs
Degoated with Harley mufflers
Duro 110-90-19 front 150-90-15 rear
Pick-up coils at .020
Spline lube
As much as we say it, this will probably never make it to the dragstrip. My buddy has a Virago 750 that consistantly pulls away from me, that being said, I usually end up going into the red to try to stay ahead of him and I flat shift, but slowly he still catches me. We don't drag race, but we do run it full out on the highway sometimes. So unless you want to put yourself in that position, then you probably should just show him the statistics and make him fume over you saying your bike is faster.
---
"Show me a man who makes no mistakes, and I'll show you a man who doesn't do things." Theodore Roosevelt."
2007 Victory Kingpin
Current projects - 1986 VN750 & 1988 EL250
---
Last edited by shark88; 10-12-2010 at

08:26 AM

.