Member
Join Date: Mar 2010
Location: Conyers, GA
Posts: 38
Looking for Lance
---
Does anyone know where Lance might be.

I carried my bike to him a week ago today; received an e-mail from him last Tuesday; and have not been able to reach him by phone on his land line or cell phone.

It should have been a two day job at the most.

Getting concerned.

Thanks,

Jim Bailey
Concert connoisseur
no need for concern, its in good hands. something prob just came up with him. sure your anxious though with this weather, cant blame you!
The Professor
Join Date: Feb 2008
Location: BUFORD, GEORGIA
Posts: 3,147
I have been in contact with Jim, all is well!!
I had to get My bike ready for the "DRAGON" It is a F'nn insane road to say the least!!!!!!!!!
For those with my number? Leave a message so I know what's up!!
I can't tell by a number who is calling, thanks Ya'll!!
Jim,
WTH it takes more than 2 days to put on a custom turbo unit!! Don't worry you'll be in the low to mid 10.00's
Happy Motoring!
---

85 VN700 "Old Yella"
REBUILT ENGINE
CUSTOM PAINT
VANCE & HINES CRUZERS
EAR SHAVED AND RE-JETTED W/K&N'S
DUNLOP ELITE K591 FRONT & REAR
VOLTMETER
SYNTHETIC BRAKE FLUID
SYNTHETIC OIL & GEAR LUBE
PLEXISTAR 2 WINDSHIELD
SPLINES LUBED
ACCT'S GREASED W/TOC SPRINGS
COASTERD
LEATHER SADDLE BAGS
LEATHER TOOL AND ROLL BAG
PICKUP COILS GAPPED AT .018"
NGK CAP, WIRES, IRIDUMS
BARNETT FRICTION PLATES & SPRINGS
CUSTOM GRIPS, MIRRORS, LEVERS
ORIGINAL STATOR & R/R 14.5v
DEKA MF AGM ETX15L
Best Auto/Moto Insurance | Motorcycle Protection Today | FREE Trade-In Quote
---
Last edited by lance328; 10-10-2010 at

08:37 PM

.
Drive less, ride more...
Join Date: Nov 2005
Location: SW Ga
Posts: 1,114
Welcome back, Lance...!!!!....
Glad to see you still around....thanks for letting us know you're ok.....
---
'05 VN750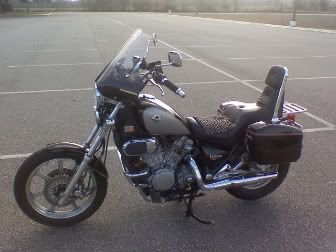 For other bike pix & mods, go to:
http://s1203.photobucket.com/albums/...k/VN750%20pix/
Vintage bike addict
Join Date: Oct 2008
Location: I live in eastern ohio
Posts: 859
yep.
---
No one can make you feel inferior without your consent.
Eleanor Roosevelt.
Senior Member
Join Date: Jul 2010
Posts: 116
Hi Lance I am Micheal what do you charge to rebuild a stator on a 95 vn750?
And if you do the pulling and reassembly what do you charge also
I live about 100 miles from you
---
My Enuf.
1995 Vulcan 750
New wires and plugs
Removed and cleaned carbs
re routed air line to right ear
re built transmission
New stator
New RR
New throttle cables
New clutch cable
New wiring harness
New Ignition switch
TIME to Ride