Scarlets all back together.
---
Here she is all back together. I've had it done for a while, I've just been out ridding.
The windshield is a memphis shades "malibu", the bags I've been told are from a late 70's harley. The rest most of you know. New is the relocation of the rear turn signals to the brake light housing. The sissy bar is also from a heritage so it would match the seat. The driving lights are just a nice set I picked up on ebay & I swapped out the bulbs with 25w ones. The break lights on the bags are the same trailer hitch lights from harbor frieght. I just cut away the "hitch" part & rivited them to the bags & wired to the breaks of course.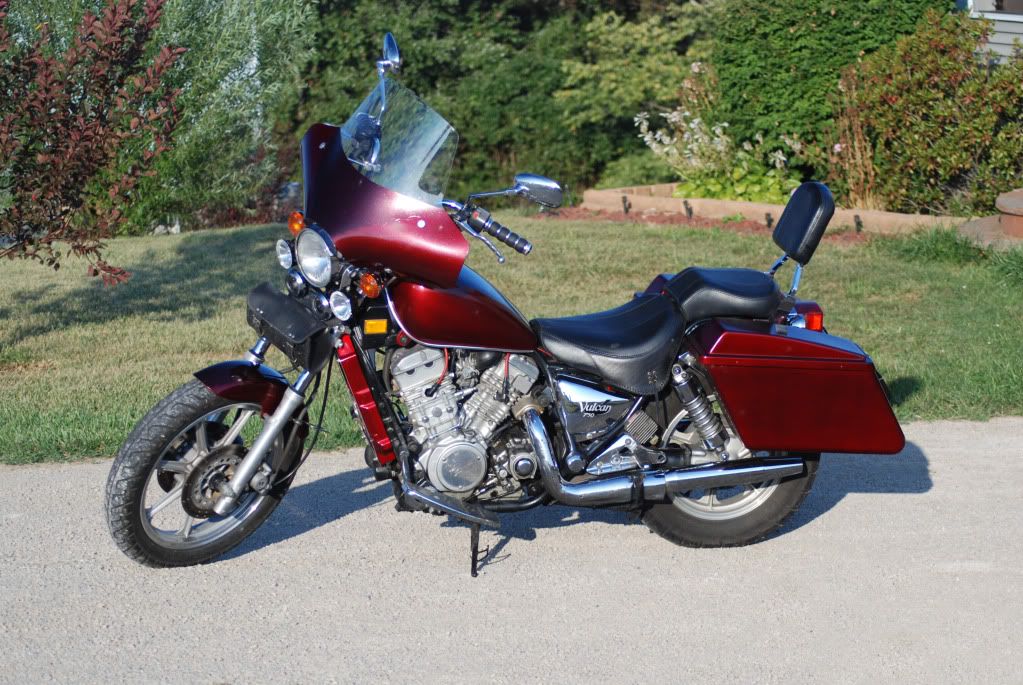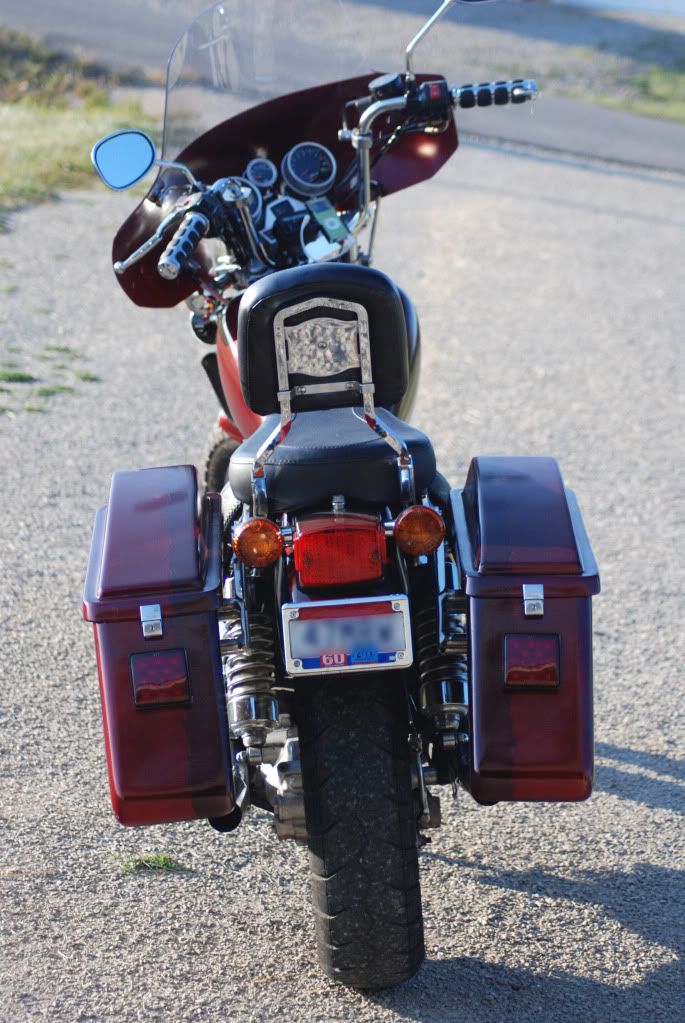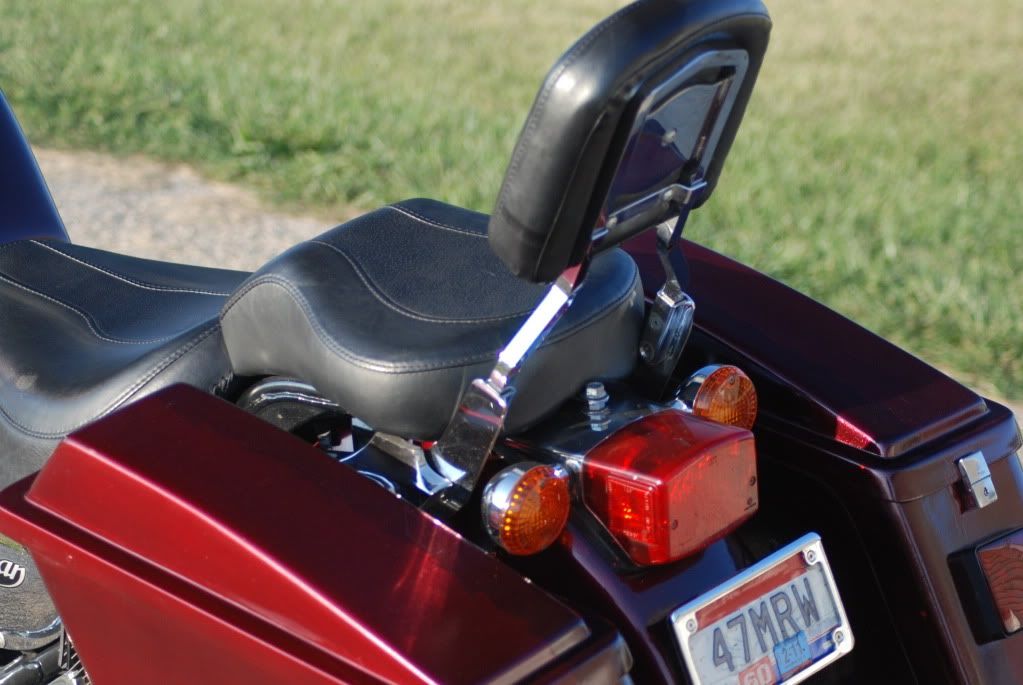 ---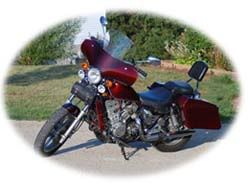 Orig. 8600 Miles 5/12/7 Currently 50,500Miles

Owners Manual
Repair Manual Download
Mosfet RR Test
Goof Proof Stator Test
VoIP Doc's Ear Shave & Re-jet Procedure
Hyperbuzzin's "How To Post Photo's.
Mosfet R&R Headlight Fix.
Nice job!
So do you have speakers hooked up for your i-pod or are you using headphones. I tried using ear buds, but don't like it. And I'm guessing the fairing was "clear" and you painted the bottom half? Looks really cool.
---
"Show me a man who makes no mistakes, and I'll show you a man who doesn't do things." Theodore Roosevelt."
2007 Victory Kingpin
Current projects - 1986 VN750 & 1988 EL250
Boston Vulcan Rider
Join Date: Nov 2009
Location: Boston
Posts: 20
came together gorgeously!
---
Peace and open roads
-Paul
and the Adventure Cycle
Join Date: Jun 2004
Location: Western PA
Posts: 6,138
Nice!! Are those ghost flames on the shield & bags? Got any on the tank?
---
AKA: Tim & 'The Adventure Cycle' VROC #24567, NEVROC, SteelCity VROC
"When life throws you curves,
Aim for the apex."


Author Unknown
Senior Member
Join Date: Jul 2009
Location: Conway,AR
Posts: 292
Well done, congrats
---
Rook
Conway, AR
VROC # 30581
WBRA #90237-1
2009 1700 Nomad (mine)
2003 VN750 "Prozac" (now hers)
25'000 miles at purchase
Coastered
Ears shaved
Cobra exhaust

So, why is a raven like a writing desk?
Senior Member
Join Date: Jul 2008
Location: Titusville, New Jersey
Posts: 6,401
Very well done buddy, it looks fantastic I love it. The color's great, the style's great, the 'guts' of the VN750 fit really well with what you did - it just looks phenominal. Congrats.
Senior Member
Join Date: Jul 2009
Location: coshocton,oh
Posts: 166
looking great man. how was the ride sat? i did get my pool table refelted lol 1 nasty job ill pay someone to do it next time!!! pool league is right around the corner got to knock the rust off my pool cue lol
---
2002 vn750,7800 mile,homemade drag pipes,harley heratige seat,honda sissybar,led rear turn signals,
iridium plugs,marbled,110/90/19 kenda kruz front,
170/80/15 kenda kruz rear,saddlebags.
whats to come****handlebars,highway pegs