Straight roads are evil
Join Date: Jun 2006
Location: California
Posts: 580
Picket fence of 5's
---
Crashed through a picket fence of 5's today. See you at the evil mileage (all 6's!).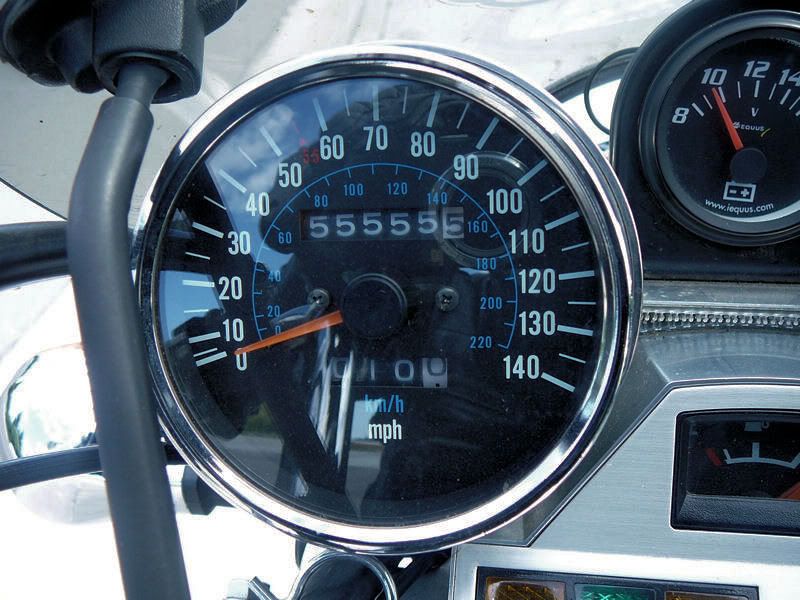 ---
The journey is the destination.

2006 VN750 (SOLD)
63160 miles
Mustang seat
R/R Relocate
MCCT
MF Battery
Red spark plug wires
Stainless Steel brake lines
Stiffer fork springs
Windshield
Givi bags, Wingrack mount
Voltmeter
GPS Mount
Pashnit sticker!
Old Twistie Sticks Rider
Join Date: Aug 2007
Location: Country Created by Geniuses, But Run by Idiots...!!!
Posts: 5,072
Hey, I don't believe that stuff at all, but I bought my 06 VN on 6-6-06 and paid for it with check# 6,666 SN ended in 166 and I totaled it out in June (6th mo.) of the next year...
When I bought my 09 Sportster I checked the SN and it ended in 00, so I said it will do, but I made sure I rode very carefully as I passed the 6,666 mark...lol...
So EQPlayer take care in another 1,111 mi., I sure did...lol... Still am not a believer in that sort of stuff...
BTW-Is that first gear the stick shift is in...???...lol...
Have a good one...Old Dog...
---
Southern Central Tennessee....
...
Now on the Dark Side...
...
Girl's Bike 09 Sporty xl 1200 Custom...33k + & clickin...
...
Sportster Owner/Rider since age 72...lol... Rider since Simplex...???
09-xl1200 "C" Vivid Black, Cast wheels w/19" Frt., SE-Stage 1+, X14iEDs...
MicroTach +, Higher wider H-bars, GPS Mt., Mustach bar Hwy. pegs...
Viking Shock cutout Saddlebags, Rear Mt. Signal Lt. Kit, Fork Brace...
RoadKing Air Shocks, Mustang Seat, Progressive Fork Springs...
---
Last edited by Old Dog; 08-29-2010 at

07:33 PM

.
Concert connoisseur
one more trip to work and I'll hit 40,000. I always look for the 22222.2 and 33333.3's and of course if I own it early enough the 12345.6. I actually pulled over on the side of the road and took a picture when my truck hit 100000.0, hopefully it will see 200000.0
Concert connoisseur
I hit the big 40 woooohoooooo.