Junior Member
Join Date: May 2010
Posts: 3
big/tall beginning rider help!
---
I am a big guy ( 6'8 and 280). Looking for a good starter bike and wondered if the vn750 would be big enough, and if there are any owners on here close to my size?

I have only ridden a dirt bike and a Honda VLX 600 which was really cramped. Going to go look at an older vn750 this week to see if I can actually fit on it..lol Other option is a new klr650 dual sport, which seems comfortable, but I like the price of the vulcan a lot better!!

thanks

jc
Big Dumb Viking
Join Date: Apr 2009
Location: Marietta, GA
Posts: 597
I'm 6'2" and 315#, and the VN750 is just barely big enough for me.

If you are 6'8", I am just about gonna bet it will be too short for you.
---
.
.
.
-Az
http://www.asbrand.com
1989 Kawasaki Vulcan 750
Upgrades so Far:
Coastered
R/R relocated
Analog Voltmeter
PFIII Windshield
RAM GPS Mount w/Garmin GPS
Cigarette Lighter Power Adapter
Saddlemen's Classic Explorer Seat
Pro-Tac Driver's Backrest
LED Tail Light
LED Rear Turn Signals
Luggage Rack
Storage Trunk
Engine Guard w/Highway Pegs
Radiator Grill Cover
Turn Signal Relocation Bracket
Saddlebags
Floorboards
you will still b cramped on the vn750... although with a few minor mods you can get the bike to fit you prety decent.
Linkmeister Supreme
Join Date: Aug 2008
Location: Lethbridge, Alberta, Canada
Posts: 7,960
The vn750 was my first bike at 55 years of age. I`m about 5' 11" and #300, and the frame is too small for me for anything over 30 or 40 minutes on the bike. You are quite a bit taller, so probably don`t have the big gut sticking out that I do. I feel quite scrunched up on the stock seat, and think some highway pegs will help on longer trips. However it does mean longer reaction time to get to the rear brake or shifter in an emergency. In my opinion the 750 has plenty of power for hauling me around town, and going to work. It would not be a good long distance tourer for me, I don`t think. Many riders are looking for a lower seat, I would like one 2 or 3 inches higher, and where I could slide back a couple of inches as well.

You will have to sit on the vn750 and decide for yourself I think.

Get a hold of David Hough`s book, "Proficient Motorcycling", and read the chapter about finding a bike to fit you. The foot forward cruisers are what we all love, but a sport touring or a dual sport have your feet below your body mass, and make riding in challenging conditions, like a strong cross wind easier. (I don`t really want to ride a sport tourer either.) I think eventually I will be looking for a Big Twin Vulcan, Meanstreak or Nomad, with a longer frame.
---
Gordon
1991 VN 750 -"
Cosmic Lady
" or "
Bad Girl
"?
Purchased May 16, 2008
Approx.19,300km (12,000 miles)
H-D windshield
Relocated R/R
MF-AGM battery
Fiamm Freeway Blaster horns
F&S luggage rack and engine guard
Kury Offset Hiway pegs
July 13, 2016, Riding on the DARKSIDE now, Classic Radial 165/80-15
TOP TEN THINGS A NEW RIDER/OWNER SHOULD DO.
Click on link.
https://www.vn750.com/forum/11-vn750-general-discussion/9127-top-ten-items-you-would-suggest-new-owner-do-his-new-ride.html
Senior Member
Join Date: Apr 2010
Location: WV
Posts: 118
6'4 and 330 here. What is your inseam? You will be pretty cramped. It has plenty of power and as others have said, it will haul you around just fine. Also, what is your boot size? I have to be careful with my 16's. I have already melted some of my boot on the pipe while trying to ride with the ball of my feet on the peg.
---

Senior Member
Join Date: Apr 2008
Location: Pittsburg, TX
Posts: 401
6'8" with the stock pegs will be cramped. However, there is hope. There are aftermarket forward controls available from Jardine. Power is not a question. I'm 190lbs and my son is 140lbs. Even with our combined weight, the VN750 will still pull and have more to give.
---
2005 Vulcan 750
Black and Silver
Windshield
Saddlebags
OEM Hghwy Bars
O-ring Footpegs
OEM Luggage Rack
V&H Exhaust System
TOC ACCT Rebuild
Die Hard Gold AGM MFB
Spline Lube every tire change
VN750 #4393
VROC #31065
TexasVROC
Old Truck Junkie
Join Date: Jul 2007
Location: Roby Texas
Posts: 4,133
5'3" 120lbs fits like a loose shoe. Can't add highway pegs. lol.
---
02 honda sabre 1100
MANIC MECHANIC
Join Date: Feb 2006
Location: Dale City, VA
Posts: 942
I am 6 feet tall 330 lbs the legs are a little cramped
---
34k so far
VN750.com member #613
Keep the shiny side up
coastered
de-goat and baffles removed
jetted 42-150 2 shims
Earshaved with unifilters
inside of tank coated
spline lube
long Beach Blue Pearl Paint 4/07
Shindengen FH012AA r/r
TPE stator
Exide sc30lfa Battery 28ah 445cca
Saddlemen saddlebags
2001 HD fatboy solo seat
Custom taillight & rear turn signals
Fergy's coil relay mod
Fiamm El-Grande high/low tone horns
Members who have donated towards server costs
Join Date: May 2009
Location: Duluth, GA
Posts: 641
Wow, 6'8"
, yeah you're gonna be cramped on this bike. I'm 5'10" 150lbs and feel a little cramped sometimes. I've also had my 4'9" 130lbs fiancÚ on the back around the apartment complex and it felt a bit more cramped, but not so much that I'm gonna be running out to get another, bigger bike anytime soon.
If you have the cash to spend, I would suggest getting a custom made with a long frame that fits you. Otherwise I would look for another model that is stretched out a little more so you don't feel so cramped.
---
My daily ride
Metzler ME880s
NGK caps, wires and Iridiums
Coasters (made by Lance328), earshave and rejet with screws turned out 3 turns
Volt gauge w/ custom mounting cup by Lance328 wired into headlight bucket 13.5v-14v
National Cycles Plexistar 2 windshield
DEKA battery
Mutazu GA Black hard bags w/ custom support brackets and relocation brackets made by Lance328
Custom lowers made by Lance328
Vance&Hines Cruzer exhaust pipes
TOC MCCTs
H.I.D. Conversion kit
---
Last edited by VN750_DawgsFan; 05-22-2010 at

09:07 PM

.
Drive less, ride more...
Join Date: Nov 2005
Location: SW Ga
Posts: 1,114
The Vulcan 750 will be too small for you, without the forward controls from Jardine.

If you want a cruiser style bike, but a bike that is more suited to a beginning rider, look at a well-preserved Honda Shadow Spirit VT1100, from say '97 to the '07 models (look at the Spirit--& not the Sabre!). The Spirits were discontinued beginning with the 2008 model year.

These bikes are some of the most reliable motorcycles ever made (assuming the previous owners did their homework), and will do a better job at fitting a larger framed person like yourself. The factory seat is pretty comfy, and this bike has a fairly generous aftermarket following.

Stay away from the 1100cc Yamaha cruisers--they have quirks that will aggravate you. The Honda described above is the better cruiser option for you.

Otherwise, look at some of the dual-sports out there--the Kawasaki KLR650, and its competitors.

Good luck!
---
'05 VN750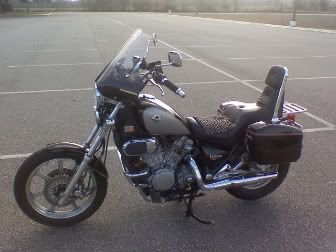 For other bike pix & mods, go to:
http://s1203.photobucket.com/albums/...k/VN750%20pix/