Member
Join Date: Apr 2010
Location: Vero Beach, Fl
Posts: 56
Engine Removal
---
Just kinda toying with the idea of removing my engine to re-paint it. I'm needing some advice on how to go about this. Stupid question: with everything out of the way, is it possible to paint with the engine still on the frame? I know not all corners and edges will be covered, just curious. I do not have any other reason to remove the engine, just tired of the oxidized look! If it's not that big of a deal to remove, I would rather remove it all the way so I can do it right the 1st time. Also, with the motor removed, is there anything that I should go ahead and replace (motor has 11,200 miles on it)? Previous owner did not take good care of it, that's why the poor looking oxidation. Thanks and any help / tips and advice would be great....
---
95' 750vn
10,900 - Bought
Custom Straight Pipes
Jet kit / carbs re-built
Final Drive Serviced
New Plugs
Maintenance Free Battery
VN900 Seat
Turn Signal Relocation
Still have lots of stuff to do, just need the green to proceed! Oh, and momma's approval....
Senior Member
Join Date: Oct 2009
Location: Ruskin, Florida
Posts: 175
taking the engine out is not as big a deal as you might think. I did it on mine and i have never laid eyes on a vn750 before. while its out i would definitely replace the dampers at least since you have to have the engine out in order to do that. It would also take a look at all the covers and make sure there arent any leaks (clutch, stator, etc).
Concert connoisseur
first and foremost, deal with it till winter and then make it a project if it is running good. do not tear it down at the beginning of the riding season for cosmetic purposes. I have a slight oil leak and said screw it I'll wait till winter it can mark its territory all summer unless it gets worse!
Senior Member
Join Date: Jul 2008
Location: Miami, FL
Posts: 409
Yep, I'm planning on living with the slight drip from my shifter shaft for a bit.

When you do take it out - balancers.

Also, if you're going through the trouble, you might want to pre-emptively order a new stator from Tim Parrot. You can pick up a dead core for next to nothing (I have one lying around), send it to Tim to get your stator rewound well ahead of time, and pop it in while you have the engine out. Tim's service is very reasonable and you'll have less of the "ticking time bomb" feeling of having an original stator.

Some folks get lots and lots of miles out of theirs. Both of mine failed at about the 26K mark, for what it's worth. I don't know if they were originals, but they were both OEM, from what I could tell.

Get one of the new MOFST (or whatever) R/Rs for a constant output and you'll have tackled one of the weakest points on the vn750 for under $200. Plus, you'll be choosing when the bike is down. Nothing sucks more, maintenance wise, then having to clear your schedule to work on a burnt out stator. 95% of the stator work is getting the engine in and out. Actually replacing the stator was very easy - and the most work in that is cleaning the gasket off the old cover and spraying the new one.
---
Scheherazade
'86 VN750
MF Battery, Iridium Plugs, RR relocated, Voltmeter, 170/80/15 Kenda Kruz rear tire, DIY Samsonite hard bags, DIY shaved seat with Beaded seat pad ('cause that's how I roll) and the dreaded STATOR CHANGE.

Shining Black Bess '86 VN750, retired for parts after a fried stator and being knocked (kee-runch) in her parking spot.
Members who have donated towards server costs
Join Date: May 2006
Location: Tampa, Florida
Posts: 1,766
Got my vote !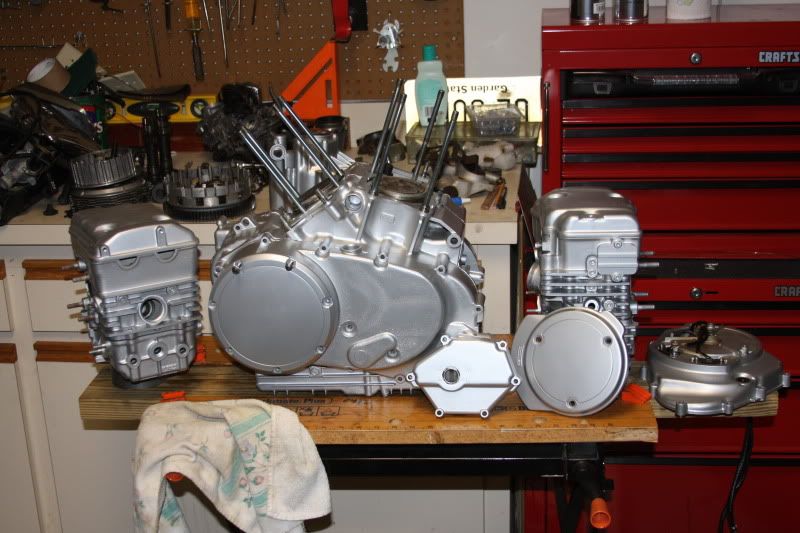 Jon
---
93VN750, under re-construction
vn750.com Member # 828

Rick's Stator and R/R
MF AGM Battery
Coastered
Degoated
Shaved & Jetted
Iridium's
MAC Tapered Staggered Pipes
Battery/Temp/Clock Gauge
Stainless Steel Brake Lines
Dunlop D-404's
23,XXX miles and holding pending gasket change (underway!!!)
Member
Join Date: May 2010
Posts: 62
engine removal is pretty simple. get a clymers manual, step by step i had my 2 engines on the fllor in about an hour and a half for a swap. putting it back in alone is kinda challenging. might want to recruit another pair of hands for it. my 8 year old daughter wasn't a lot of practical help but good moral support.
Member
Join Date: Feb 2011
Location: Jacksonville, FL
Posts: 93
does the engine slide forward once unbolted and disconnect from the driveshaft or does it have to be unbolted and if so where?
Members who have donated towards server costs
Join Date: Apr 2010
Location: Belvidere, IL
Posts: 267
I found it easiest to unbolt the front bevel gear case from the engine and slide it off the driveshaft. You must drain the oil before unbolting the case. It makes engine removal much simpler.
---
2005 VN 750
MF Battery
Plexistar windshield
.040 pilot jets.
Splines lubed 1955 mi.
Marbled
Iridium plugs
Reset pickup coil gaps.
Metzeler ME=880s
Shindengen MOSFET RR
V & H Cruzers
Degoated
Speed bleeders
MCCTs.