Junior Member
Join Date: Apr 2010
Posts: 17
New Vulcan 750 owner
---
I just bought a 1992 VN750. This is the first cruiser style bike I've owned. I rode mostly dirt bikes and dual sports before. I think I'm really going to like it. I'm looking forward to lots of riding this year on the Vulcan. Glad I found a site that is dedicated to these bikes!
Here is a picture of my bike.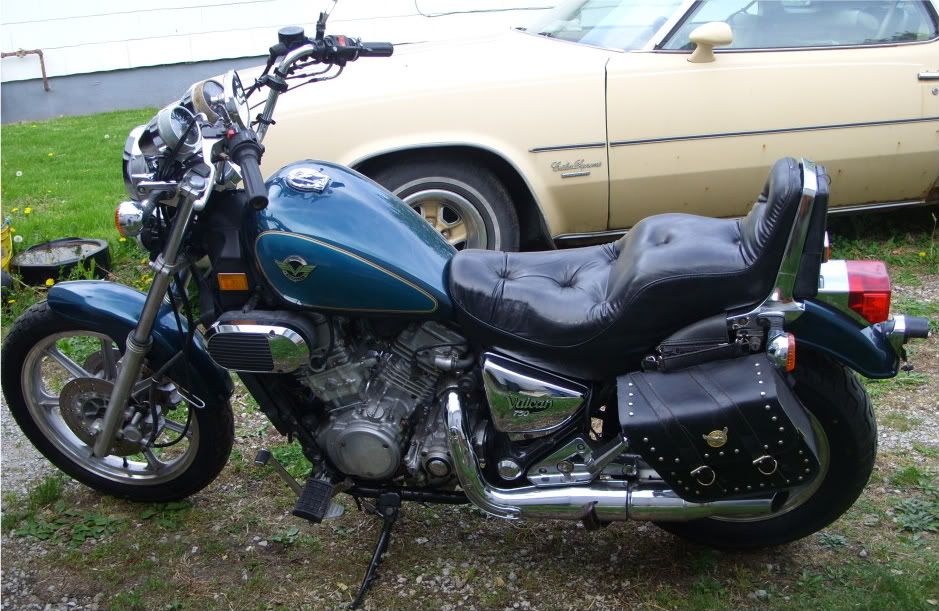 Nice looking scoot... the 92 was the fastest year for the VN750, but the blue ones are a little slower than the blue/silver
Members who have donated towards server costs
Join Date: Dec 2008
Location: Monroe, LA
Posts: 4,719
Don't believe everyting slim tells you; the black 89's are the fastest! Welcome to the forum, you've got a good bike, even if it is a little slow.
---
I'm keepin' all the left over parts. I'm gonna use 'em to build another bike!
_____________________________________________
"Black Beauty"
1989 VN750 acquired December, 2008, 6,711 miles
Currently 23,298 miles
Old Blue
2001 Honda CMX250 Rebel acquired July, 2008
1987 VN750 project bike, acquired August, 2009, 33,000 miles and balancer sticking out of the case, currently awaiting attention and parts
new owner
Join Date: Apr 2010
Location: West Fargo ND
Posts: 79
no no, I'm pretty sure the Blue silver ones are the fastest! And yep I KNOW for sure the 92's are the fastest
On a side note, wish mine looked as good as yours, nice bike.
Straight roads are evil
Join Date: Jun 2006
Location: California
Posts: 580
Welcome to the forum, Nearma12. You'll be amazed how well the VN750 handles. Find some twisty roads and cut loose! That bike was MADE to ride tight roads. Don't be surprised if you see the sportsbikes disappearing behind you.
---
The journey is the destination.

2006 VN750 (SOLD)
63160 miles
Mustang seat
R/R Relocate
MCCT
MF Battery
Red spark plug wires
Stainless Steel brake lines
Stiffer fork springs
Windshield
Givi bags, Wingrack mount
Voltmeter
GPS Mount
Pashnit sticker!
Linkmeister Supreme
Join Date: Aug 2008
Location: Lethbridge, Alberta, Canada
Posts: 7,960
Welcome to the Vulcan madness Nearma12. I hate to disappoint you and all these guys, but the `91`s with Cosmic Splendor Red and Maroon colors are clearly the fastest. Just look at the name, "Cosmic." It`s so fast that it is right out of this world!! LOL

See link below for help to catch up. <BG>
---
Gordon
1991 VN 750 -"
Cosmic Lady
" or "
Bad Girl
"?
Purchased May 16, 2008
Approx.19,300km (12,000 miles)
H-D windshield
Relocated R/R
MF-AGM battery
Fiamm Freeway Blaster horns
F&S luggage rack and engine guard
Kury Offset Hiway pegs
July 13, 2016, Riding on the DARKSIDE now, Classic Radial 165/80-15
TOP TEN THINGS A NEW RIDER/OWNER SHOULD DO.
Click on link.
https://www.vn750.com/forum/11-vn750-general-discussion/9127-top-ten-items-you-would-suggest-new-owner-do-his-new-ride.html
HAWK
Join Date: Feb 2006
Location: Chicago land
Posts: 2,576
Welcome to the group, great people and info here.
---
Chad Falstad "Hawk"
Vroc #17649
2011 HD Ultra Classic "angel"
2001 Nomad 1500 Sold March 2012
2001 VN 750 "Sold June with 2008 with 21,000""Serinity"
Junior Member
Join Date: Apr 2010
Posts: 17
Thanks for all the replies. I just spent $160 to get it legal yesterday. (Thanks a lot State of Illinois)
I took it out for my first ride and I love it. Plenty of power, pretty easy to handle, and runs great. However, I now need a new speedometer cable. Mine gave out while a I was riding. No big deal though.
The 92 VN750 may or may not be the fastest 750, but it smokes my friends 01 Vulcan 800 Classic!!
---
Last edited by nearma12; 04-21-2010 at

08:49 PM

.
you will notivce that the vn750 will smoke a lot of bigger bikes, I was reading on another forum a few days ago where a guy was asking for info on the vn750 (I sent him here of course), and a member told how he was riding his large souped up HD and some guy on a VN750 blew by him and all he saw was tail lights dissapeering in the distance... he caught up to the bike about 50 miles down the interstate at a gas station, and they ended up riding for a few hundred miles together, and every chance the little VN got, he would smoke that Harley.