Members who have donated towards server costs
Join Date: Sep 2009
Location: SAN ANTONIO, Texas
Posts: 1,126
next step after vulcan 750
---
Recommendations on the next bike ? yamaha 1100?
or vulcan 900? or vtx 1300.
I don't want them now but i am planning the next step someday
wanted to see what you guys/gals thought
---
2011 Suzuki VSTROM DL650 with ABS Purchased Jan 28 now with 39,000miles WRECKED JAN 12 ,2013
"To strive, to seek, to find, not to yield."
05 Vulcan 750 26,050miles *Traded in*
Ventura guards
MadStadt mount
Givi windshield/Heated grips
Backoff
Riderbeads
Givi 52 topcase
Pat Walsh Crash bars skid plate
OEM centerstand
Headlight modulator
Battery tender
Aquarium thermometer with forward probe mount
Admore LED Lighting/Givi E36N panniers
Drive less, ride more...
Join Date: Nov 2005
Location: SW Ga
Posts: 1,114
Sadly, the VN750 is the last production bike of its kind. No cruiser currently in production offers the features and performance that this bike offers.

The other bikes you've named as examples are totally different, in that they are basically more like Harley wannabe's.

Given the low mileage you show for your bike, the mods that you've put on it, its youth (an '05 model), the availability of VN750 spare parts, and the bountiful expertise found in both VN750 forums, I would recommend that you keep it and put a lot more miles on it b4 you seriously think of trading "up" to a newer, bigger, "better" cruiser.

I would take exception to the above only if you foresee that you will be doing some real "two-up" riding with a passenger who is not small.
---
'05 VN750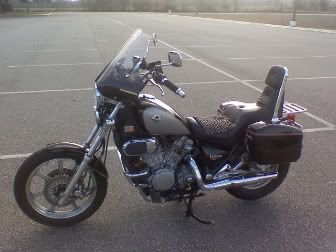 For other bike pix & mods, go to:
http://s1203.photobucket.com/albums/...k/VN750%20pix/
The Professor
Join Date: Feb 2008
Location: BUFORD, GEORGIA
Posts: 3,147
Quote:
Recommendations on the next bike ? yamaha 1100?
or vulcan 900? or vtx 1300.
I don't want them now but i am planning the next step someday
wanted to see what you guys/gals thought
IMHO the bikes mentioned would be a step down, if I do choose to move up it will be the VN1700 Voyager.
---

85 VN700 "Old Yella"
REBUILT ENGINE
CUSTOM PAINT
VANCE & HINES CRUZERS
EAR SHAVED AND RE-JETTED W/K&N'S
DUNLOP ELITE K591 FRONT & REAR
VOLTMETER
SYNTHETIC BRAKE FLUID
SYNTHETIC OIL & GEAR LUBE
PLEXISTAR 2 WINDSHIELD
SPLINES LUBED
ACCT'S GREASED W/TOC SPRINGS
COASTERD
LEATHER SADDLE BAGS
LEATHER TOOL AND ROLL BAG
PICKUP COILS GAPPED AT .018"
NGK CAP, WIRES, IRIDUMS
BARNETT FRICTION PLATES & SPRINGS
CUSTOM GRIPS, MIRRORS, LEVERS
ORIGINAL STATOR & R/R 14.5v
DEKA MF AGM ETX15L
Best Auto/Moto Insurance | Motorcycle Protection Today | FREE Trade-In Quote
Members who have donated towards server costs
The Mean streak is the only other cruiser i would want,maybe a Yamaha warrior after a ride on one,But the others are slow and heavy without the rush the VN750 will give you.I have a cousin and another guy that I ride with that Have Vtx 1300's while bigger Physically and a smoother ride,I routinely smoke em on acceleration and on the twisties.




---
If you see it on my bike I did it
VROC#30324
92 vn750(sold)
Current ride 05 1500 Classic FI
lovin' the new scoot
Quote:
"When all is said and done,usually more is said than done" UNK
Click on one x and drag to the other to read between them.
Psalm 40:1...
XI waited patiently for the Lord; and he turned unto me, and heard my cry. X
Members who have donated towards server costs
Join Date: Sep 2009
Location: SAN ANTONIO, Texas
Posts: 1,126
Wow. Thanks for the input...this is my first bike and I am wondering if i will need that extra acceleration later on...but i don't really have anything to compare to. Maybe i will get the ear shave kit and rejet...that might give me that umph. Plus at some point when i get another girlfriend(just broke up) I might need the two up power.
---
2011 Suzuki VSTROM DL650 with ABS Purchased Jan 28 now with 39,000miles WRECKED JAN 12 ,2013
"To strive, to seek, to find, not to yield."
05 Vulcan 750 26,050miles *Traded in*
Ventura guards
MadStadt mount
Givi windshield/Heated grips
Backoff
Riderbeads
Givi 52 topcase
Pat Walsh Crash bars skid plate
OEM centerstand
Headlight modulator
Battery tender
Aquarium thermometer with forward probe mount
Admore LED Lighting/Givi E36N panniers
Member
Join Date: Jan 2010
Location: Now Philippines--before California
Posts: 97
Quote:
IMHO the bikes mentioned would be a step down, if I do choose to move up it will be the VN1700 Voyager.
Gotta agree with that after just reading a road test on one! Guess what? That bike has the same shocks as ours which I find very good once you spend a lot of time fiquring out YOUR combination of air and rebound.
What I did for a little more room for two-up is I made a 2 1/2" hard foam pad that I velcrowed to the seat to move me a little closer forward. I like the added back support for me and it gives my wife more room also. I think that it also looks cool. I will post a pic soon as I find out how to do it!
As far as having more poop, I don't think that the "ear shave" or most any other mod with give you drag racer feelings! This bike ain't about that. I won't say the VN is a dog (becaue I don't want to start a fight here) but I own plenty faster motorcycles. I did not buy a VN for horsepower but for the comfort of just crusing at a moderate speed (for a change) and taking in the seanery. I'm seeing stuff that I did not know was there before and I like it!!
With parts availabilty that it is now and the longevity of the Kawasaki brand, you will spend a lot of miles on your present VN!!
Have fun
Old Twistie Sticks Rider
Join Date: Aug 2007
Location: Country Created by Geniuses, But Run by Idiots...!!!
Posts: 5,072
Well with me it wound up being between the 900 Vulcan & the 1200 Sportster I got, I won't say I made the better choice, but I kinda like it...
Have a good one...Old Dog...
---
Southern Central Tennessee....
...
Now on the Dark Side...
...
Girl's Bike 09 Sporty xl 1200 Custom...33k + & clickin...
...
Sportster Owner/Rider since age 72...lol... Rider since Simplex...???
09-xl1200 "C" Vivid Black, Cast wheels w/19" Frt., SE-Stage 1+, X14iEDs...
MicroTach +, Higher wider H-bars, GPS Mt., Mustach bar Hwy. pegs...
Viking Shock cutout Saddlebags, Rear Mt. Signal Lt. Kit, Fork Brace...
RoadKing Air Shocks, Mustang Seat, Progressive Fork Springs...
Senior Member
Join Date: Jul 2007
Location: Castle Rock, Wa
Posts: 1,750
If I had the cash and if I could fine one, I'd buy a Valkyrie. They fit my short legs, have gobs of power, and I like the naked looks.

I'd rather have a Concours but like I said, short legs. Can't safely reach the ground.

DT
---
95 VN750 (eBay)31k+
GL1100 front fender
OEM engine guard
OEM high back rest
'V-Twin' HWY pegs
Black 750 Spectre handlebars
SunPro Volt Meter (Amazon)
Maier bug shield (JCW)
Bar Ends anti-vibe (JCW)
Emgo air filters
Tank bag-Eclipse
Tail bag-FroZone Cooler
Back Rest-Igloo 6 pak cooler
WalMart Saddle Bags
R/R Relocate
Dry Splines Lubed
AGM DieHard-Sears
Gutted Goat
Sporster XL Mufflers
LED's-stop,tail,turn,marker
Pickup coil mod to .45mm
Silverstar headlight
Rotella T6
if it were me...wait i am looking for another bike... its going to be an XS650 or an old GL1000
Quote:
Recommendations on the next bike ? yamaha 1100?
or vulcan 900? or vtx 1300.
I don't want them now but i am planning the next step someday
wanted to see what you guys/gals thought
The "next step" ?? I was unaware there was supposed to be some kind of progression in bike ownership.
The only reason to trade in your Vulcan is if there is something you need it to do that it is unable to give you now.
First off if you only are considering cruiser style bikes, you should know that the VN 750 is still one of the quickest V twins on the road. It is faster than the 900 and even some bikes with close to twice the displacement....thus you will find youself disapointed making a move solely for this unless you plan on moving to a sport bike or ST.
I dislike seeing the phrase "upgrade" or folks that say "move up" because it somehow conveys the idea the bike you have now is no good and other bikes are
better
......which is very subjective.
The Vulcan 750 has alot going for it over many bikes out there, but like all bikes has its own shortcommings...many of which are personal prefferences as opposed to design limits.
For example, if you commute daily to work in an uban area, a Goldwing would just be too much bike to deal with weaving through city traffic and searching out spots in parking lots. But as an open road 2 up tourer it has few equals.
What you need to do is write down the qualities
you want
from a motorcycle and then search from there.
In my case my criteria included :
More space and comfort for my passenger
Usefull hard luggage
Good rider protection
ABS brakes
and buttloads of power.
After almost 2 years looking and studying the available models I ended up choosing a 2006 Yamaha FJR 1300. It did everything on my list well above any other bike at the time.
But you need to make your own list, and not look at bikes as one being "better" than another, they are all different and each have their own features (and flaws) ....so it really ends up being a test to find one that matches your needs...not someone elses.
The kid next door has a 250 ninja, he uses it to go to school , go to work and travel to his freinds in the city. It is a very nimble bike, gets him great gas mileage and the insurance is affordable for him. It is for him the perfect bike. It is what he needs. It is not better than your bike nor is it worse.
So spend some time thinking what you want your bike to do and do not get caught up in the idea bigger is better.
KM