Junior Member
Join Date: Mar 2010
Posts: 7
who's has the most mileages VN750
---
This thread is for who has the most mileages on their bike(vn750) with the original engine.
Please post yours only if your mileages is more than the last person that posted.
Since i started, i will post mine.
2002 model with 18400 miles.
Let start!
Senior Member
Join Date: Jul 2008
Location: Titusville, New Jersey
Posts: 6,429
The one I just sold to my buddy has 18 and change and is a 93...
Senior Member
Join Date: Apr 2008
Location: Pittsburg, TX
Posts: 401
2005 with 24,861.7 and climbing.
---
2005 Vulcan 750
Black and Silver
Windshield
Saddlebags
OEM Hghwy Bars
O-ring Footpegs
OEM Luggage Rack
V&H Exhaust System
TOC ACCT Rebuild
Die Hard Gold AGM MFB
Spline Lube every tire change
VN750 #4393
VROC #31065
TexasVROC
Old Twistie Sticks Rider
Join Date: Aug 2007
Location: Country Created by Geniuses, But Run by Idiots...!!!
Posts: 5,072
"Clyde" My 06 that I wrecked last year had 18K+ on it, but I had a bit of surgery and didn't ride as much as I would have liked... Dang kick stand-!! Don't trust those switches, mine didn't work when it should have...
I put a couple of thousand on another 06 that I bought after the wreck, but it was just no match for Clyde so I traded it in on a new 09 XL1200 Sportster which I have only about 3K on at the present...
Have a good one...Old Dog...
---
Southern Central Tennessee....
...
Now on the Dark Side...
...
Girl's Bike 09 Sporty xl 1200 Custom...33k + & clickin...
...
Sportster Owner/Rider since age 72...lol... Rider since Simplex...???
09-xl1200 "C" Vivid Black, Cast wheels w/19" Frt., SE-Stage 1+, X14iEDs...
MicroTach +, Higher wider H-bars, GPS Mt., Mustach bar Hwy. pegs...
Viking Shock cutout Saddlebags, Rear Mt. Signal Lt. Kit, Fork Brace...
RoadKing Air Shocks, Mustang Seat, Progressive Fork Springs...
Members who have donated towards server costs
Join Date: Nov 2007
Location: Chandler, Arizona
Posts: 3,007
I win. I have 44,000 on my bought new '02 model. But that isn't all. I also put more than 80,000 on a bought new '93 model, so I have over 125,000 miles on 2 Vulcan 750s combined. And I have never had the engines apart. Jerry.
---
I am a motorcyclist, NOT a biker.


1997 Vulcan 750, purchased about a week ago
2006 Sportster 1200 Low
2013 Royal Enfield Bullet 500, converted to carb
2001 Yamaha XT225, heavily modified
2004 Honda Rebel 250
1979 Vespa P200E
2002 Vulcan 750 parts bike
1994 Yamaha XT225 parts bike
Members who have donated towards server costs
Join Date: Jun 2004
Location: Chicago, IL
Posts: 235
I have over 49,000 miles on my '93. I bought it in 2003 with 9,000 miles on it, so I have put on 40,000 miles in six years. I did have to replace the Stator and R/R at around 28,000 miles and put on the MCCT's in 2008. It has been a great bike that I can rely on when I have to put my HD Sportster in the black hole known as The Harley Davidson Dealers Service Department...........
Louder IS better!
Join Date: Feb 2008
Posts: 289
i would make fun of your harley Stevie..but i saw pics and i am ashamed to say i was a lil jealous!
---
2005 VN750
16,000 Miles
HAVE:
V-Force Windshield
V&H Cruzer Pipes
Luggage Rack
Lo-Jack
Intact Toolbox
Avon Venom Tires
Tour Master Cruiser II Slant Bags
K&N Air Filter
Custom Grill
NEED(want)
Engine Guard
16" Ape Hangers
Forward Controls
New Grips
New Mirrors
Driver Backrest
Passenger Backrest
Drive less, ride more...
Join Date: Nov 2005
Location: SW Ga
Posts: 1,114
Per an earlier thread, EQPlayer (strangely absent from here, lately) had pix of his bike's odometer, where it had turned over 50,000 miles. His bike is an '06 VN750. I think he is the bike's original owner.

For my part, I had just over 19,100 miles on mine when I crashed last Sept. I hope to have it back on the road again sometime later this month....
---
'05 VN750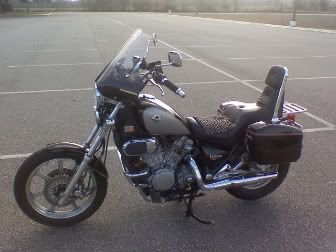 For other bike pix & mods, go to:
http://s1203.photobucket.com/albums/...k/VN750%20pix/
Member
Join Date: Oct 2009
Location: Algonac MI
Posts: 70
Mine has 36k+. I only put two on it. I have to tear it down to fix an oil leak issue.

ETA: I should have said it is a VN700.
---
Last edited by MarkinMichigan; 03-12-2010 at

10:50 AM

.
Member
Join Date: Mar 2009
Location: Spirit Lake, ID.
Posts: 31
I've got 32,xxx on my 1999. Runs awesome!