Members who have donated towards server costs
Join Date: Feb 2007
Location: owensboro ky
Posts: 355
spam/virus alert
---
not sure where to post this, please move if need to.
recieved this in my email, and pm box...it was sent by a "lady admin"...new jr member joined 1-14-2010. i didnot open. deleted on the spot.
New Private Message at VN750 Forums
From: VN750 Forums <
[email protected]
>Add to Contacts
To:
[email protected]
--------------------------------------------------------------------------------
DO NOT REPLY TO THIS EMAIL!
***************************
Dear cm4cm5,
You have received a new private message at VN750 Forums from Lady_Admin, entitled "Important message from the forum administration".
To read the original version, respond to, or delete this message, you must log in here:
https://www.vn750.com/forum/private.php
This is the message that was sent:
***************
Dear, diseducation;silverman248;cm4cm5;rouge11827;sean14 4!
A virus alert was noticed on your computer.
We highly recommend you to check your computer and perform online virus check at our site immediately:
http://antivirus.effectmeds.com/dise...e11827;sean144
----------------------------------------------------
Sincerely, Forum Administration
www.vn750.com
.
***************
Again, please do not reply to this email. You must go to the following page to reply to this private message:
https://www.vn750.com/forum/private.php
All the best,
VN750 Forums
---
Jeff Brooks
Owensboro KY
'94 Vulcan 750
http://youtube.com/user/cm4cm5
---
Last edited by cm4cm5; 01-14-2010 at

10:13 PM

.
Straight roads are evil
Join Date: Jun 2006
Location: California
Posts: 580
Uh Huh. A forum "admin" noticed a virus on someone's computer? Real mods, nuke the scammer!
---
The journey is the destination.

2006 VN750 (SOLD)
63160 miles
Mustang seat
R/R Relocate
MCCT
MF Battery
Red spark plug wires
Stainless Steel brake lines
Stiffer fork springs
Windshield
Givi bags, Wingrack mount
Voltmeter
GPS Mount
Pashnit sticker!
Search Goddess
Join Date: Jun 2004
Location: Conway, AR
Posts: 1,998
"I AM" the only Lady Admin on this site and I didn't send it. I also got one and banned the sender.
Thing is.. I can't go and delete private messagesm so PLEASE, delete them, do not click on the link, just delete and send to the bowels of the earth where it belongs!
---
Dianna
Conway, AR
Patriot Guard Rider
2000 VN750 Sere (Serendipity)
1990 GL1500 (Ole Blue)
1986 VN750 EVie (project bike, heavy custom)
VROC # 11628 / 25000-H
ARVROC # 12 Coordinator and Crowd Control
OKVROC # 18 (H)
TNVROC # 45 (H)
and the Adventure Cycle
Join Date: Jun 2004
Location: Western PA
Posts: 6,138
Quote:
"I AM" the only Lady Admin on this site and I didn't send it.
I didn't think you woulda went Cegodsey on us!! LOL
---
AKA: Tim & 'The Adventure Cycle' VROC #24567, NEVROC, SteelCity VROC
"When life throws you curves,
Aim for the apex."


Author Unknown
Simple Solutions
Join Date: Jun 2008
Location: SEQUIM, WA
Posts: 965
not to take that lightly
---
Chances are u have some spyware on your computer .. it sounds to me like they used a program to get your browsing history and pulled the forum out of you use.. the othere option is u got phished and they got your email address and password and found old mail...
It is my resomendation to run Spybot
Sorry admin for leavin links like this but i can assure u that these links are safe and come highly recommended to anyone that doesnt have spyware and real virus software .. .both these links are free legit and safe
Spyware ... can come in in emails and generally follows an attachment but its software eating up valuable recources not to mentiion giving a gateway to your computer ...
SpyBot
.... .... This link will send through another portal for downloading depending on which one u select i have always choosen
Safer Networking
within there site
Install now read through the instalation instructions ... If u have a good virus scanner and or limited resources u may want to un select 'Tea Timer" this runs all the time and will display next to the clock on your startmenu
I use this and like it for i use the virus scanner im about to give u a link to.. its a trade i would normaly choose to save the resources but i think the protection is worth it and have chosen to run it with the tea timer
Every month or so i Open the program update and run and iminunize scan takes a good amount of time the first time i recomend right befor bed ...
I addition to every month whenever my computer starts to act funny i run this scanner and it can usually fix it 98percent of the time
Virus Scanner
now if u have macaffee or nortons or something of the sort u dont need this... make sure the setting are those are set to update automaticly
the one i recomend is either free or pay for it the free one has a pop up its one pop up every couple of weeks maybe and it says hey do u u want to upgrade and buy the bigger package.. its not needed u can deside if u want it but the base personal free one will work on its own. and they really arnt to pusshy about buyin just every once in a while they say hey .... i usually run this scan every month with the the software above i ind a lot more with the other scanner but that just means its doin its job ...
Avira
Now the other free Virus scanner that works is AVG
A little protection is way better then none ....
WEB Browser : while I'm on the subject of Security and usability Check Out
Google Chrome
... ..... i love this browser
watch the video
learn more about it and its features a lot more stabel and more secure then microsoft explorer....
Sorry too hijack this thread but had to get it out if there are any question please ask ....
---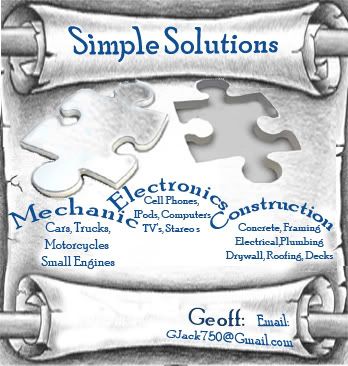 Stator #3
MF AGM
DeGoated
Ears Shaved
R/R relocated
Rebuilt
She's worth her weight in GOLD
If u dont have it already Here is the
Service Manual
How To
Test the Stator
Members who have donated towards server costs
Join Date: Nov 2007
Location: Chandler, Arizona
Posts: 3,019
Pretty mush everybody has some spyware on their computer. I only use the free anti virus programs, because there is no way I am going to pay, and pay, and pay, for something like Norton or Macaffee. It's just a rip off. Also, I used to constantly get viruses and spyware while using IE. I finally switched to Netscape 9, and 99% of it went away. Jerry.
---
I am a motorcyclist, NOT a biker.


1997 Vulcan 750, purchased about a week ago
2006 Sportster 1200 Low
2013 Royal Enfield Bullet 500, converted to carb
2001 Yamaha XT225, heavily modified
2004 Honda Rebel 250
1979 Vespa P200E
2002 Vulcan 750 parts bike
1994 Yamaha XT225 parts bike
Senior Member
Join Date: Jun 2006
Location: Springfield MO
Posts: 659
Quote:
I didn't think you woulda went all Cegodsey on us!! LOL
Holy crap, a blast from the past. No wisdom from Bryant AR since last July.
---
"Shutting up rarely leads to anything bad"
Joe McAdoo
Springfield, MO
[email protected]
VROC # 28175
-2004 Vulcan 1500 Classic 22000 miles
-1995 VN750 (Back home again!) 25000 miles
-1995 Suzuki DR350 Dualsport 1720 miles
Senior Member
Join Date: Feb 2009
Location: Columbus Ohio, USA
Posts: 268
allow me to weigh in here..
Most malware today is more sophisticated than the anit virus programs running.. this is why it is absolutely vital to take a multi-layered approach to Online security. Antivirus is a good thing to have (and Yes, I DO recommend the free stuff as a professional), but must be coupled with a good software firewall (Comodo is good, but only install the firewall), a secure browser (Firefox is awesome with the NoScript plugin installed but PLEASE Stay away from Internet Exploiter
). Not only are these important layers, but also being a smart surfer and not jumping to unknown sites or following links in unexpected emails- this will do you better than any software on the market.
Before I continue, analysis of the original post shows several members names attached to the email.. this could be an indication of a breech of VN750.com and I would recommend the admin team look at their logs to see where things stand in that regard.
SpyBot is a good solution- good to see others using this tool. But you should also use an online scanner like Kaspersky Online on a regular basis. This will not disinfect your machine but it WILL tell you with more accuracy than a software scanner what types of infections you might be facing.
Does me good to see people thinking of security here.. It truly is my passion in life. I hope this helps a little. If anyone cares to discuss security more in depth, I would love to be included.
---
NIL ILLEGITIMUS CARBORUNDUM

Phil aka Art
"Vanessa"
1995 VN 750 (bought as 2nd owner 11/2008)
26,440 miles
MF Battery
Stator replaced (55 Days!)
V&H Cruisers
Relocate rear turn signals
Highwayman Saddlemen bags
Wingerline Highway bars
Ear Shave
Rejet carbs
R/R relocate
Coastered
Kuryakin ISO Duallys all around
HD Heritage seat
12" ape hangers

To Do:
Some sort of new grips
Mirrors
Paint Job- should I do it myself?
Search Goddess
Join Date: Jun 2004
Location: Conway, AR
Posts: 1,998
Just an update about Lady_Admin and the bunch of private messages sent..
I went back after checking out a suspect new member and found that I could delete all of the private messages sent by them.. so I did
---
Dianna
Conway, AR
Patriot Guard Rider
2000 VN750 Sere (Serendipity)
1990 GL1500 (Ole Blue)
1986 VN750 EVie (project bike, heavy custom)
VROC # 11628 / 25000-H
ARVROC # 12 Coordinator and Crowd Control
OKVROC # 18 (H)
TNVROC # 45 (H)