Undercover Sportbiker
Join Date: Oct 2007
Location: SoCal (SF Valley) 91343
Posts: 1,097
Quote:
Damn it AJ, its my job to be the ass of the group, I soooo wanted to be the 1st to actually call him a dumbass, sense everyone else is to politically correct to do so...LOL...pussy's
Meh - he asked for it!
THread jack - what the hell is that avatar? I want the t-shirt!
---
Columbus, Ohio
Join Date: Oct 2009
Location: Columbus, Ohio
Posts: 523
Quote:
I keep mine on the tender all year long.
I do too. A mechanic friend of mine said that that is not good for the battery, that it makes a "flat charge" instead of a "deep charge" and limits the capacity of the battery.
Nobody else has ever said that, and I figure an entire industry can't be wrong,
so I do it any way.
Has anybody ever heard of this?
---
Jim
'95 Kawasaki Concours
Sold my Vulcan
I do
LOTS
of dumb stuff. Riding is only one of them.
Jesus-Family-Coffee-Bike
Join Date: Sep 2009
Location: Va Beach
Posts: 95
I'm curious what ideas come back on this "tender all year long" vs. "tender occasionally" discussion. Two weeks ago my old Everstart wet cell finally died for good and couldn't hold a charge (it came with the bike when I bought it). It was battery time! I went with Lance's eBay suggestion... the Deka ETX15L and bought a Schumacher battery tender (SEM-1562A) from Wally World.
---
http://photobucket.com/webby778_bike_pics
old bike:
93 vn750 - Gray/Navy - Mac Staggered Dual Tapered Tips Exhaust - DEI exhaust wrap - K&N air filters - ACCT rebuild - Deka ETX15L MF battery.
current bike:
95 vs800 - Tan/Maroon custom - Cobra pipes - Jardine seats - stage 1 jet kit, carbs re-tuned - 21' front wheel - crash bars with pegs - Willie & Max saddlebags
Simple Solutions
Join Date: Jun 2008
Location: SEQUIM, WA
Posts: 965
just an off the wall view... ive never owned a tender for the sure purpse that if there is an electrical problem and im leavin the house with a full batt could leave me stranded further away from my house ... if the batt is dead i have to look at the sytem.. this making me do a couple quick test to assure the charging system is operating...
not saying i wouldnt run to the store on a bumpstart but may leave it running while i run inside for my item ...
---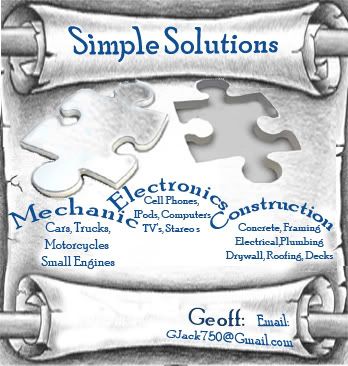 Stator #3
MF AGM
DeGoated
Ears Shaved
R/R relocated
Rebuilt
She's worth her weight in GOLD
If u dont have it already Here is the
Service Manual
How To
Test the Stator
Members who have donated towards server costs
Join Date: Nov 2007
Location: Chandler, Arizona
Posts: 3,026
I'm not putting down battery tenders, I just don't own one. There have been a very few times that I have stored a bike with a battery for more than a month, and I just used the charger, connected it to a timer I already had, and let it charge the battery 2-3 hours a day.

I could buy a battery tender, but since I have 4 bikes with batteries, I would need 4 of them. That's a bit much, since I normally don't store bikes, other than dirt bikes which have no battery. You can ride all year here, though it gets pretty bad in the summer.


Also remember that while a battery tender will extend the life of a battery over just letting it sit there and go dead, it still won't last any longer than it normally would have if you were riding the bike on a regular basis. It is still wearing out, even when kept fully charged. Jerry.
---
I am a motorcyclist, NOT a biker.


1997 Vulcan 750, purchased about a week ago
2006 Sportster 1200 Low
2013 Royal Enfield Bullet 500, converted to carb
2001 Yamaha XT225, heavily modified
2004 Honda Rebel 250
1979 Vespa P200E
2002 Vulcan 750 parts bike
1994 Yamaha XT225 parts bike
Ba dum dum, ching...
Join Date: Jun 2008
Location: Central Joisey (you got a problem wit dat?)
Posts: 542
Rick, Terminals are clean and tight.

AJ, You're right I asked for it. I'm only suprised that you were the first. (if KM had seen this thread he might have been first).

I've got a wet cell batt and until this event it has been totally trouble free. I have a trickle charger but only use it if I think I'm not going to be riding for a while. Unfortunately, When I put the bike in the garage last time I thought for sure that I'd be back out the following weekend but work and weather conspired to make sure that didn't happen and I didn't think to go out and put it on.

R
---
Yes, it's my mid-life crisis.
Sweet Jane...