Seat Cover
---
I just replaced my factory seat cover with a Travelcade seat skin i got on E-bay, it went together well, and looks great! I am also changing my fenders and tank, as I found it was cheaper to change tins than it was to paint. Thought I would share!
Vintage bike addict
Join Date: Oct 2008
Location: I live in eastern ohio
Posts: 859
Wanna sell the old tins?
Someone send this guy a camera!
---
No one can make you feel inferior without your consent.
Eleanor Roosevelt.
Members who have donated towards server costs
Join Date: May 2009
Location: Duluth, GA
Posts: 641
Which skin did you get? Because all I see skins for are the Kawasaki KX60, KLF185, KEF300, KXF250 and the KXT250, all of which are ATVs. And just like Slim said.....
---
My daily ride
Metzler ME880s
NGK caps, wires and Iridiums
Coasters (made by Lance328), earshave and rejet with screws turned out 3 turns
Volt gauge w/ custom mounting cup by Lance328 wired into headlight bucket 13.5v-14v
National Cycles Plexistar 2 windshield
DEKA battery
Mutazu GA Black hard bags w/ custom support brackets and relocation brackets made by Lance328
Custom lowers made by Lance328
Vance&Hines Cruzer exhaust pipes
TOC MCCTs
H.I.D. Conversion kit
---
Last edited by VN750_DawgsFan; 12-25-2009 at

09:40 AM

.
ok, one more try to get these pics to work....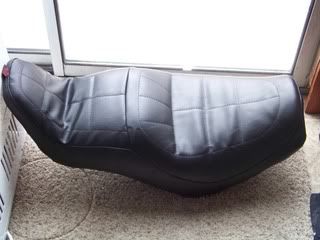 My seat was torn and in bad shape.... good winter project, gives me something to do other than to look at the snow
---
Last edited by bigsby2us; 12-25-2009 at

03:23 PM

.
looks nice... can't wait to see it on the bike with new tins
me too, still waiting for rear fender to show up. then its touch up paint, pinstripe and then the swap...after a winter of work, it will be a sharp looking bike come spring.
Members who have donated towards server costs
Join Date: Nov 2007
Location: Chandler, Arizona
Posts: 3,007
That's a seat cover? Do you happen to know what the part number is, and, how is it attached to the seat? Jerry.
---
I am a motorcyclist, NOT a biker.


1997 Vulcan 750, purchased about a week ago
2006 Sportster 1200 Low
2013 Royal Enfield Bullet 500, converted to carb
2001 Yamaha XT225, heavily modified
2004 Honda Rebel 250
1979 Vespa P200E
2002 Vulcan 750 parts bike
1994 Yamaha XT225 parts bike
Love My Baby
Join Date: Jun 2008
Location: Hollywood, Florida
Posts: 1,165
That's great to know in case we need to repair a torn seat. I wonder if there can be some sort of padding placed between the existing seat and the cover, to make the seat a bit more comfortable, escpecially for riding 2-up.
---
Rubyrick

MY BABY...
'05 VN750
16,000 miles +
Kawi tank bib
Kawi rear rack
Small windshield
DEKA M/F battery
VN750.com Grill Cover
LED license plate frame
Clear Alternatives LED brake light
Cortech mini tank bag on rear rack
Pirelli MT66 Tires: 110 front / 150 rear
Splines lubed when tires installed at 10,650 miles
Splines lubed again at 14,400 with stubby valve stem install

Place your mouse on the X below and drag to the O

X Even though you can't see Him, GOD is there! O