Senior Member
Join Date: Jul 2009
Location: JACKSONVILLE, FL.
Posts: 123
What made you pick your bike?
---
How did you come to own your VN7xx, your first bike or any bike you've ownd?

I know some of you picked em up for a good deal, right time and place sorta thing. But anyone have any storys about giting a bike?

I think how I got my is prety cool so heres my story.

My brother had got his croch rocket and about two months later my dad asked me if I wanted a motor cycle. I said yes, of course. So we three went up to one of the many dealers and I started looking. I had a fairly good idia and picher of what style I wanted but diidnt know anything about bikes. My brother had his own vision of what he thought I whould want. I lost sight of my brother almost instantly but my dad walked around with me. About two hours later and siting on what seemed like every bike in town I finaly desided on a Suzuki S83.

As soon as I told my dad and the sales guy to git the papper work started my brother reappered and told me to come with him. He brout me back to the used area to a row of bikes I had'nt nooticed befor. Turns out apon entering the building he took one quick look around, found the perfect bike for me and sat on it till I was done "wasting my time" looking at the other ones. The one he was siting on was my VN750 with sissy bar extinsion, wind screen, and throtle clamp cruze. I didnt even sit on it, just told the sales guy to change the paper work.

I cruzed with my brother home on my mayden voyage and he on his fuel injected 600cc croch rocket. He took me on the highway and since I didnt know how to git home from there I had to keep up with his 85mph. Fun first ride, and it started raining about 15 miles form home. So I learnd real fast about riding in rain.

When we made it home my dad was chilling in the living room and told me to come take a look at somthing, it was a picher of him next to his '87 VN750 that I never seen the pic or ever known he ownd. Then he said "if you want to keep the bike past Monday I sugest you ditch the bi*ch your dating and git you life on track or I'm returning it Tuesday.

She keeped the dog but I still have my bike!!!




WHATS YOUR STORY!?!?
---
CLARK47



2005 VN750
1,200 MILES WHEN NEW TO ME
JULY OF 2006
24,000 AND COUNTING NOW
ALLMOST ENTIRLY STOCK
---
Last edited by CLARK47; 12-18-2009 at

02:02 AM

.
Great story. Mine wasn't nearly so interesting. I was simply shopping for a bike that was shaft drive & water cooled. I came across my bike on an ebay listing. The guy had just listed it when I found it. I sent him a question & waited. Later that same day I got tired of waiting for a responce so back online I go & I noticed his listing was gone. By this time he had responded to me so I asked what happened. It was his first listing on ebay & he did something wrong. Ebay pulled his bike. No one else really had time to see it. It was in the price range I could afford. Really how much my wife said I could spend, I don't think she really thought I could find something I liked for $1600. Ha I showed her. I went down to logan county to check it out. The guy I bought it from had never even rode it. He got it from a guy down the road who was an older gentlman who gave/traded the bike for something. That saturday I went down to pick up my bike & rode it home from logan ohio to zanesville. My first ride.... Twisties!
---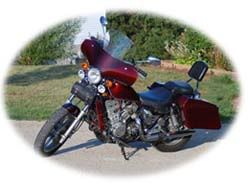 Orig. 8600 Miles 5/12/7 Currently 50,500Miles

Owners Manual
Repair Manual Download
Mosfet RR Test
Goof Proof Stator Test
VoIP Doc's Ear Shave & Re-jet Procedure
Hyperbuzzin's "How To Post Photo's.
Mosfet R&R Headlight Fix.
Columbus, Ohio
Join Date: Oct 2009
Location: Columbus, Ohio
Posts: 523
I had been farting around with a Honda Nighthawk 650 for about a year...fixing this, finding that needed fixing, too. I had been telling the wife how the price of gas for my van was killing us, and that a bike would get forty or more mpg.
One day a fellow t-boned my van, doing minor damage to the right slider door. His insurance gave me $1700. I was telling the wife I neeeded to get the Honda working so I could ride it while I get the van fixed, but that I could live with the door being dented...it worked, but squealed when I opened it. I realized that fixing the door would not significantly raise the value of a ten year old van.
"Then why don't you sell that Honda and buy a bike that runs?" she asked.
I was on Craig's List within about two minutes, and before an hour was up, I found
my Vulcan. Shaft drive, liquid cooled, bigger engine, looked cherry, and was listed for SEVENTEEN HUNDRED DOLLARS!
I talked him down a little, but it was worth more, and he threw in two new helmets and the bags. I put down a hundred on Friday and sealed the deal on Monday.
So the bike was almost free. I gave the Honda to my son and have been happily riding ever since.
---
Jim
'95 Kawasaki Concours
Sold my Vulcan
I do
LOTS
of dumb stuff. Riding is only one of them.
Members who have donated towards server costs
Join Date: Apr 2008
Location: S.E. Michigan
Posts: 2,850
Wanted to try a cruiser for a change, and the price was right. ~yawn~ LOL
Members who have donated towards server costs
Join Date: Dec 2008
Location: Monroe, LA
Posts: 4,706
In summer, 2008, gas was very close to $4 a gallon. I'm retired and have some land I putz around on that's 25 miles from our home. Getting there and back was really cutting into my disposable income. I did some research and discovered riding two wheels would be a lot cheaper gas wise. The research didn't reveal how much I would wind up spending on gear, accessories, etc.! Was going to get a Chinese scooter (80 mpg) but my brother, who rode bikes for many years, suggested a motorcycle. Said the Honda Rebel 250 got about the same mileage and would be safer than a scooter.

Found a 2002 model locally for $1,000 and promptly bought it. Soon discovered how much fun riding was. Several months and about 3,000 miles later, I began to long for something with a little more power. The clincher was the log truck that wouldn't get off my tail going up a long hill. No matter how frantically I tried to wave him off my butt, he stayed within about 25 feet of my tail. Finally pulled off and let him by. If I could have caught him (I tried) we would have definitely had an exchange of words or worse.

I wanted a bike with shaft drive, no spokes, and more power. Found the VN750 in Birmingham, Alabama. The owner had bought it from his brother-in-law who was the original owner. Both kept the bike in a garage, and it looked spotless. He had taken it to the local Kawasaki dealership and had $1,300 of work done on the bike. (BTW, the splines were dry.) In the ensuing six months he put less than 300 miles on it. It got to where it wouldn't stay running unless he gave it some throttle. I figured fixing it couldn't be that big a deal and bought it for his aking price of $1,000. I got home and discovered the throttle cables weren't properly adjusted and needed lubrication.

Have since bought a non-running '87 VN750 as a project bike. Waiting on me to finish building a barn so I'll have some place to work on it and store the bike I'm not currently riding. The carport's getting a little crowded and there's not enough room for my truck!
---
I'm keepin' all the left over parts. I'm gonna use 'em to build another bike!
_____________________________________________
"Black Beauty"
1989 VN750 acquired December, 2008, 6,711 miles
Currently 23,298 miles
Old Blue
2001 Honda CMX250 Rebel acquired July, 2008
1987 VN750 project bike, acquired August, 2009, 33,000 miles and balancer sticking out of the case, currently awaiting attention and parts
---
Last edited by flitecontrol; 12-18-2009 at

08:12 AM

.
Senior Member
Join Date: Jul 2007
Location: Castle Rock, Wa
Posts: 1,750
SHORT LEGS. Don't need to say anything else.

Well, one more thing - My vn was on ebay as a wrecked salvage bike. I dared my wife to bid on it, won it, got it, still ride it after many cheap-o mods 26k + miles are mine.

Building a 750 Spectre bobber just for fun.
---
95 VN750 (eBay)31k+
GL1100 front fender
OEM engine guard
OEM high back rest
'V-Twin' HWY pegs
Black 750 Spectre handlebars
SunPro Volt Meter (Amazon)
Maier bug shield (JCW)
Bar Ends anti-vibe (JCW)
Emgo air filters
Tank bag-Eclipse
Tail bag-FroZone Cooler
Back Rest-Igloo 6 pak cooler
WalMart Saddle Bags
R/R Relocate
Dry Splines Lubed
AGM DieHard-Sears
Gutted Goat
Sporster XL Mufflers
LED's-stop,tail,turn,marker
Pickup coil mod to .45mm
Silverstar headlight
Rotella T6
Old Twistie Sticks Rider
Join Date: Aug 2007
Location: Country Created by Geniuses, But Run by Idiots...!!!
Posts: 5,072
The style and size I liked and my last bike (before the vn750s) being an 80s Honda Shadow 700 which the style had changed to one I didn't like... I looked at several new bikes and the vn750 was my pick as I had owned an awsome KX250 MX bike which was very dependable and gave no problems...
So I bought the new 03, then traded for the new 06 "Clyde" which I wrecked then the used 06 with 1/3rd the milage of "Clyde" but could not near live up to "Clyde"... So not being able to get a new vn750 I went to what I believe to be a near close 2nd, a new 09 xl1200 Custom Sportster (please don't call it a Harley, its a Sportster)...
I found out after I let the Ins. Co. have "Clyde" that I should have fixed it up and kept it (my bad), I guess I thought they all ran like "Clyde"...
My xl1200 Sportster will run with "Clyde" might even be a tad stronger, but it takes 4 gal. of gas to go as far as "Clyde" would on 3... Also the shake & bake takes a bit of getting used to...
...
Hey, don't come down on me, I would have bought another vn750 if Kaw. hadn't let me down and quit making them...
...
Do you get the feeling I miss "Clyde", well I do...
Have a good one...Old Dog...
---
Southern Central Tennessee....
...
Now on the Dark Side...
...
Girl's Bike 09 Sporty xl 1200 Custom...33k + & clickin...
...
Sportster Owner/Rider since age 72...lol... Rider since Simplex...???
09-xl1200 "C" Vivid Black, Cast wheels w/19" Frt., SE-Stage 1+, X14iEDs...
MicroTach +, Higher wider H-bars, GPS Mt., Mustach bar Hwy. pegs...
Viking Shock cutout Saddlebags, Rear Mt. Signal Lt. Kit, Fork Brace...
RoadKing Air Shocks, Mustang Seat, Progressive Fork Springs...
Member
Join Date: Sep 2008
Posts: 62
Well my first bike was a cbr600f4i I got that one off my uncle after his midlife crisis as I say. Traded an ar15, AK and a laptop. Rode it without the msf lesson or a license for a few thousand miles. I got wise and had some debts to pay so I sold it for more then what I was asking. Got the bug again about a year after that, had A 1k budget and wanted a bike 2 could ride. Found a 96 that "needs carb cleaned", found this website and I was sold. A stator, rr, battery, plugs, mirrors, pickups, blood, sweat, and help from you guys (and gals) and now I'm riding her most everyday.