Crash Club
---
I have noted in the past year several folks here reporting crashes, spills, and general whooopsies. Some folks seem to have faired well with little damage, a few have had injuries that needed some real time to heal.

Thinking of how many folks are on this forum, the reports seem to be a bit more than anyone would might think for the numbers present here. I do not know the national average on how many riders will go down per year, but the data we all really needs is how can this help others.
My thought here is for all those who have had a fall to come back now and give a brief recap of what happened, and what-- or if-- they learned anything from the incident....so those new here or new to riding can benifit from those perspectives of those who have met the road the hard way.

This is not the spot for others to commnet on "what they should have done" or ask "why didn't you do this? " ... but only for those actualy involved in a crash to post up their thoughts and opinions on what they did and what they might have learned.

(Knocking on wood here) I have so far gone 30 years without eating asphalt , and I don't know if it is the years of experiance or just plain luck that have kept me rubber side down. So I can't really pass on any bits of wisdom here on avoiding problems as well as someone that has already danced with the devil and lost.

So those few who have please step up and share your story.

KM
Straight roads are evil
Join Date: Jun 2006
Location: California
Posts: 580
Keep in mind what you don't see.

Sometimes people say that the bike must have a lot of problems, as they read so many "help it's broken" posts. That's because people rarely post "bike is ok, no problems".

The same applies to crashes. How often do people say "had a nice ride today, great roads, no crash, no injury"? Rarely. When people do crash, they post it. So, there are far more crash threads than "great ride" threads.
---
The journey is the destination.

2006 VN750 (SOLD)
63160 miles
Mustang seat
R/R Relocate
MCCT
MF Battery
Red spark plug wires
Stainless Steel brake lines
Stiffer fork springs
Windshield
Givi bags, Wingrack mount
Voltmeter
GPS Mount
Pashnit sticker!
Ba dum dum, ching...
Join Date: Jun 2008
Location: Central Joisey (you got a problem wit dat?)
Posts: 542
Great idea KM. Maybe a new forum with this title so that we can easily go thorugh and read the threads without getting it mixed in with all the other general discussion stuff.

R
---
Yes, it's my mid-life crisis.
Sweet Jane...
Drive less, ride more...
Join Date: Nov 2005
Location: SW Ga
Posts: 1,114
I would agree with Ron G here....this is actually a great idea, but it might be better served in a place where it won't get crowded out with all the other threads.
With that said, I just might qualify as one of the "head of the class" of the so-called Crash Club.
You can read the general description and lessons gleaned from my 2 latest crashes at the following VN750 thread:
https://www.vn750.com/forum/showthread.php?t=9851&page=3
This thread link however does not include & describe my very first crash, where I trashed out a brand new Vulcan 900 LT. I had less than 6 months riding time under my belt when this happened.
The moral of this first crash--low floorboards equals much less lean angle. If a rider goes into a turn and leans the bike too hard, these fixed low floorboards can actually lever the rear wheel off the ground, and result in a low-side crash.
Since then, I have avoided bikes with low floorboards, as lots of available lean angle can be a very good thing...!!!
Apparently our Creator has somehow intended for me to live to see another day, as I walked away from all three crashes. For this I am of course extremely grateful.
In each case, the proper riding gear also saved me from serious injury.
I hope that everyone who reads this will realize that every time you throw a leg over, turn the key, and push the start button....that you may not come back without the help of an ambulance (or a hearse)--unless you've had the proper training (from a pro--not a friend or relative) and are wearing motorcycle-rated riding gear, including a full DOT-rated helmet (no "brain buckets" thank you), jacket, pants, gloves and of course...boots.
To repeat: if you ride often enough, long enough, and far enough....STUFF HAPPENS....
The earlier version of this last statement: there are 2 types of riders--those who have crashed, and those who will crash. (Be ready for the crash!)....
---
'05 VN750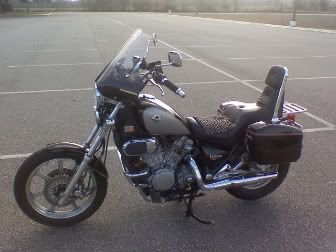 For other bike pix & mods, go to:
http://s1203.photobucket.com/albums/...k/VN750%20pix/
---
Last edited by theauhawk; 11-14-2009 at

10:19 AM

.
Knifemaker:
Quote:
....I don't know if it is the years of experiance or just plain luck that have kept me rubber side down....
I would say both. You make your own luck (ie by applying wisdom gained from experience), but sometimes you run out and need to borrow some from another source.
My own recent crash experience is written up at
http://www.msgroup.org/forums/mtt/to...=10980&#107045
Thanks those for the imput. Yea it be nice if this was a seperate topic heading on the forum, but you'd have to get one of the admin do to this as I can't.
I should have added that yes, you can just post a link to your write up rather than rehashing the ordeal again.
I realize that many never say "bike is ok, no problems" but given the amount of actual participating members here and the number of reported crashes, it seemed high to me...but not as bad as reports on the sportbike forums ..
This likely should have been posted in Motorcycle Safety rather than General Discussion, but my hopes are the admins will move it or give it a page heading.
KM
A poll done on the advrider forum shows 32% of respondents have never had a motorcycle accident.
Member
Join Date: Apr 2009
Location: Lincolnshire. UK
Posts: 87
I had an accident on the VN back in August. I've been riding since 1966 and other than a couple of minor tumbles I've only had one serious crash and that was in 1976 when I just got unlucky.
I take 80% responsibility for the accident. I'd bought the bike in April and I'd done about 2000 miles on it when I had the accident. It's got a VN800 seat on it which puts my butt to sleep after about 30 miles and the front springs can be bottomed out without any effort. I was going to ride through the summer and deal with both problems over the winter. On the day of the accident I'd been riding for about 60 miles and had a seriously sore arse. I'd pulled up to give way at a roundabout. I stood up to ease my pain while I waited for a gap in the traffic. I was in 1st gear with the clutch in. A gap came and I set off dropping myself into the seat and swinging my legs up towards the footrests. As I did this a Porsche came towards me (with legal right of way) doing a hell of a speed. My choice (in a fraction of a second) was go in front of a speeding Porsche or do an emergency stop with my front brake while leaning into a bend. I braked, the front forks bottomed out, my legs swang forward and the bike went down, landing with the front foot rest pinning me to the floor between my ankle bone and the tendon that runs to the back of my heel. As I'd gone down I had rolled onto my back and instinctively had used my other leg to take some of the weight. I quickly got my foot out, stood up and got the bike up (at this point I was feeling no pain just a warmth in my ankle). The only damage to the bike was that the ball end was broken off the clutch lever, so I got back on and rode the 40 miles home. During the journey the pain and the swelling started to catch up with me and by time I got home I couldn't get my boots off and I couldn't take any weight on that foot. I was off work for two weeks and walking with sticks for three weeks. My ankle is still swollen and bruised 3 months later although I can use it OK.
So what did I learn / get reminded of?
1. Even when you think you are safe, expect somebody to do something that could kill you. If I hadn't reacted quickly or had been riding a pedal cycle I would be dead.
2. Never set off without covering your foot brake. Emergency stops with a front brake are a short cut to an accident.
3. If your front forks are dangerously soft, do something about it.
4. Uncomfortable seats change your riding style. Change your seat instead (something I'm still working on) or take regular breaks from riding.
5. If you think you are an experienced rider who knows what they are doing and can get away with taking risks... The big guy upstairs might just remind you nobody's perfect.

I don't know if anybody can learn anything from my experience but if you can it will make some of the pain worthwhile.

One other point. After the fall the bike ran better than it ever has. I'm wondering if there might be some crud in my carbs that got moved by the fall. Any thoughts?
---
'89 VN750
14000 miles on 20th April 09
I think you have made a fair assessment of what led up to the accident. I'm glad you didn't wind up a hood ornament on the Porsche.

I would agree that soreness/distraction were the main contributors to the near miss. I question though how you can cover the footbrake on a cruiser style bike while taking off in a right turn. Because you are turning right you have to keep your right foot down to support the bike while you are stopped and then it takes a second to get it forward to where the brake is. It might have been less of an issue if you had middle controls.

Was there a chance that you were doing some foot dragging off the start as well?
Member
Join Date: Apr 2009
Location: Lincolnshire. UK
Posts: 87
Hi Haithabu.
I live in the UK, so entering a roundabout means you need to turn left. However, part of the training over here is that when waiting at any junction, left or right turn, your foot should be covering the brake. For part of our driving test we have to turn in the road from the left curb to the right curb (a right turn), with out putting our feet down. If at any point in the turn your foot is not covering the brake (speed being controlled by a combination of clutch and brake) you fail the test.
Was I foot dragging? Partly. It took about 1 - 2 seconds from me setting off to doing the emergency stop. I was stood up and had let the clutch out as I dropped into the seat, so although my feet were heading for the footrests they weren't there when I braked. Its not something I have done very often in 43 years on two wheels but I took the risk and felt the payback.
---
'89 VN750
14000 miles on 20th April 09