Senior Member
Join Date: Sep 2009
Location: South-Central, MO
Posts: 149
Playin with some paint
---
Here's some pics of my side covers.
I was a Wally-World and seen this hammered paint, I've been thinking of some diff options for paint and figured I'd see what it would look like.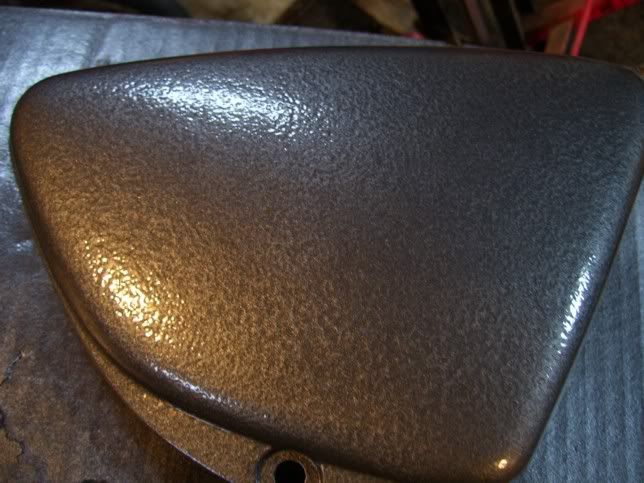 Join Date: Oct 2009
Posts: 51
Not bad. I was looking at some textured paint myself at home depot. Kind of give it that bedliner look maybe. Hammered looks nice though.
Members who have donated towards server costs
Join Date: Dec 2008
Location: Monroe, LA
Posts: 4,715
Hammered is good for the bike, not the rider!
---
I'm keepin' all the left over parts. I'm gonna use 'em to build another bike!
_____________________________________________
"Black Beauty"
1989 VN750 acquired December, 2008, 6,711 miles
Currently 23,298 miles
Old Blue
2001 Honda CMX250 Rebel acquired July, 2008
1987 VN750 project bike, acquired August, 2009, 33,000 miles and balancer sticking out of the case, currently awaiting attention and parts
The Reanimater
Join Date: Apr 2009
Location: A Little Town Along I-5 in Northern California
Posts: 847
Looks like Old Rust Pitted Metal that has been spray painted over.
---
JaY
"Veronica"
2002 VN750 Vulcan
Rebuilt Engine
ACCTs lubed w/TOC Springs
Pick-up Coils Gapped at .018"
Splines Lubed
Deka MF AGM EXT15L Battery
NGK Iridium IX Spark Plugs
R/R Relocation Fix
New Rear Rack
Stock Seat Repadded
Ext-BackRest
Senior Member
Join Date: Apr 2009
Posts: 209
hmm it sure makes a piece of plastic look like something steel.
Ba dum dum, ching...
Join Date: Jun 2008
Location: Central Joisey (you got a problem wit dat?)
Posts: 542
I like it!
I'd seen a custom bike with a black crinkle paint finish and brushed nickel in place of chrome. It had a real industrial look that was beautiful.
R
---
Yes, it's my mid-life crisis.
Sweet Jane...
Members who have donated towards server costs
Join Date: Jan 2006
Location: Cheyenne Wyoming
Posts: 508
I used hammered paint on my fender flares. It looked good for about 2 years and then started being blasted off from tire sling. $8 dollars more and a little tape they looked brand new. The hammered paint gave my truck a "custom" look on the flares
---
Rckmtn
Dennis Huff
Cheyenne, Wy.
05 VN 750
KURYAKYN grips, helmet locks, and highway pegs
Spitfire windshield
Saddleman saddlebags/sissybar bag
Highwayman gelseat with Protac backrest
self canx turnsignals
Diamondstar headlight modulator
Jardine 2 into 2
MCC turn signal relocator and floorboards
Luggage rack
Extended passenger backrest
KURYAKYN LED voltmeter
Custom tank bra with analog clock
Snider paint protector on tank side
130 DB horns
that looks cool gives me some ideas now
Senior Member
Join Date: Sep 2009
Location: South-Central, MO
Posts: 149
Thanks for the sticker idea, but I'd be more interested in the tank stickers than the side cover. I did try to clear these after I took the pics, but the clear takes away from the rough finish. I plan on useing the hammered finish on the rest of the sheet metal, but might use a different color. Possibally a two tone, hammered/ reg gloss paint.