Crashed my bike lastnight... (parts quirry)
---
Im just fine, it was at a low speed.

I need to replace a few parts

Right Foot Peg, Right air cleaner (Inside, with mounting)
anyone have these parts
---
Last edited by ourselfish; 10-19-2009 at

01:53 PM

.
Simple Solutions
Join Date: Jun 2008
Location: SEQUIM, WA
Posts: 965
Quote:
Im just fine, it was at a low speed.

I need to replace a few parts

Right Foot Peg, Right air cleaner (Inside, with mounting)
anyone have these parts
rt air cleaneri have but its a little rashed... not cracked or broken...
---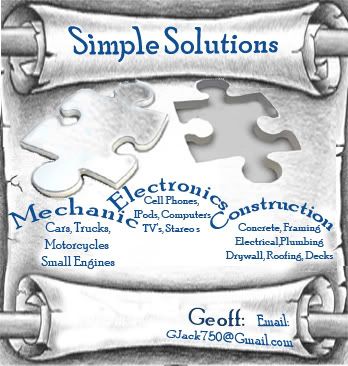 Stator #3
MF AGM
DeGoated
Ears Shaved
R/R relocated
Rebuilt
She's worth her weight in GOLD
If u dont have it already Here is the
Service Manual
How To
Test the Stator
How much for it? I'm looking for the inside mounting.
---
Last edited by ourselfish; 10-19-2009 at

02:53 PM

.
Senior Member
Join Date: Jul 2008
Location: Titusville, New Jersey
Posts: 6,435
Sorry to here that bro but glad you're ok. Sounds like it could've been alot worse. There's a link on this site to all parts for our bikes on eBay. Just click "forum" then scroll down till you see "VN750 parts on ebay". You may have some luck there.

So how about an introduction?
yep thanks Join Date: May 2009 my **** hurts rofl im strictly buisness today, and im trying to keep a date for tonight; shes a good one-Not to mention winters comming my car is broken, and Im out on my shirt.
---
Last edited by ourselfish; 10-19-2009 at

02:55 PM

.
Senior Member
Join Date: Apr 2008
Location: Pittsburg, TX
Posts: 401
Sorry to here about the ride. Glad your not seriously hurt. Keep checking in with your progress. Check ebay and the swap/sell postings.
---
2005 Vulcan 750
Black and Silver
Windshield
Saddlebags
OEM Hghwy Bars
O-ring Footpegs
OEM Luggage Rack
V&H Exhaust System
TOC ACCT Rebuild
Die Hard Gold AGM MFB
Spline Lube every tire change
VN750 #4393
VROC #31065
TexasVROC
Members who have donated towards server costs
Join Date: Jun 2008
Location: Flushing, NY
Posts: 344
Funny you should ask, I happen to have a spare right foot peg.

I got my left foot peg sheared off earlier this year when I got clipped by a driver who changed lanes right into me in a lane merge going onto a bridge. Amazingly I didn't even get knocked off my bike, the only thing that happened was that my left foot peg was ripped off right from under my foot! (I was very lucky...) I rode to work and back shifting gears by balancing my heel on the foot peg bolt jutting out from the frame. What fun.

I had just gotten my second VN750 but hadn't registered it yet (so I couldn't ride it), so I took the left peg from that one and put it on my first bike, then got a pair of salvage pegs on eBay for cheap. I still have the right one.

PM me your address and I'll send it to you, I have no use for it.
---
"Until you have the courage to lose sight of the shore, you will not know the terror of being forever lost at sea." (Despair.com)