Considering an '86 VN750
---
I'm in a similar situation as Shepherd from a few posts down, considering a 1987 model. I found a 1986 Vulcan that needs a little work. It has 15,xxx miles and he's asking $700. NADA for this year is $850 in very good condition, and $375 for good condition. The current owner says it is rideable, but is in need of some cosmetic work as well as some minor problems. He says it has a minor electrical issue but has yet to identify it. If I read correctly, that could mean as much as a $100 part and possibly pulling the engine to replace it, as well as installing a Maintenance Free Battery if it doesn't already have one. Just today he stated that the bike has some sort of compression issue. I am willing to work on this given the price, but the compression issue makes me concerned. Could this be something minor, or am I looking at a top end rebuild if I buy it? Is there anything I should look for when I go look at it?

Thank you,

Kevin
Members who have donated towards server costs
Join Date: Mar 2006
Location: Kyle, Texas
Posts: 4,054
I think I would grab a compression gauge and take it with me and some tools. Take a volt meter and test the electrical system as well. With 15000 miles unless it sat for years, or was run with no oil pressure, I would think the compression should be good. Check inside the tank for rust and sour smelling gas. It will not smell like fresh gas if it has been neglected. More like varnish.
---
Fergy
Kyle, TX VN750.com member #707 VROC#19556
2002 VN1500 Classic
Spline Lube Procedure, with photos,
R/R Relocation
and
Coil Mod
Rusty Tank Cleaning!
Electrical Fault Finding Flowchart
SEAFOAM JUNKIE!
Senior Member
Join Date: Jul 2008
Location: Titusville, New Jersey
Posts: 6,435
Members who have donated towards server costs
Join Date: Dec 2008
Location: Monroe, LA
Posts: 4,717
Offer him considerably less than he's asking if you decide to get it. The bike has too many issues that he is aware of to pay what he's asking.
---
I'm keepin' all the left over parts. I'm gonna use 'em to build another bike!
_____________________________________________
"Black Beauty"
1989 VN750 acquired December, 2008, 6,711 miles
Currently 23,298 miles
Old Blue
2001 Honda CMX250 Rebel acquired July, 2008
1987 VN750 project bike, acquired August, 2009, 33,000 miles and balancer sticking out of the case, currently awaiting attention and parts
At Least I Can Spell!
Join Date: Jan 2009
Location: Monroe, NC
Posts: 615
too old. easy decision for me.... skip it, wait a little while longer and save up for something better.
---
Michael
2002 Nomad 1500
VROC #29972
----------------------
That looks like a good checklist, thanks for the link LibertyPilot. It turns out that the electrical issue is actually just the headlight isn't hooked to the switch. The compression is a new problem that had just come up, and apparently was not a problem before yesterday. Regardless of what is and isn't good from this point, I have every intention of offering less than his asking price given the condition and NADA values, and I don't mind putting a little money and time into it.

Now, knowing the electrical issue is not the stator or R/R, does the price sound more reasonable?
Junior Member
Join Date: Aug 2009
Location: Sherwood OR
Posts: 11
Quote:
I found a 1986 Vulcan that needs a little work. It has 15,xxx miles and he's asking $700. Just today he stated that the bike has some sort of compression issue.
Having a compression issue should make this a $400 bike or less.
Good cheap bikes are out there. I was told to be careful when buying a bike that needs more than routine maintenance. It can turn into a very spendy project.
I found my 93 Vulcan on Craigslist last month for $1300 with 14k miles on. It had been sitting for 5 years. After spending $300 on new plugs, battery, tires & changing fluids she is running great.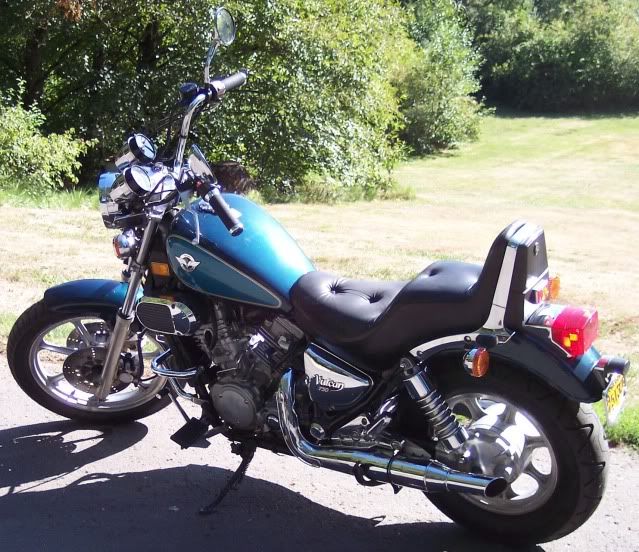 ---
93 VN 750 - NGK Irridium plugs & wires, Kenda Kruz 110/90-19 & 170/80-15 tires, Scorpion YTX14AHL-BS AGM Maintenance Free Battery.
---
Last edited by Mr Monte; 09-04-2009 at

05:14 PM

.
Vintage bike addict
Join Date: Oct 2008
Location: I live in eastern ohio
Posts: 859
Check compression cold. then with oil. If it's no change it could be just the valves need adjusted. If pressure goes up a good amount you may need rings.
---
No one can make you feel inferior without your consent.
Eleanor Roosevelt.
Linkmeister Supreme
Join Date: Aug 2008
Location: Lethbridge, Alberta, Canada
Posts: 7,960
Quote:
Check compression cold. then with oil. If it's no change it could be just the valves need adjusted. If pressure goes up a good amount you may need rings.
Welcome to the vulcan madness Kevin. It`s going to get a hold on you!
Correct me if I`m wrong, but this engine has hydraulic valve lifters, or "lash adjusters" as Ma Kawi calls them, that do not have any means to do periodic manual adjusting. If the mc has been sitting for some time since it was last running, the lash adjusters may have leaked down and need to have air bled from them. If the low compression is not increased by adding oil to the cylinder, the valve seats may be leaking and need to be reconditioned.
Neither of these need be a deal breaker, if you can get the bike for the right price, and you want a project bike for the winter.
There is lots of help here on the forum, and many guys and gals with little previous experience with a wrench in their hand, have ended up with a fine bike for not a lot of cash outlay. Plus the knowledge of how everything is put together, that may get you home after trouble on the road someday.
Good luck with the search for a bike. If not this one, then another.
---
Gordon
1991 VN 750 -"
Cosmic Lady
" or "
Bad Girl
"?
Purchased May 16, 2008
Approx.19,300km (12,000 miles)
H-D windshield
Relocated R/R
MF-AGM battery
Fiamm Freeway Blaster horns
F&S luggage rack and engine guard
Kury Offset Hiway pegs
July 13, 2016, Riding on the DARKSIDE now, Classic Radial 165/80-15
TOP TEN THINGS A NEW RIDER/OWNER SHOULD DO.
Click on link.
https://www.vn750.com/forum/11-vn750-general-discussion/9127-top-ten-items-you-would-suggest-new-owner-do-his-new-ride.html
It is my suspicion that it has sat before, given 15000 miles in 23 years. However, the current owner says it runs and is rideable. That just may be enough for me. When/If I go to look at it, I will be sure to check the whole thing over well, including a compression test.