The Professor
Join Date: Feb 2008
Location: BUFORD, GEORGIA
Posts: 3,147
Where did ALL the pics go?
---
A couple of weeks ago the SITE went down for maintenance, since that time ALL pics posted through the site are gone "past post pics" I am realy F_in pissed, I am a Site Supporter like many others that PAY to use this site, I just want to know what the F___ happened?
---

85 VN700 "Old Yella"
REBUILT ENGINE
CUSTOM PAINT
VANCE & HINES CRUZERS
EAR SHAVED AND RE-JETTED W/K&N'S
DUNLOP ELITE K591 FRONT & REAR
VOLTMETER
SYNTHETIC BRAKE FLUID
SYNTHETIC OIL & GEAR LUBE
PLEXISTAR 2 WINDSHIELD
SPLINES LUBED
ACCT'S GREASED W/TOC SPRINGS
COASTERD
LEATHER SADDLE BAGS
LEATHER TOOL AND ROLL BAG
PICKUP COILS GAPPED AT .018"
NGK CAP, WIRES, IRIDUMS
BARNETT FRICTION PLATES & SPRINGS
CUSTOM GRIPS, MIRRORS, LEVERS
ORIGINAL STATOR & R/R 14.5v
DEKA MF AGM ETX15L
Best Auto/Moto Insurance | Motorcycle Protection Today | FREE Trade-In Quote
Simple Solutions
Join Date: Jun 2008
Location: SEQUIM, WA
Posts: 965
i second this lance
---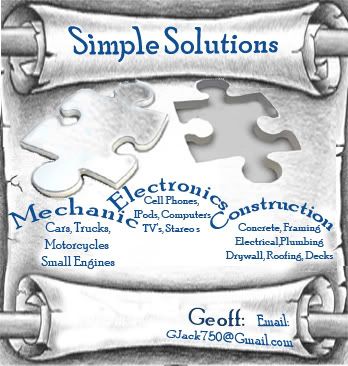 Stator #3
MF AGM
DeGoated
Ears Shaved
R/R relocated
Rebuilt
She's worth her weight in GOLD
If u dont have it already Here is the
Service Manual
How To
Test the Stator
and the Adventure Cycle
Join Date: Jun 2004
Location: Western PA
Posts: 6,138
Seems to be a bug in the system. It's just attached pics and not those from off site host's.
Probably just needs a minor tweak to get things back to normal.
---
AKA: Tim & 'The Adventure Cycle' VROC #24567, NEVROC, SteelCity VROC
"When life throws you curves,
Aim for the apex."


Author Unknown
---
Last edited by hyperbuzzin; 09-03-2009 at

10:02 AM

.
Senior Member
Join Date: Mar 2009
Location: Northern Ill.
Posts: 115
I'll 3rd that. I have been trying for three days to get a question answered about becoming a sight supporter, but DMAG needs to empty some mail out of his/her box, it's full. I hope this isn't an ongoing problem.
---
2000 VN750
gray and black
13,265 when I picked it up
Relocated R/R
Marbled
Relayed coils
Volt meter (Relayed)
Blue accent lighting
Iridium plugs
Turn signal buzzer
Highway pegs
Heated grips
Fork bag
Auburn leather saddle bags
Clock
Replaced front side reflectors with LED reflectors
Added LED lights to bottom of front tubes
Polished front tubes
Sylvania H4ST
DEKA MF AGM ETX15L
Regapped pickups to snug .020
TOC ACCT springs
Members who have donated towards server costs
Join Date: Mar 2006
Location: Kyle, Texas
Posts: 4,054
I had emailed Anthony (DMAG) a week or so ago about the email problem I was having with the forum and haven't heard back from him. It's very unusual, but I'm sure he has something going on in his life that is taking up his time. Dianna has been on the road but should be settling back in now so hang in there. It will be addressed soon.
Keep in mind that the administrators here are donating their time and skills to the forum, right? They don't get a cent from us. They have real jobs and families too. Y'all hang in there, they'll get it fixed.
---
Fergy
Kyle, TX VN750.com member #707 VROC#19556
2002 VN1500 Classic
Spline Lube Procedure, with photos,
R/R Relocation
and
Coil Mod
Rusty Tank Cleaning!
Electrical Fault Finding Flowchart
SEAFOAM JUNKIE!
Member
Join Date: Mar 2009
Location: Texas
Posts: 70
Senior Member
Join Date: Jul 2009
Posts: 686
Sounds like they could use some help....I'm willing.
Member
Join Date: Mar 2009
Location: Texas
Posts: 70
As am I. I do IT work for a living and have lots of free time during the day
Search Goddess
Join Date: Jun 2004
Location: Conway, AR
Posts: 2,002
Ok, DMAG has always been the software/server guy, I'm a moderator.
What I am getting when I try to click on a attached pic is..
Warning: fopen(/home/virtual/site12/fst/var/www/html/attachments/9/6/2/2239.attach) [function.fopen]: failed to open stream: No such file or directory in [path]/attachment.php on line 261.
I'm thinking when the move to the new server was done a connection was lost. Maybe with this bit of additional info we can get them back
---
Dianna
Conway, AR
Patriot Guard Rider
2000 VN750 Sere (Serendipity)
1990 GL1500 (Ole Blue)
1986 VN750 EVie (project bike, heavy custom)
VROC # 11628 / 25000-H
ARVROC # 12 Coordinator and Crowd Control
OKVROC # 18 (H)
TNVROC # 45 (H)
could this also be the reason I can't log in on my laptop with wireless?